Latest news
Christopher Webster
[Celluloid 04.22.16]
post apocalyptic
apocalyptic
scifi
action
thriller
Quiet Earth is proud to premier an exclusive first clip for Josh Ridgway's upcoming dystopian /sci-fi indie,
The Sector
. While this is Ridgeway's directorial debut, he's no stranger to filmmaking having worked on some big projects in a producer capacity like
Superman Returns
with Bryan Singer.
In the clip below, Lance Henriksen plays Finisher, a mysterious character who can navigate the multiple universes that make up the world of the movie. He seems to also be in charge of instigating events. Intriguing.
Synopsis:
In a dystopian world, a bounty hunter sets out to capture a ruthless band of outlaws who have kidnapped an important father and daughter through a world of multiverses. Unbeknownst to the Outlaws and the Bounty Hunter is that another, more powerful man known only as The Finisher has plans of his own…
The Sector
stars Richard Tyson, Kayla Carlyle, Matthew Tompkins, James Wlcek, Clarence Gilyard, Jr, Vernon Wells, Mollie Milligan with John Wesley Shipp, Eric Roberts and Lance Henriksen.
While there's no release date set for
The Sector
, distributor Indican Pictures tells us one is imminent so we'll be sure to keep you posted.
Recommended Release:
Book of Eli
Follow Christopher Webster on Twitter
.
You might also like
MrSatyre (6 years ago) Reply

I didn't think anyone was still making movies this bad. I've seen acting and special effects in 80's porn that's Oscar worthy compared to this. Was someone threatening their families to do something this horrible?

wtf (6 years ago) Reply

it's the money, man. it's the money make them do it.

Silvershanks (6 years ago) Reply

It's offensive that your giving something this awful press when there are so many struggling filmmakers trying to get noticed who actually study and care about the craft of cinema.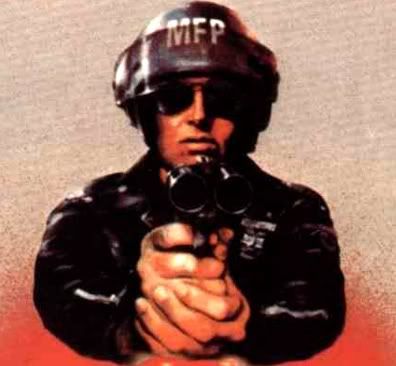 BallsDeep (6 years ago) Reply

MrSatyre, there are people who try, dream, cry, fail, and become housewives, then there are people who actually do something. For a low budget directorial debut, it's accomplishment enough when filmmaker can even finish a movie with effects, as opposed to shitting out a web series shot on an iPhone. I'm guessing you and Silvershanks are those have a career on Kickstarter while masturbating in yr mom's basement in rural Alabama, type film makers. Hats off to ya boys.

MrSatyre (6 years ago) Reply

Awww, you're so cute when you try to sound clever. Now, here's a cookie; go play outside. Adults are talking.

BallsDeep (6 years ago) Reply

They are indeed. That's your mom telling you to stop masturbating and get out of her basement already.

Silvershanks (6 years ago) Reply

To set the record straight, BallsDeep, I masturbate in my house in Los Angeles where I've directed SIX independent movies, all of which got good distribution.

BallsDeep (6 years ago) Reply

IMDB links?

cinephiliac (6 years ago) Reply

whoa is that richard tyson? freaking three o clock high man! good to see that guy in action again.

donc48 (6 years ago) Reply

Love your handle, I'm going to steal it.

guest (6 years ago) Reply

Just because someone manages to complete a film from beginning to end, with effects as you said, doesn't mean the film is any good. And from the trailer this film and it's effects look very very bad. On top of it the distributor seems to release a lot of bad films like Dark Metropolis which is another science fiction with bad effects and an overreaching marketing poster to help cover that fact. To the filmmakers, good for finishing one. Just work really hard to make the next one much much better.

cinephiliac (6 years ago) Reply

Ah c'mon it's a midnight on scifi B movie. Not Gravity. Whaddya expect? Hopefully still fun to watch, bad effects and all. Lance still looks badass for his age.

Leave a comment