Latest news
Christopher Webster
[Celluloid 08.11.11]
post apocalyptic
movie
news
In the wake of the Harry Potter series ending and the enormous financial success of the final installment ($1.1 billion worldwide) some seem excited about the prospect of Warner Brothers hiring director David Yates and screenwriter Steve Kloves for their multi-movie version of Stephen King's
The Stand
.
But before we jump for joy, let's just step back for a minute. As far as I'm concerned David Yates turned in the worst of the Potter series. The last two Deathly Hallow films are lifeless and dull as though he literally put a book on screen - the epitome of anti-cinema. There's little tension, he handles the multitude of characters haphazardly and the pacing is pathetic.
Some will argue that Yates is the perfect candidate for King's sprawling post-apocalyptic epic as he was able to handle a difficult book-to-screen transition, but King's book is hardly cinematic on its own.
Obviously I'm a fan of the book, but even if Kloves can distill the 1200 odd pages odd pages of prose into a scalable scipt, I have little faith that Yates can add anything moving to it.
/Film
had the story.
You might also like
bob (9 years ago) Reply

How come no news of the firing of Frank Darabont?

Anonymous (9 years ago) Reply

that image is awesome. Any idea who the artist is?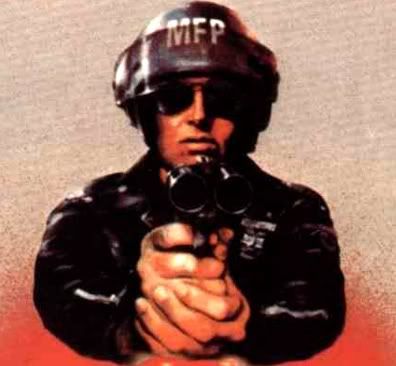 agentorange (9 years ago) Reply

@bob - just haven't got to it yet.

@ Anon - It's from the comics which are illustrated by Mike Perkins. Not sure if he does covers though.

Anonymous (9 years ago) Reply

@agentorange
cool thanks! I will look into the comics

Anonymous (9 years ago) Reply

I haven't seen the last Potter movie yet.
But I agree that the first Deathly Hollows was the most boring yet. I was hoping the last movie would be a bit better...

shocbomb (9 years ago) Reply

That pic is pretty bad ass of the 3 goveremnt goons in level A hazmat suits and the reflection of a infected. Kind of shocked some low budget zombie movie never used a shot like that for the cover or posters, Actually that pic got me thinking sence it reflection of the person looks like a 28 days/weeks type of infected person or a zombie are the infected in this movie going to be violent raged fiilled infected or maybe even zombies ? Our are thy going to be just just your normal run of the mill humans dying from a infection like in the firt movie ? Kind of hoping for raged filled zombie like's myself

wtf (9 years ago) Reply

no matter what, it can't be worse than the first movie. the book is great i read it three times already. but the movie made me wanna throw up my bowels.

Anonymous (9 years ago) Reply

To be fair, the Deathly Hallows books is hardly exciting. All I can really remember of it is the time spent in the tent bickering.

While I like The Stand I don't think it's suitable for the cinema. Some books are just meant to be read

Aladdin Sarsippius (9 years ago) Reply

Everyone get out their Akiva Goldsman
voodoo dolls (You know what he did to I Am Legend right?) to keep his trifling ass
away from this project.

Leave a comment