Latest news
Christopher Webster
[Celluloid 07.08.11]
post apocalyptic
zombies
movie
news
cult
Blue Underground
have announced Lucio Fulci's classic
Zombie
for release on Blu-ray and DVD as a 2-Disc Ultimate Edition on 10/25!
Disc One will include audio commentary with star Ian McCulloch (who PA fans will know from the original BBC show Survivors) and "Diabolik" magazine Editor Jason J. Slater, theatrical trailers, TV and radio spots and a poster and still gallery.
Disc Two will feature 7 retrospective interview featurettes (including Zombie Wasteland, Flesh Eaters on Film, Deadtime Stories, World of the Dead, Zombi Italiano, Notes on a Headstone and All in the Family).
The Digital Bits
also reports that Blue Underground has shot an all new introduction to the film and interview with Zombie fan and filmmaker Guillermo del Toro. Man that guy is everywhere!
So? Any funky Italian Zombie fans out there?
Disc 1 Extras:
• Audio Commentary with Star Ian McCulloch and Diabolik Magazine Editor Jason J. Slater
• Theatrical Trailers
• TV Spots
• Radio Spots
• Poster & Still Gallery
• Guillermo del Toro Intro
Disc 2 Extras:
• Zombie Wasteland – Interviews with Stars Ian McCulloch, Richard Johnson & Al Cliver, and Actor/Stuntman Ottaviano Dell'Acqua
• Flesh Eaters on Film – Interview with Co-Producer Fabrizio De Angelis
• Deadtime Stories – Interviews with Co-Writers Elisa Briganti and (Uncredited) Dardano Sacchetti
• World of the Dead – Interviews with Cinematographer Sergio Salvati and Production & Costume Designer Walter Patriarca
• Zombi Italiano – Interviews with Special Make-Up Effects Artists Gianetto De Rossi & Maurizio Trani and Special Effects Artist Gino De Rossi
• Notes on a Headstone – Interview with Composer Fabio Frizzi
• All in the Family – Interview with Antonella Fulci
• Zombie Lover – Award-Winning Filmmaker Guillermo del Toro talks about one of his favorite films"
You might also like
Diggler (11 years ago) Reply

Oh yeah! Now we just need Nightmare City and Let Sleeping Corpses Lie on Blu-Ray!

technosnob (11 years ago) Reply

i freakin' love this movie. is it the fully uncut version?

Aladdin Sarsippius (11 years ago) Reply

Loved the brooklyn bridge shot.

Dog these new captchas are a pain!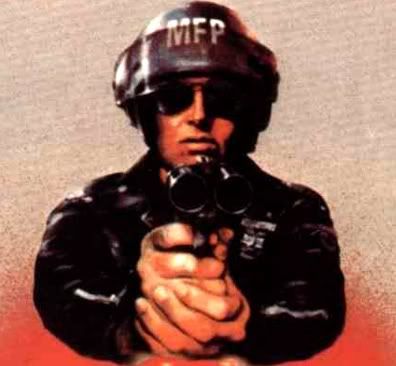 agentorange (11 years ago) Reply

@technosnob

Knowing Blue Underground, you can bet on it.

@Aladdin

Thanks for letting us know about the captchas pain. I did it once and it was fine, but we'll see what we can do to make it easier. We went for a week with no captcha at all and were invaded by spam like you wouldn't believe. Necessary evil unfortunately.

Leave a comment