Latest news
Christopher Webster
[Celluloid 04.14.11]
post apocalyptic
movie
trailer
news
scifi
action
The first trailer for Rupert Wyatt's
Rise of the Planet of the Apes
has appeared and it proves that seeing something isn't always better than hearing about it. We all know that in the mostly brilliant
Planet of the Apes saga
, the apes take over mankind. Now I'm not sure how I envisioned that going down, but it didn't look quite as silly as this. I think my favourite beat is the monkey standing over James Franco in bed, like Edward starrring longingly at Bella.
Synopsis:
RISE OF THE PLANET OF THE APES is an origin story in the truest sense of the term. Set in present day San Francisco, the film is a reality-based cautionary tale, a science fiction/science fact blend, where man's own experiments with genetic engineering lead to the development of intelligence in apes and the onset of a war for supremacy.
The film stars James Franco, Andy Serkis, Frida Pinto, John Lithgow, Brian Cox, and Tom Felton.
Rise of the Planet of the Apes has a release date of August 2011.
Original
Planet of the Apes on Blu-ray
You might also like
Lenman (11 years ago) Reply

I know I'm going to get lambasted for this but I wish they would have made a sequel to the Tim Burton, Mark Wahlberg Planet of the Apes. They left the ending setup for a sequel that will never be made. I hate wneh the ending is made specifically from a sequel that never gets made. Take out a couple of lame monkeys (Burton's old lady) and it wouldn't have been such a bad movie.

remixthis (11 years ago) Reply

I agree with Lenman.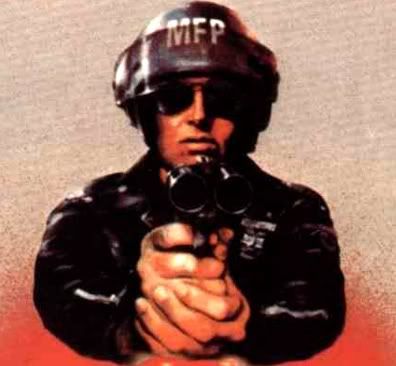 agentorange (11 years ago) Reply

Me too actually.

AJ (11 years ago) Reply

Yep. I agree with Lenman too. I'm not really a Burton fan, but I'm even less of a Franco fan. I certainly don't buy him as a scientist as easily as Wahlberg (and that's saying a lot considering the stretch it took to believe that Marky Mark was a scientist/pilot).

Anonymous (11 years ago) Reply

No way... This film looks amazing! For once the Apes look REAL. I'm looking forward to seeing it! Andy Serkis is genious!

Acrobatic Flea (11 years ago) Reply

I agree that there's a place for a sequel to Burton's effort, but it's never going to happen.

Rise Of The Planet Of The Apes (despite its tongue-twistery title) looks freakin' awesome.

I love all the original Apes movies with a passion and see this as potentially a worthy successor, maybe even opening the doors to retellings of all the stories. But maybe in chronological order this time ;)

Aladdin Sarsippius (11 years ago) Reply

Nice ape bust out scenes,and the music
if used in the film seems compelling enough.
CHURCHDOOR!

Jennifer (11 years ago) Reply

Sucks Mark Walberg is not in it.....

Ausares (11 years ago) Reply

If it ain't broke, why fix it? All the best sci-fi films came out in the 60's-early 80's and any adaptation of those films made today will only pale in comparison. Planet of the Apes will always be the best sci-fi and it was silly of Tim Burton to think he could do anything different to it.

Leave a comment