Latest news
Christopher Webster
[DVD News 04.12.11]
post apocalyptic
news
scifi
dvd
An official release of Damnation Alley has been a long time coming for fans of the post apocalyptic genre. Sure there's been crumby bootlegs out there over the years, some widescreen, most not, but real fans have been waiting for more than just the ability to see the giant scorpions. We want to see them remastered and in Dolby sound, baby.
A couple years ago Anchor Bay promised a release, but it fell through. I was sad. But now, as of July 12, the wait is finally over as the good people at Shout! Factory are finally picking up the gauntlet and releasing
Damnation Alley on DVD
. This is particularly exciting for me after seeing what Shout! have been doing with all their amazing
Roger Corman Blu-rays of late
. They look stunning and absolutely stuffed with extras. They do us retro slaves proud.
So anyway, it's still a bit of a wait, but you can at least
Pre-order Damnation Alley on DVD here
and
on Blu-ray here
.
Synopsis:
A small group of survivors at a military installation who survived World War 3 attempt to drive across the desolate wasteland to where they hope more survivors are living. Hopefully their specially built vehicles will protect them against the freakish weather mutated plant and animal life and other dangers along the way.
You might also like
John (11 years ago) Reply

You want to remind us how they "don't make movies" today, with this.
Torture I say.

This is so awesome.
Those were the years, when even a plate with a red button looked awesome.
Oldskul ftw!

TerokNor (11 years ago) Reply

Also listed for Blu-ray here: http://www.amazon.com/dp/B004W4M1LQ/

Cool, always wanted to check this one out.

Umberto (11 years ago) Reply

Ha ragazzi!!! ricordo questo piccolo gioiellino post-apocalittico con piacere,zero effetti speciali ma capace di creare molta tensione... da riscoprire sicuramente.

mono (11 years ago) Reply

Excellent news! I've missed that giant truck.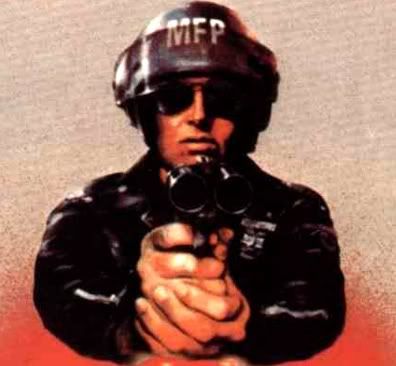 agentorange (11 years ago) Reply

@TerokNor

Nice catch! Even better.

Lenman (11 years ago) Reply

Finally!!!!!!

Aladdin Sarsippius (11 years ago) Reply

Nuclear cockroaches and mutated rapist hillbillies FTW.
Whats not to like?
Nothing like the book though.

Leave a comment