Latest news
Christopher Webster
[Celluloid 03.30.11]
movie
trailer
news
cyberpunk
scifi
thriller
This trailer for
Matrix Kaydara
will confuse you. But I have a feeling it will also impress you as it just did me. As far as fan-films go, Kaydara is pretty epic. It is a 55-minute film created by a couple of French dudes named Raphael Hernandez and Savitri Joly-Gonfard. Obviously enamored by the rich world created by the Wachowskis, they've painstakingly recreated the most iconic stuff and crammed it into an story that fits into the time line of the classic three films. As with many fan films the acting is a tad amateurish, but this is still some impressive work.
Synopsis:
Kaydara, a bounty hunter who is living separately from the Human Resistance Group, does not believe in the prophecy of 'the One.' He sees this so-called saviour as a threat to the awakening of Man's self-awareness and considers him an enemy. If their paths cross, Kaydara will not hesitate to confront him.
The entire film
premiers here in May 2011
, but we'll be sure to post the whole thing when it's available.
There's a trailer and a making of vid after the break.
You might also like
Anonymous (11 years ago) Reply

"classic three films" lol that's funny.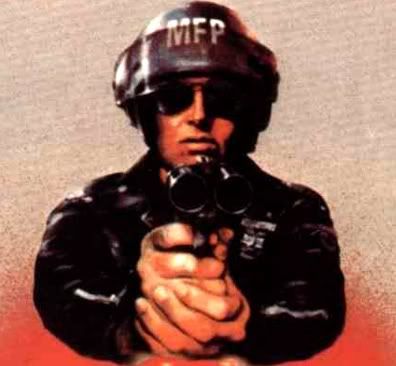 agentorange (11 years ago) Reply

Bit of a stretch, I know. One classic film at least.

Lenny (11 years ago) Reply

I'm sure to love this as I am one of the few who openly love all three films. Can't watch it yet but looking forward to checking it out.

Anonymous (11 years ago) Reply

yeah one classic fo sho...the trailer looks awesome though

morrisminor (11 years ago) Reply

Somebody give these guys some cash! That was great work, very cool how they incorporated the 1/18 car models and I'm looking forward to seeing the final short.

However... these guys could have done something entirely new and have it theirs completely. It just seems wrong to put that much energy and creativity into a franchise that belongs to someone else and yes I know its just a fan film. Well I hope the have a plan cause their ability to do something very cool is right there in that trailer.

Anonymous (11 years ago) Reply

Damn someone get those guys a big budget now! Get them a ticket to Sundance at the very least that was Awesome!

Contact the Wachowskis brothers and let them know about this!

Also Matrix isn't that original, it's like Blade Runner. Influenced by and stolen ideas by many things.

and we have now Blade Runner and Ghost in the Shell influencing(I hope) many films to come.

seth (11 years ago) Reply

Hello!

Just to let you know our film "Kaydara" will be available online tomorrow 21st May!!! Please share the link with your friends.

http://kaydarafilm.com/kaydara_film.html

Seth Ickerman

Leave a comment