Latest news
Christopher Webster
[Celluloid 03.22.11]
scifi
horror
cult
Year: 1981
Directors: Bruce D. Clark
Writers: Marc Siegler / Bruce D. Clark
Trailer:
link
Buy it:
link
Review by: Christopher Webster
movie Rating: 6 out of 10
Blu-ray Rating: 8 out of 10
[Editor's note: Shout! Factory have reduced the prices of most Roger Corman Collection Blu-rays. Pretty sweet time to pick up your favorites.]
I think the late 70s and into the 80s is my favourite Roger Corman era. Many people disagrees with me on that, of course. His 60s output is awesome (particularly if you're an exploitation nut), but if you're a straight genre fan and dig on cult scifi, horror or creatures features it really doesn't get any better than this period.
The reason for this era of great output is because of three films:
Jaws
,
Alien
and
Star Wars
.
When these films came out, Corman realized the studios had started making HIS kind of movie and were making them bigger and better. This forced Corman to sink more money and talent into the genre films he was producing and in some of the better ones you can really see that extra work up on the screen. For the first time in his career, Corman realized the movie had to live up to the poster.
This is the era that saw future heavyweights like James Cameron flexing his muscles behind the scenes in production design, art direction and visual FX on
Galaxy of Terror
and
Android
while working with the likes of Bill Paxton (who worked as a set decorator) and John Sayles on the
Seven Samurai
meets
Star Wars
flick
Battle Beyond the Stars
with James Horner scoring it.
This was also the time that mega producer Gale Hurd made her presence known. This era in B-movies was the birthplace of the science fiction landscape we find ourselves in toady and it's really fascinating to go back and see the sign posts in these early films.
For instance, as soon as the opening pan of the desolate planet in
Galaxy of Terror
comes on the screen it immediately calls to mind images of the blue-tinged planet that we would see later in Cameron's
Aliens
and the awesome model work in Terminator's post-apocalyptic future. In fact, probably the best thing about
Galaxy of Terror
(besides the cast of genre legends) is the art, production design and execution of practical visual FX.
Galaxy of Terror
is often cited as being an
Alien
rip-off, but the details of the story are really quite unique and far more psychological -- almost psychedelic in tone. Corman's next film,
Forbidden World
(aka "Mutant") is really much more of an
Alien
clone (as we will cover in my review of it coming soon!).
Galaxy is about a lone spaceship, "the Quest", that goes to the planet "Morganthus" following a distress signal from a lost ship called "the Remus." When they explore the planet they find this massive pyramid. They enter the pyramid and one-by-one take a journey into their darkest nightmares. But why? Who is behind the pyramid and what is its ultimate purpose.
Truth be told, as much as I love this movie, I don't much care for the it-comes-from-your-mind bent. It blows some of the mystery when you figure it out. At least the emanations are a real threat and the body count is appropriately high. I guess one positive to this kind of story conceit is you can come up with an array of different monsters and you don't have to justify much. Like, why is Sid Haig so terrified of shattering his crystal throwing stars? Or Taaffe O'Connell so scared of maggots that one worm rapes her (yeah, worm rape. wtf, right?).
Now onto the Blu-ray itself:
Shout Factory! have been releasing a series of Corman titles in HD and each disc is absolutely stunning to look at and loaded with special features.
Keeping in mind that the film never looked all that good to begin with, it's never looked this good before. If you've only ever seen the film on VHS or bad DVD transfer, you'll be amazed at how vibrant and detailed it actually looks.
There is a lot of grain to the image depending on how many FX composites are layered over any particular shot, but for for the most part the blacks are pretty solid and the picture is clear and detailed and the colours are rich.
Just check out all the features you get.
Blu-ray Extras:
- Commentary track with actress Taaffe O'Connell, Make-up artists Allan Apone, Alec Gillis and production assistant David DeCoteau.
- Tales From the Lumber Yard: The Making of Galaxy of Terror (1:02:54 in HD)
- New Worlds: Producer Roger Corman, screenwriter Marc Siegler and director Bruce D. Clark discuss the origins of the film.
- The Crew Of The Quest: Actors Robert Englund, Sid Haig, Taaffe O Connell and Grace Zabriskie discuss their experiences as crew members of the Quest
- Planet Of Horrors: A detailed look into the creation of the memorable sets of the film and alien landscapes
- Future King: Memories of co-production designer (and future visionary filmmaker) James Cameron from members of the cast and crew
- Old School: A journey into the complicated mechanical and makeup effects with artists Allan A. Apone, Douglas J. White, Alec Gillis and others
- Launch Sequence: Co-editor R.J. Kizer walks us through postproduction and a profile on composer Barry Schrader
- Theatrical Trailers
- Extensive Photo Galleries Including Posters, Production Sketches And Designs
- Theatrical Trailer With Commentary From Writer/Director Joel Olsen, Courtesy Of Trailersfromhell.com
- Script in PDF format
Recommended Release:
Galaxy of Terror
Follow Christopher Webster on Instagram
You might also like
Anonymous (11 years ago) Reply

I remember watching this on a pirated betamax video many many years ago, and it really scared me!

thejamminjabber (11 years ago) Reply

haha, just wrote about this myself, but from a totally different angle.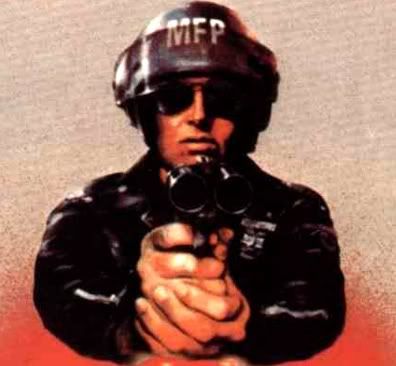 agentorange (11 years ago) Reply

Great post. Your comparison to Straw Dogs is not without merit. She does get oddly into it by the end. And yes, it's impossible to review this film without combining the words "worm" and "rape." It leaves a lasting impression.

Leave a comment