Latest news
Christopher Webster
[Celluloid 02.01.11]
movie
trailer
news
action
Jonathan English's 13th Century warfare flick, Ironclad, has been the little-film-that-could, quietly filming in Wales then heading into post with little fanfare. Well, now Ironclad is coming to the UK courtesy of Warner Bros. on March 4th (still no word when it will hit North American).
Being a fan of James Purefoy (Rome, Solomon Kane), I've had my eye on the film for half a year, so I'm glad to see it's till coming along.
Synopsis:
In 13th century a determined group of Knights Templar defends Rochester Castle against the tyrannical King John.
Ironclad stars Paul Giamatti, James Purefoy, Brian Cox, Derek Jacobi, Kate Mara, Jason Flemyng, Jamie Foreman.
trailer (via:
HeyUGuys
) after the break.
You might also like
Lenny (11 years ago) Reply

Whoa, you just reminded me about Solomon Kane. Where the hell is that movie!?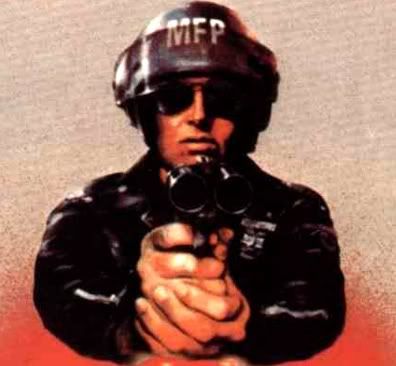 agentorange (11 years ago) Reply

The French put out an AMAZING double disc edition of Solomon Kane:

http://amzn.to/gIHvLG

You can also get one from the UK:

http://amzn.to/hBxz8s

Still no north american distro which is super weird.

Anonymous (11 years ago) Reply

I'm really diggin' the cast. This looks good.

Anonymous (11 years ago) Reply

Three words:

BLACK DEATH OWNS

Anonymous (11 years ago) Reply

It's pretty scary this film cost $25M to make has all those names in it and still Content Film hasn't found a US distributor. And Solomon Kane was $45M and no US distribution? If I was James Purefoy's agent I'd work on getting him cast in a good supporting role in a Hollywood "A" list action film so all his other "starring" films get the steam they need to be released here -- cause right now it's looking pretty bleak for Purefoy lead releases in the US. Also it's weird that Content's website promotes Iron Clad as a Medieval 'Magnificent Seven'. That concept just doesn't come through in the UK poster and trailer -- which is too bad since it would help to differentiate the film and make it stand out from the pack of period action films coming out.

Anonymous (11 years ago) Reply

Was with it right up until the moment the highly inappropriate Gee-tar rock started. Perfect choice for a film set in medieval times. NOT

Michael Allen (11 years ago) Reply

Looks good. I liked Centurion from last year and hopefully, this has some of that underdog theme in it.

Leave a comment