Latest news
Christopher Webster
[Celluloid 08.13.10]
movie
review
action
Year: 2010
Directors: Sylvester Stallone
Writers: Dave Callaham/Sylvester Stallone
IMDB:
link
Trailer:
link
Review by: agentorange
Rating: 7.5 out of 10
I want The Expendables to destroy Scott Pilgrim at the box office this weekend. To have it see that silly epic epic of epicness and raise it one well-placed grenade to the prepubescent groin. 1 UP that Pilgrim! There's just something about that little pipsqueak that's getting under my skin lately. Ohhhh 8 bit graphics. Get over yourself. Crank 2 beat you to the punch. But anyway, that's not why we came here today, is it? We're here to talk about muscles. And balls. And guns. Lots and lots of guns.
The Expendables isn't a great movie. It's essentially a straight-to-DVD action script pumped up with a bit more money and talent behind the camera. But it's a crowd pleaser and, based on the reaction of the crowd I saw it with last night, people are ready for this kind of thing again. In fact the preview screening was so full that management opened a second theatre just to accomodate the crowds. A good sign that Expendables, with it's line-up of big-name action stars, may fair a little better than the similarly themed A-Team. And yeah I know Willis and Ahhhnold are walk-ons, but their scene had the audience in stitches so it felt completely worth it.
If you've seen an action movie in the last ten years you've seen at least one of The Expendables in action. Statham and Stallone are really the stars here, little Li and grumpy Lundgren the co-stars and Coutor and Crews an afterthought. Of course, Mickey Rourke turns in the best performance of the lot as a retired-mercenary-turned-tattoo-artist. Everyone gets at least one moment to shine, but in the end I think the audience will be cheering for Li and Statham and Terry Crews' oversized cannon (that sounds weird) which tears people to shreds.
Yes, the violence is plentiful in The Expendables. In First Blood, Stallone didn't kill anyone. In The Expendables, Stallone kills everyone. To put it like Gary Oldman in The Professional: EVERYONE!!. It's not quite as gruesome as the last Rambo (probably because the tone of Expendables is a little lighter) but the body count is approriately high for this kind of throwback.
Bottom line: Expendables is yet another movie about a rag-tag team of mercenaries sent on a suicide mission to rescue a hostage and take down an evil dictator. We've seen it before, but it's a fun ride with loads of corny one-liners, explosions and brawls. If you see Scott Pilgrim this weekend that's fine. I won't comment on your manhood. At the end of the day you're the one who has to look at yourself in the mirror.
You might also like
PGK (12 years ago) Reply

Yikes... Insecure much?

Anonymous (12 years ago) Reply

I think it's just meant to be funny. Perhaps a plea for comments. Either way it's successful. Scott Pilgram looks alright, but I'll probably see this first. Then again, I'm not 16 anymore.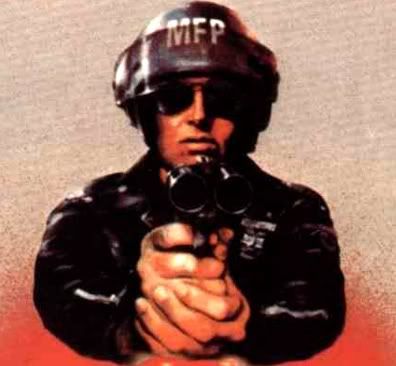 agentorange (12 years ago) Reply

Insecure? You're insecure! Uh, I mean, I know you are but what am I? I mean, sticks and stones... ah forget it. You got me.

Jonathan (12 years ago) Reply

In First Blood, Stallone DID kill someone. He threw a rock at the police officer in the heli, which made him fall to his death.

Sean D. (12 years ago) Reply

I saw Expendables and Scott Pilgrim this weekend. Scott Pilgrim is one of the best movies of the year so far, whereas Expendables is forgettable and completely watered down. I badly wanted to see Stallone turn out an awesome film because I'm a fan and I love 80's action films, but that was pretty crappy. The story was generic, and the dialogue was awful (not in a good way). I really don't get all the hate Scott Pilgrim is getting when it seems like most of the pissed off people haven't even seen the film.

Michael (12 years ago) Reply

Why do all movies have to be "great"? How many are actually "great"? Can we get over this nonsense? Movies are hard to make. Movies that turn turn out "great" are generally accidents. Can we all grow up nw?

Anonymous (12 years ago) Reply

Michael is an idiot. And The Expendables was awful.

Leave a comment