Latest news
Marina Antunes
[Celluloid 07.27.10]
movie
trailer
news
scifi
fantasy
I'm still not 100% sure how Zack Snyder went from the
Dawn of the Dead
remake to multi-million dollar productions and frankly, I don't really care. They many not work 100% but the guy has a knack for eyecandy. My kind of eye candy: highly stylized and ubber pretty to look at. Granted, that's not the only thing you need to make a good movie but it certainly helps.
Hi newest project
Sucker Punch
, which he also co-wrote, is a smörgåsbord of ideas and styles. It takes place in the 1950s and tells the tale of a young woman who ends up in a mental institution and has to break out with the help of other inmates before she is lobotomized. Things get particularly interesting as her alternate reality/dream world starts to blend with reality, an alternate world in which everything from dragons to machine-guns rule supreme.
Snyder had me at the cast which includes a wallop of up-and-coming fresh faces namely Emily Browning, Abbie Cornish, Jena Malone, Jamie Chung and Vanessa Hudgens along with the great Carla Gugino but man, this trailer sold me. I'm not convinced this is the best thing since sliced break but it certainly looks pretty. Add in chicks kicking butt and some super polished visuals and we've got, at the very least, a nice looking picture.
Is it March 25th 2011 yet 'cause I want to see this like NOW!
Trailer after the break! Poster via
/Film
You might also like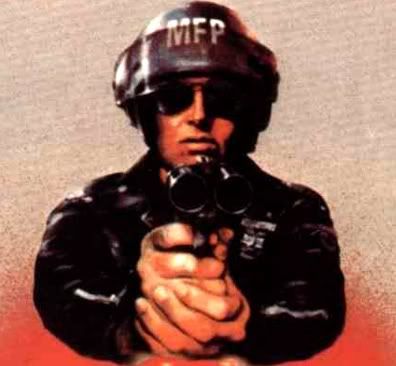 agentorange (11 years ago) Reply

"Brilliant! I have no idea what's going on." - Homer Simpson.

John (11 years ago) Reply

Avalon, Mamoru Oshii.

maodevil (11 years ago) Reply

casshern

Fox (11 years ago) Reply

Yes, it resembles Casshern with loads and loads of money. Which really is a good thing - i wished for something like this to happen. Thank You, Mr. Snyder - you made my day:-)

Luc Van Acker (11 years ago) Reply

Zack Snyder's latest movies have always played to me like to 2-hour long trailers (apart from Watchmen which without some of its FX paraphernalia could have been an instant classic). I just hope - and I'm just basing my judgment on the trailer here, which is effing awesome by the way - that it won't be one of those "it was all in your mind, duh" based-movies, à la Shutter Island mixed in with imagery from Mutant Chronicles. I'd like more meat to the bones, please... content and form at the same time shouldn't be too much to ask for... Having said that, a movie with burning zeppelins and chicks in suspenders firing machine-guns (and a soundtrack by Lords of Acid), I'll be fighting my way to the front row, sucker that I am...

Anonymous (11 years ago) Reply

alright that was one damn Good Trailer!

didn't see any Avalon in there though.

Anonymous (11 years ago) Reply

Was that some Juno Reactor?

Leave a comment