Latest news
quietearth
[Celluloid 07.24.10]
post apocalyptic
movie
trailer
news
scifi
horror
action
dystopic
All I can say is WOW! This is Dune rad! And I thought it was going to be crap.
PRIEST, a post-apocalyptic sci-fi thriller, is set in an alternate world -- one ravaged by centuries of war between man and vampires. The story revolves around a legendary Warrior Priest (Paul Bettany) from the last Vampire War who now lives in obscurity among the other downtrodden human inhabitants in walled-in dystopian cities ruled by the Church. When his niece (Lily Collins) is abducted by a murderous pack of vampires, Priest breaks his sacred vows to venture out on a quest to find her before they turn her into one of them. He is joined on his crusade by his niece's boyfriend (Cam Gigandet), a trigger-fingered young wasteland sheriff, and a former Warrior Priestess (Maggie Q) who possesses otherworldly fighting skills.
Trailer after the break. via
comingsoon
You might also like
R.C (11 years ago) Reply

It looks like a better version of 'The Mutant' Chronicles'.

Sunolet (11 years ago) Reply

it has paul bettany, in my opinion that is a damn good reason not to see it

Nena (11 years ago) Reply

Yum!

Skinstripper (11 years ago) Reply

Mmmm, CG creatures and horribly contrived scenes.

cyclops76 (11 years ago) Reply

Seems like a fun movie and the vampires at least try to look like monsters. I'm so tired of the vampires we get today, lame ass Twilight-True Blood pale suckers. Last good vampires I saw were the ones in 30 days of night. Anyway, this is a cool looking trailer, the PA elements are there, now let's hope it doesn't let us down.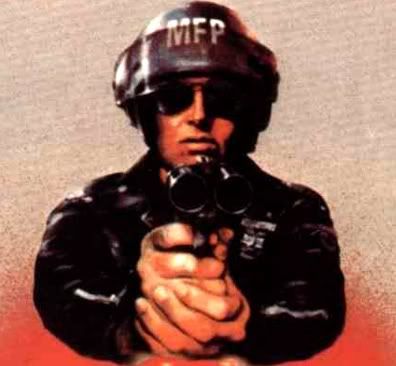 agentorange (11 years ago) Reply

This looks like the movie I've been waiting for for ten years! A good combo of PA, horror, scifi - and yes I agree it reminds of Mutant Chronicles (without the WWI influence).

Yesterday I had no interest in this project. Now I'm all turned around.

HOLYCRAPDOESTHISLOOKBAD (11 years ago) Reply

Are you all crazy? This looks like sh*t - the worst parts of I Am Legend and Resident Evil (and that's saying something) thrown in a blender with some Spawn quality CGI. AND IT'S SCREEN GEMS!!!

masque36 (11 years ago) Reply

I hope it will be good but the last movie this director did was Legion which kinda sucked. I hope this time around they have a better story and script.

Anonymous (11 years ago) Reply

looks good but why do they always vision Vampires like that it's pathetically cliche'

I haven't followed the manga.

loempiavreter (11 years ago) Reply

Looks nothing like the original graphic novel!?
That was a western cowboy priest fighting fallen angels (and tons of zombies)... Why is it turned into a PA priest fighting vampires?

MAKES NO SENSE!? Worst thing, the priest GN has stopped at vol. 16... now we get a new series Priest: purgatory that will try to conenct the Graphic Novel to the movies, whole storyline ruined by this flick :/

rek (11 years ago) Reply

Looks terribad.

Anonymous (11 years ago) Reply

See, this is why I don't read books or graphic novels. They just ruin their movies ;)

MrSatyre (11 years ago) Reply

@ Skinstripper: Agreed. But the landscapes and sets are nicely done, at least. Loved the Mad Max-ian train design! Anyway, might make a decent rental.

PriestMovie (11 years ago) Reply

I noticed that you guys are talking about how the movie seems different from the original graphic novel. There's actually a new manwha coming out in April called Priest: Purgatory that Min-Woo was involved with. It is meant to act as a bridge between the graphic novel and the movie. Here's a sneak peek http://twitpic.com/4d93pk http://twitpic.com/4d93xu. You can also read more about it here http://www.tokyopop.com/Priest/tp_article/3068663.html

Leave a comment