Latest news
io9
[Celluloid 07.22.10]
news
short
scifi
noir
dieselpunk
If you want a visual feast, you must watch UK short "Reign Of Death" - it's dystopian futurism, complete with film noir robots and a high tech gumshoe.
Plus it stars Doctor Who's Noel Clarke (Mickey!) and is directed by concept designer Matt Savage, who worked on Doctor Who, Kick-Ass, and the upcoming X-Men: First Class. The styling reminds me of Caprica, with its blend of mid-twentieth century styles and a hypertech future.
This short has been making the rounds of UK film festivals, and just went live on YouTube. Here's hoping we'll see more from Savage - and thanks to VFX producer Jon Rennie for bringing this to our attention!
Full short after the break.
Want to know more about how they did the effects? Check out this vid:
This post was originally published on io9 by Annalee Newitz.
You might also like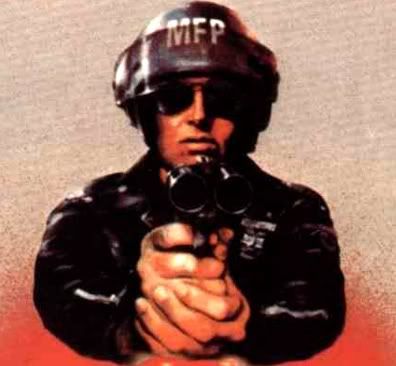 agentorange (12 years ago) Reply

Caprica, Blade Runner ... Boilerplate - it's all here. Great little short indeed.

Casandra (12 years ago) Reply

Noel Clarke is a waste of space and the best way to loose money.

His 'amazing' movie he has been hyping for ages (4.3.2.1) got pulled from the cinemas in 9 days it was so shyte.

He needs to learn to stop being so arrogant, and start making films people want to see rather than his ghetto nonsense that appeals to about 5 criminals.

Tensen01 (12 years ago) Reply

Reminds me an awful lot of Automata: http://www.penny-arcade.com/comic/2009/6/12/

Anonymous (12 years ago) Reply

Nicely done! I like how the detective character uses a Webley revolver.

Leave a comment