Latest news
Christopher Webster
[Celluloid 07.21.10]
post apocalyptic
movie
scifi
poster
Gareth Edwards'
Monsters
will be hitting select UK theatres soon and so we've been given a glance at the first poster art via
digitalspy
. Not too shabby if a little misleading. We've given Monsters some
love
and some
hate
on QE, but whatever your take on how well the film ultimately works, it is not an action movie like the poster suggests, but rather a film that takes place six years after the action.
Synopsis:
Six years after Earth has suffered an alien invasion a cynical journalist agrees to escort a shaken American tourist through an infected zone in Mexico to the safety of the US border.
Poster after the break.
You might also like
Alex Billington (12 years ago) Reply

Misleading?!?! What the heck? How so! This is a PERFECT first poster for Monsters. It shows you that it's about the relationship between these two people (and no one else) and also that it's about their journey through the "Infected Zone" jungle. There's nothing I can find on this that is misleading! If anything, it's brilliantly designed because it helps sell the movie VERY well. Even the logo has the "monsters" in it and they look accurate, too! Just had to reply, as this is definitely not a misleading poster.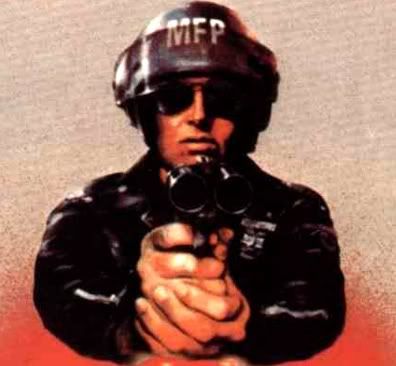 agentorange (12 years ago) Reply

I can see what you mean about the focus on the two characters, but to me it looks like "monsters" came OUT of the jungle and are attacking the city behind them (note the helicopters and smoke in the background - what are they fighting?).

The poster would have been better if the main charaters were looking INTO an ominous jungle with all the same signage and warnings around it. It would have been clearer where their journey would take them.

Casual viewers will expect Cloverfield and they'll get, well, not that.

Otherwise I agree with you that the poster is magnificently designed.

Anonymous (12 years ago) Reply

From what I've read about this film, this poster looks amazingly accurate. Great job to the artists and marketing department!

Anonymous (12 years ago) Reply

Kudos to the marketing depatment? Really? Do we give specific kudos to marketing departments now?

Kudos to the media buyers on this amazing poster! Kudos to the advertising executive that won the account! Kudos to the copy writers and kudos to the project manager that made sure it was completed on deadline and on budget!

Anonymous (12 years ago) Reply

it takes a lot of creative work to execute onesheets and marketing materials for films. A great many talented artists and staff work together to bring these ads to you the consumer and whenever the ads don't get weighed down by generic concepts or ill executed, "quick and cheap" artistry, as a fan I am thankful. Also since this is an "indy" film it is especially nice to see they went big budget on the look. I'm sure the filmmakers appreciated that as well. I guess since I've worked in film marketing... my congrats was in part to colleagues. Sorry if I offended anyone by offering those well wishes. I love sites like this.. but man sometimes there is a rabid need for negativity on comment boards.

Anonymous (12 years ago) Reply

"you the consumer"? Don't you mean "we the consumers"? I guess since you work for an agency you are above us.

Urban Groucho (12 years ago) Reply

What's the matter with you, you twerp. Posters are part of a campaign to sell a movie and behind such a campaign there are the marketing people. If they for once do something good and adequate, why not congratulate them. There's enough of misleading campaigns every year, be greatful they got it right. And why nitpick about "you the consumer" or "us the consumer"? Did your girlfriend break up with you or are you just some idiot who would love to work in marketing but never got a chance to do so, most likely because of his negative attitude??

Leave a comment