Latest news
Simon Read
[Film Festival 06.21.10]
movie
review
horror
drama
Year: 2010
Directors: Paul Andrew Williams
Writers: Paul Andrew Williams
IMDB:
link
Trailer: Not available
Review by: projectcyclops
Rating: 6 out of 10
Paul Andrew Williams follows up his previous films London To Brighton and The Cottage with this home invasion shocker. Set in a middle-class suburb it concerns a middle-aged couple, Cristine and Michael; unaware that their son Sebastian has acted as a grass (or snitch) on a local gang when three boys suddenly force their way into the house, duct tape and beat Sebastian's parents, and wait for him to return home. It's intense and certainly shocking, but is it any good?
Well, yes and no. Williams is a very talented film maker and his debut, London To Brighton was something of a revelation, and while The Cottage remains in my opinion a misguided attempt at horror-comedy, I still had high hopes for Cherry Tree Lane. The start of the film, which is set entirely inside the family home (except for one outside establishing shot), is very brutal, as the three boys incapacitate the terrified couple and beat Michael senseless while keeping Cristine pinned on the couch. The ring-leader is Rian, a thuggish acne scarred, teenage wide-boy who barks orders at his two friends, Ted and Asad, as they steal all the family credit cards and start to rake through the couple's DVD collection for anything they might want, "Are you foreign?" Asks Rian, "Why are so many of these films foreign?" Later he asks Christine what she does for a living, "...I sell advertising." - "You sell advertising?" says Rian, "Right... I don't even know what that means..." Both these got laughs from the audience and I realised this was not simply a shocker but a kind of comedy of errors too. When Ted finds some weed in Seb's room and the three of them start rolling joints and watching MTV, the film appears more a parody of the genre, as they argue about who's going to go and buy beer and whether or it's worth un-gagging Michael to ask where he keeps his pornography.
This is where the film works best, in the set-up and realisation that not only have these guys got no real plan, they're totally clueless and stupid. It's when the film does get darker, when physical violence and rape unexpectedly enter the fore that film feels unreal and far-fetched. When two quite normal teenage girls are invited to join this ghoulish party they don't even bat an eyelid when they see a trussed-up, clearly distressed couple lying on a living-room carpet crying; they don't think to discreetly call the police or even ask what's going on. None of the motives really ring true; whilst every teenager has some kind of contact with drugs when growing-up, how many would rape and kill for them? It's never mentioned explicitly what kind of drugs they deal, but given all that grass they're smoking it's fair to say it's probably small scale weed dealing - so rape and kill for an 1/8th of Thai? Right, okay. Also rather disturbing is the fact that the two girls bring a young boy with them and still think it's okay for him to be around such cruelty and madness - it simply doesn't ring true, not of any teenagers I've ever known.
The film touches on other issues such as the fear the older have for the younger generation, class conflict and so on, but aside from having a fairly good sense of absurd humour and, as most of these kinds of films have, a satisfyingly grizzly ending, it just isn't set on the planet Earth. It's a reasonable effort from a director who can do better, but basically unpleasant and unrealistic.
You might also like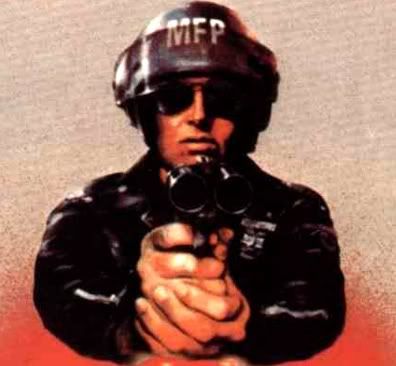 agentorange (12 years ago) Reply

Sounds like a comment on how being empty, bored and stupid mkaes youth violent. It may seen implausible, but you read about stuff like this in the paper all the time and think, "who would do this." It happens.

I like Williams' work, so I'll probably check it out on home vid.

Blakberi (12 years ago) Reply

"it simply doesn't ring true, not of any teenagers I've ever known"

Well I lived in Birmingham for the most of my life and these teenagers could be found sometimes in the worst parts of town and sometimes in the nicest. I worked with young people for 20 years in and out of lock up. They exist, believe me. Some people don't "don't care" and watching violence from a young age (either in films or in real life) has dulled them to any sense of reality. Nothing shocks them anymore

Matt Simpson (12 years ago) Reply

If your doing this kind of narrative with a group of friends, there's going to be a line where at least one person would say hang on, Im not into this.....

like the scene in Eden Lake when they burn the little boy alive, just for a laugh.
Peer pressure can push people but c'mon.
Once you cross that line, it all just becomes a bit stupid.

The only film that I have seen that successfully pulls it off, is The Strangers. Simply because we don't actually learn anything about the attackers, they might as well be aliens.

Matov (12 years ago) Reply

Having almost cut my wrists after watching 'London to Brighton' due to the sheer misery of it (well done misery I must add) I think I will give this one a skip.

sage (11 years ago) Reply

quiet earth is crap.

Diana (10 years ago) Reply

Hi. I wanted to drop you a quick note to srpxees my thanks. I've been following your blog for a month or so and have picked up a ton of good information as well as enjoyed the way you've structured your site.[]

Leave a comment