Latest news
Christopher Webster
[Celluloid 05.05.10]
movie
trailer
action
In a strange twist of post-modern irony, the movie idea that started life as a fake trailer is now promoting itself with a real trailer.
AICN
got a special delivery from Roderiguez himself of this "illegal" trailer for Machete staring Danny Trejo as the titular character out for revenge.
The trailer retains that great grindhouse vibe, but feels more like a straight to VHS action flick from the 90s than a 70s exploitation film. Why do I feel like the movie will tank at the box office?
Synopsis:
After being betrayed by the organization who hired him, an ex-Federale launches a brutal rampage of revenge against his former boss.
Watch for cameos by Robert Deniro, Steven Segal, Michelle Roderiguez and that guy who plays Frank on LOST.
Machete hits theaters Labor Day Weekend, September 3rd this fall.
trailer after the break.
You might also like
Anonymous (10 years ago) Reply

awesome! I love the fact they kept Jeff Fahey in the movie, i think the original plan was for de niro to replace him.
looks super awesome. cant wait.

Anglebender (10 years ago) Reply

True that it looks extremely 90s, but I I'm glad Roderiguez is updating the "look" in faux-exploitation cinema.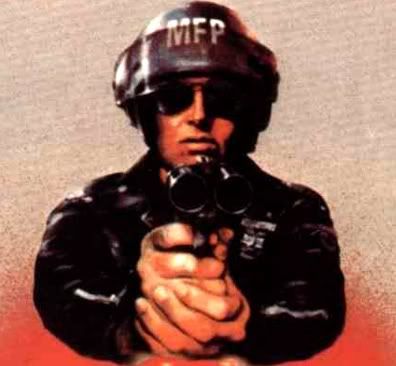 agentorange (10 years ago) Reply

@Agnglebender

Agreed.

James Cole (10 years ago) Reply

That's awesome. I can't believe the cast Roderiguez has pulled together for this type of film.
So many people didn't like the Grindhouse films. I think they just didn't get it. I thought they were great.
I can't wait to see this one.

Skinstripper (10 years ago) Reply

It's a shame, however, that Rodriguez chose to alienate 60% of America with his political skew. Now, when it makes less than it should have, will they say that the "over the top" action film genre is dead? Or will they understand that audiences are best served when you leave your political ideology, left or right, at home, especially when it's so blatant.

SM (10 years ago) Reply

Blaxploitation was comically political in a very cartoony way so I don't think is pushing ideologies but mocking them on some level. How this plays at the box office is to be seen though, I don't expect it to do well.

Leave a comment