Latest news
rochefort
[Film Festival 03.22.10]
movie
review
music
drama
biopic
Year: 2010
Directors: Floria Sigismondi
Writers: Floria Sigismondi / Cherie Currie
IMDB:
link
Trailer:
link
Review by: rochefort
Rating: 6 out of 10
"The Runaways", director Floria Sigismondi's biopic about the influential all-girl rock/punk band that introduced the world to the likes of Joan Jett, Cherie Currie and Lita Ford, focuses on the story of Currie (Dakota Fanning) and Jett (Kristen Stewart), two small-town girls who, like most future rock stars, simply don't fit in with either their peers or the standards of the day. One day young guitarist "tomboy" Jett approaches eccentric producer Kim Fowley (Michael Shannon), and makes a good enough impression with her leather jacket and legit street smarts that he introduces her to drummer Sandy West (Stella Maeve). Before long they recruit Currie (mainly because she's an obvious Bowie fan) and are putting together one of the first American all-girl groups of the punk era. As this is primarily Currie's story (the film pulls largely from her book "Neon Angel: A Memoir of a Runaway"), the story concentrates mainly on the band's various struggles with broken homes, sexism, drugs, and interpersonal conflict up until Currie's departure from the group in late '77.
The underlying question with any post-"Spinal Tap" or "Walk Hard" music biopic basically amounts to "Is it just more of the same old thing?" This time out the answer is well, sorta yes, but sorta no. Seems like we the audience reached a point of critical mass for this sort of rags-to-riches, fall-from-grace thing years ago, to the extent that you could easily make a drinking game out of even the best examples. Luckily for everyone involved here, the band in question has a history that comes ready-made with the old standbys (the drugs and the drama), but also with a fresh depiction of what it means to be girls in the boys club, and the script does a fine job of underplaying the more potentially sensational elements. There are no weak links in the cast or period detail, Sigismondi's direction is nuanced and resists the temptation to be overly showy, and the music is fairly awesome throughout. The impact of the story never reaches the heights of "Sid and Nancy" or "Control", but also never hits the tired lows of "Ray" or "Walk the Line". Maybe it's a testament to how blatantly history repeats, but "The Runaways" offers further proof that it's becoming really difficult to shake things up without taking an immense amount of license with real-life events, and whether or not the movie will connect will ultimately depend almost solely on the intrinsic appeal of the real people upon which it's based. The Runaways, as good as they were, aren't the first band most people think of when it comes to girl groups, and none of its members died of an overdose, so the story was always gonna be something of a tough sell.
Anyone who sets out to make a biopic like this already has the deck stacked against him or her, because mainstream audiences seem to often go to these movies to have a bit of a hypocritical experience. They/we want to be entertained by the sex, drugs, perversion and/or tragic death that are all mainstays of the genre, while at the same time requiring the narrative to judge the characters for their sins by the end (regardless of whether or not there's any redemption). Who knows, maybe this is because we're jealous that they got to live the rock star life and we didn't. So generally, when it comes to determining how fresh the newest one may or may not be, we end up criticizing all involved for giving us exactly what we wanted. If "The Runaways" has any leverage in this department, it's the mystique, both in the punk leanings of the music and attitudes, and in the depiction of (underage) girls who flaunt their, well, underage girl-ness in a field that is not only male-dominated, but more or less defined with exclusively masculine traits. The Runaways did cock rock better than most. And perhaps the movie's greatest achievement is that the key members (Ford, West, and the fictitious bass player don't fare as well, to be honest) don't sacrifice their femininity in order to convince us as ground-breaking butch rockers.
But let's say you just can't get into girl punk or Dakota Fanning or Kristen Stewart, or maybe you've just got no interest in yet another biopic, and you need at least one good reason to give this one a chance. You get it with Michael Shannon, rapidly becoming one of those actors whose presence immediately elevates anything he's in. Kim Fowley is an admittedly showy role, one based on a man who is maybe best described as a human pinball, but believe it or not Shannon has dialed him down a bit. He plays Fowley as an earthy and intelligent showman, both Faust and the Devil in one, and this is one of those roles that may draw accusations of scenery-chewing. But only until you check out any footage of the real Fowley, at which point you'll fully respect Shannon's decisions to blend his audacity with a clear fondness, even a fatherly one, for the girls in the band. And it will come as a shock to exactly nobody who is even remotely familiar with his previous work that he owns every second he's onscreen. Honestly, "The Runaways" already has enough nice touches to make it easily recommendable, as long as your expectations are somewhat lowered, but Shannon makes it an almost must-see.
You might also like
Kelly (13 years ago) Reply

How does this even remotely relate to the apocalypse genre? Nothing against the reviewer or the writing, just disappointed it is so off-topic. Or am I wrong about this site?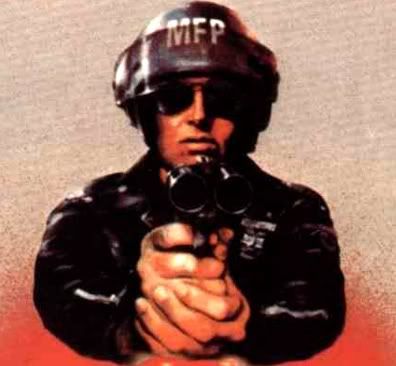 agentorange (13 years ago) Reply

We cover all post-apocalyptic stuff, but also scifi, horror, indie, arthouse, weird, cult and anything coming out of major festivals like SXSW.

donc48 (13 years ago) Reply

I asked the same question about a year ago or a little less about another film. The answer was PA and crazy Sh@# never truer words where spoken. So I just sat down buckled up, shut up, and hung on, it's been a sick twisted ride. So enjoy it.

Kelly (13 years ago) Reply

Ahh...OK. Thanks! And if you really think about it...Kristen Stewart is very zombie-like. So I'm shutting and buckling up now. :)

Leave a comment