Latest news
Christopher Webster
[Celluloid 03.14.10]
movie
trailer
news
scifi
horror
Our first look at Nimród Antal's Predators is upon us and so far I'm on board. The
official website
says the first trailer will appear 3/18 so we'll get a better look then.
About:
"A bold new chapter in the Predator universe, Predators was shot on location under Rodriguez's creative auspices at the filmmaker's Austin-based Troublemaker Studios, and is directed by Nimród Antal.

The film stars Adrien Brody as Royce, a mercenary who reluctantly leads a group of elite warriors who come to realize they've been brought together on an alien planet... as prey. With the exception of a disgraced physician, they are all cold-blooded killers – mercenaries, Yakuza, convicts, death squad members – human "predators" that are now being systemically hunted and eliminated by a new breed of alien Predators."
Check the 2 minute clip including footage and an intro from Roderiguez after the break.
You might also like
JackCrow (12 years ago) Reply

If I take the blue pill now, I think I will wake up, and this trailer did not happen.
Ok, let's try. :)

Anonymous (12 years ago) Reply

wasn't a trailer, looks cool as hell to me

Hot Fuzz (12 years ago) Reply

Methinks they might redeem the franchise...

donc48 (12 years ago) Reply

This gives me hope the franchise can regain its former glory. I will cross my fingers and hope my heart is not again broken.

uncleB (12 years ago) Reply

thanks ao!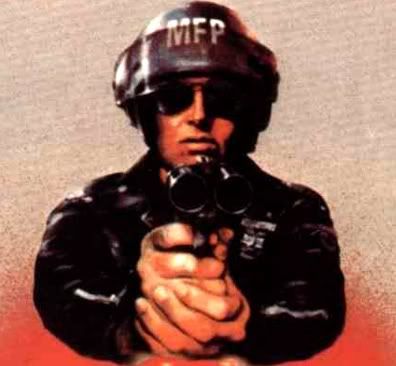 agentorange (12 years ago) Reply

Werd, no problem uncleB ;)

Corey Stringer (12 years ago) Reply

O MY GOD! YES! haha..

Anonymous (12 years ago) Reply

Why is Roderiguez wearing that goofy brown hat/cap on his head ?

witchman (12 years ago) Reply

Redemption may well be on the horizon, i remain optimistic on this one. That hole AVP thing was truly bloody awful on every level, a PG13 concept gone wrong. I for one dug Predator 2, cheesy...yes... but fun.

Lotus Eater (12 years ago) Reply

I really love the comics.

So ill watch this,...I strongly everyone to check out the comics, there are tons.

At one time my collection of aliens & predator comics was several boxes large. It was stolen, so I got all butt hurt. But the stories especially the stuff by the beloved dark horse are really worth reading. Lots of good stories.

NoNameNoSlogan (12 years ago) Reply

don't know what "JackCrow" is talkin about this looks sweet.

Shocbomb (12 years ago) Reply

Yeah Lotus Eater if you are talking about the old school Dark Horse comics from the early 90's they were kick ass. All in all the Flick looks great. Can't wait !

Leave a comment