Latest news
Christopher Webster
[Celluloid 02.18.10]
movie
apocalyptic
news
scifi
action
dystopic
gallery
A cross between Blade Runner, V for Vendetta and George Orwell's "1984," Watchmen of Hellgate is an ambitious U.K. 3D project that is currently in early production. The man behind the project is Welsh actor/director Richard Driscoll, whose credits include The Comic, Killer's Kiss, Kannibal and Evil Calls: The Raven. The film is being produced by Driscoll's production company, House of Fear.
While on the surface this seems like a cash in on the popularity of "Watchmen," Driscoll's story is more like "League of Extraordinary Gentlemen" in that it is an alternative history where Hitler won the war and features famous characters from other adventure stories(like Captain Nemo) coming together to fight the evil computerized version of Hitler.
Synopsis:
WATCHMEN OF HELLGATE shows the aftermath of a world in which Hitler won the war. The year is 2084, the place is London and a new big brother is watching. This is a totalitarian world where the Nazi Party rules. The new chancellor is guided by Hitler, who lives on as a computer program after his thoughts and ideas were downloaded.

A vigilante resistance unit called the Watchmen were born to subvert the state, lead by five common man heroes. From their secret hideout in the Hellgate Hotel, they orchestrate mayhem until their leader is captured. Then, they must enlist the help of Captain Nemo and the Nautilus in order to burrow underground in an attempt to rescue their Watchman leader.
The cast of the project is currently Christopher Lee, Billy Zane, Jeff Fahey (Lost, Grindhouse), Warwick Davies, Tom Savini (Dawn of the Dead) and Sylvester McCoy (Doctor Who).
We're hoping to see more from this project soon so stay tuned gang.
You might also like
Lenny (12 years ago) Reply

That's actually a damn cool cast.
Tom Savini Along would get me in the seat.

JackCrow (12 years ago) Reply

Brochure with more concept art ( 64 pages):
http://www.fantasticfilmsinternational.com/images/Watchmen-Brochure.pdf
"Be warned, it's nearly 10MB - but it's worth it! It's 64 pages of pre-production artwork and photos of props, mixed with bits of text that appear to be lifted from the script".

According to this site: http://www.mjsimpson.co.uk/richarddriscoll.html
which has many information about this project we learn about the test footage here:
http://www.houseoffear.co.uk/sfx.html

"'SFX' page which has four small movies: an animated logo of HoF company and three bits of test footage for Watchmen of Hellgate! There's a fly-through of London 2084 by night, there's a quick shot of the Nautilus and there's a completely superb Nazi helicopter ( looking like mil-24). Top design work, even if the animation itself is distinctly video-game quality."

Looks great, will be on the lookout for it.

witchman (12 years ago) Reply

Nice scouting Mr Crow. The animation work does look very Sci-fi Channel quality though.

arnold (12 years ago) Reply

is this somehow based or any connection with the videogame "Hellgate London"? The last poster with Big Ben I downloaded couple of years ago as my desktop background was from Hellgate: London videogame.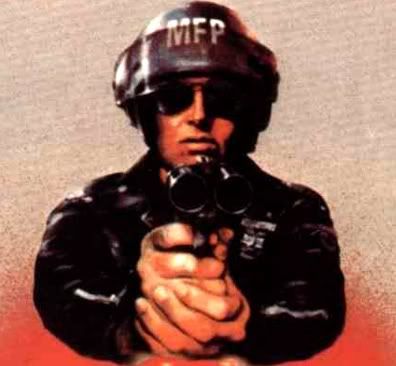 agentorange (12 years ago) Reply

@witchman

That animation is more like pre-viz work for CGI shots. Too early to tell the final quality, though House of Fear productions tend to be smaller budget.

Ant (12 years ago) Reply

I don't hold out much hope. Driscoll is one of the worst film-makers in the UK, if not the world...
He's like the Uwe Boll or Ed Wood of UK horror, but without the charm of those two. Watch his 'When Evil Calls' and you'll see what I mean (apart from Rik Mayall's performance, which is fun).
MJ Simpson wrote some very lengthy and hilarious reviews of Simpsons's ouvre, but was forced to remove them. If you run a google search for "mj simpson when evil calls" and look at the cache file you'll see them... ;)

witchman (12 years ago) Reply

True...i'm sure it is in fact "pre-viz". But i sure have seen finished work floating around on tv that looks pretty darn similar in quality.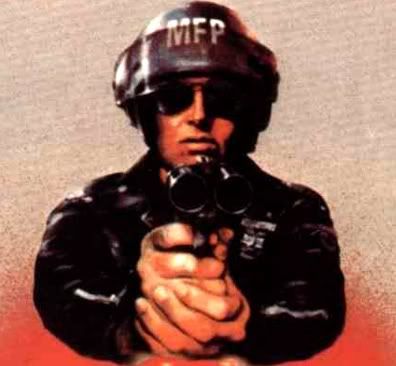 agentorange (12 years ago) Reply

True dat witchman.

MatInTheHat (12 years ago) Reply

The main poster is entirely stolen work. Calling it pre-vis is like saying the under pressure base line was pre-vis for ice ice baby.

Leave a comment