Latest news
Marina Antunes
[DVD News 01.26.10]
news
dvd
This is a massive week of releases featuring a handful of films even I have to catch up with (not to mention there's something for everyone in today's line-up). But enough rambling, on to the goods!
Finally on DVD in the US this week is the Canadian pseudo-zombie film
Pontypool
(
review
,
amazon
) from one of my favourite Canadian directors Bruce McDonald. Be sure to watch through the end credits! And by the way, the US DVD cover art is pretty awesome.
Highlander
director Russell Mulcahy's private investigator drama
Give 'em Hell, Malone
(
amazon
) hits store shelves. It stars a great cast featuring Thomas Jane, Doug Hutchison and Ving Rhames. Fans of hard-boiled revenge thrillers may want to take a peek at Takanori Tsujimoto's
Hard Revenge Milly
(
amazon
).
If a gorgeous looking prison escape drama is more your cup of tea, Rupert Wyatt's
The Escapist
(
amazon
), starring the excellent Brian Cox is now available for purchase.
If you're a PA fan (and let's face it, around these parts that's all of us), the
Lost City Raiders
(
review
,
amazon
), one of ScyFy channel's most popular titles, starring James Brolin and Ian Somerhalder is now on R1 DVD. Also available is Halo-8 Entertainment's
Godkiller: Part 2
(
amazon
) featuring a quote from our very own quietearth.
Horror fans have a few selections to choose from including T.J. Martin's horror western starring Crispin Glover
The Donner Party
(
amazon
), Michael Roesch and Peter Scheerer's monster flick
Alone in the Dark II
(
amazon
) and thought I've never seen it, I'm sure Troma's
War
(
amazon
), which is now available on DVD is also a type of horror film (in the Troma sort of way).
And, if you're like me, a girl who loves a little romance and girl power, here are a trio of titles likely to make you happy. Jane Campion's
Bright Star
(
amazon
) starring the fabulous duo of Ben Whishaw and Abbie Cornish is one I'm definitely catching up with. The dark side comes forth in Frank Henenlotter's "god awful love story"
Bad Biology
(
amazon
) and to wrap things up, Drew Barrymore's directorial debut provides an empowering film about chicks that rock in the roller derby drama
Whip It!
(
amazon
).
You might also like
rek (12 years ago) Reply

Any word on the sequel, Pontypool Changes? I believe it was supposed to start shooting here in January.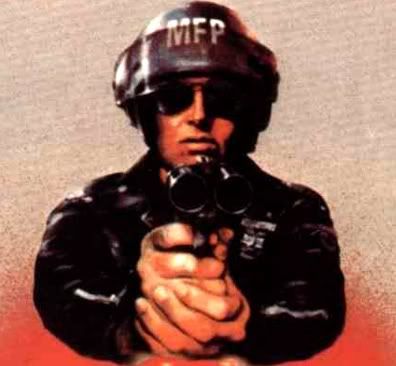 agentorange (12 years ago) Reply

It's still listed as "in development" on imdb so I don't know. I doubt it's lensing this month, but we'll do some digging.

TommyBoy (12 years ago) Reply

Pontypool is awesome. One of my favorite pseudo zombie flicks. So, can some one tell me about the end credits and what happens? Please, because I have no idea. Thanks!

Leave a comment