Latest news
Marina Antunes
[Celluloid 01.14.10]
movie
news
#1:
RZA talks "Iron Fist"
We already knew that multi-talented artist RZA was writing and directing a martial arts genre mash-up titled
Iron Fist
. Admittedly around these parts we're pretty big fans of RZA and excited to see what he's got to offer but if this recent interview with
LA Times
is any indication, there's good reason for it too. In the mix is Tarantino who appears to be a great influence to the musician turned director, Eli Roth who, love him or hate him, knows what he's doing, and Jim Jarmusch. Can't wait until we finally have some footage.
#2:
"Damn Nation" adaptation in the works
Comic book adaptation aren't going away. Thankfully for us the studios are starting to dig through some of the fringe titles. The newest kid on the block is Andrew Cosby's "Damn Nation," which takes place in the US after an evacuation of the country overrun by, basically, vampires. The Paramount production recently hired
Thor
writers Ashley Edward Miller and Zack Stentz to adapt the script. [via
Heat Vision
]
#3:
Details updated on "300" sequel
Considering
300
made a gagillion dollars (wonder if that had anything to do with the women who agreed to be dragged to the film to capture the glorious CG abs…), it's no surprise that the studio would be talking sequel. The follow-up in question turns out to be a prequel titled
Xerxes
which begins 10 years prior to the events of
300
and tells of the Battle of Marathon which took place during the first Persian invasion of Greece. Frank Miller is writing the story and according to
Super Hero Hype
, Zack Snyder has expressed interest in returning for the follow up.
#4:
"Battle Angel Alita" updated
There's been talk that James Cameron has been circling a full length adaptation of the manga "Battle Angel Alita" but news on the production has been scarce. Cameron recently talked to
MTV
and revealed that the CGI/live action mixing technology developed for
Avatar
would be ideal for an
Alita
film but the project is still in early stages: "very good script and we've done a lot of production design. We've done about a year of production design and we've put together an art reel that shows the arc of the film." Still early on but it sounds promising.
#5:
"Jeepers Creepers 3" in the works
I thoroughly enjoyed
Jeepers Creepers
but completely missed the second instalment into the franchise that is soon to be a three parter, but quietearth is pretty excited at recent news that writer and director Victor Salva has a third story in the works. Tentatively titled
Jeepers Creeper 3: The Creeper Walks Among Us
it "includes a prologue in the Old West and might bring back several characters from the first two films 20 years later." Now that's something even I can get excited about. Let's just hope that the new MGM opts to give part three a theatrical release rather than the originally proposed direct to DVD route. [via
horror-movies.ca
]
#6:
"15 Till Midnight" sounds like "Eternal Sunshine of the Horror Kind"
And that's not a bad thing. The story of a guy whose perfect girl disappears without a trace sounds pretty harmless but when the disappearance is only the beginning of his world being turned upside down, you've got my attention. Writer, director and star Brandon Slagle describes it as "science fiction, horror, mystery, and action - the plot itself is more or less what happens when Phillip K. Dick hosts an orgy on the set of 28 Days Later with Alfred Hitchcock and Jason Bourne in the mix." If he's not jiving, this thing is going to blow our minds! [via
AITH
]
#7:
"Night & Fog" goes big screen
Or so they hope! The newly created comic from Studio 407 had been optioned by Gil Adler and Shane McCarthy (Adler was behind
Constantine
and
Superman Returns
). The story of a government test gone wrong leading to inhabitants of a nearby village being turned into unkillable creatures, the story sounds interesting enough and if they go the way of the comic (which
looks
awesome), we're in for a treat. [via
horror-movies.ca
]
#8:
"The Gauntlet" gets an update, of sorts
Remember those awesome images agentorange
posted
last year from the Bai Ling starring thriller
The Gauntlet
? Turns out those aren't the only images of the film floating around. A whole
new batch of images
has turned up online but sadly, still no information on when, or if, the film will ever see the light of day. Seems a bit of a waste considering it looks and sounds wicked. [via
BD
]
#9:
Another Poe film in the works
This time the film isn't an adaptation but rather a story of Jonathan Poe, descendant of famed writer Edgar Allan Poe, a writer who is hired to immortalize a Chef in an autobiography except once he agrees to the job, he discovers it's not animal meat "The Chef" is preparing. The film simply titled
Poe
goes into production this month under the watchful eye of director Francis Xavier.[via
STYD
]
#10:
Worthington the next Flash Gordon?
Looks that way and really, the production could do worse. Worthington has talent and let's face it, he's in high demand. This project seems to have been in production for ever but it looks like the ball may actually be moving on this one. As they say, slowly but surely.[via
ecartelera
]
Ten more stories after the break.
#11:
Be a movie producer
Yeah, you know you want a film credit and now getting one is as easy as passing over a few bucks. Writer director Craig Luck is working on a short film called
Bios
. It takes place in a future where the world has been destroyed and the last man alive is an inventor who lives under ground with his dog. Figuring he'll die soon, the inventor builds a robot to take care of his dog once he's gone. It's a cool concept for a short and I'd definitely be interested in checking out the final product. For there to be one, money needs to be raised and if you're interested in helping out a hard-up director, you can do so
here
.
#12:
First look at "Battle: Los Angeles"
Don't get too excited, it's not like these are totally revealing pictures but someone did take a few photos of the Louisiana set of Jonathan Liebesman's invasion flick in which Michelle Rodriguez, Aaron Eckhart and Michael Peña defend LA from, you guessed it, aliens. Images at
io9
.
#13:
"the forgotten" hires writer
And holy crow it's awesome! The mystery series which features a lead character that can erase minds, has hired none other than John Rogers for writing duties. Why the excitement? Maybe because Rogers was behind the awesome pilot for "Global Frequency!" Yeah, I'm a fan. More on this project as it develops. [via
/film
]
#14:
More "Pride & Prejudice & Zombies" on the horizon
Honestly, zombies have never been my thing and I have serious issues with "expansion" of a classic such as Austen's but then I appear to be a minority because Seth Grahame-Smith's book was a huge seller so much so, in fact, that he's making a sequel. Actually, it's a prequel and it's titled "Pride and Prejudice and Zombies: Dawn of the Dreadfuls." Grahame-Smith isn't returning, co-writing duties are being passed on to Steve Hockensmith. If you're into this sort of thing, you can expect the new edition on shelves in March. [via
STYD
]
#15:
Richard Ayoade directing "Submarine"
English comedian Richard Ayoade is currently working on a film adaptation of Joe Dunthorne's
Submarine
, a novel which has been called "the sharpest, funniest, rudest account of a periodically troubled teenager's coming-of-age since The Catcher in the Rye." Those are some pretty big shoes to fill but if the story is this good, then the film adaptation is bound to be equally great since it features Sally Hawkins. Noah Taylor and the fabulous Paddy Considine.
Empire
has the first image featuring Craig Roberts as protagonist Oliver Tate.
#16:
Jonathan Lethem's "Gun, With Occasional Music" being adapted
We'd
previously reported
that Lethem's novel had been picked up by the producers of
Bad Lieutenant: Port of Call New Orleans
and now it looks like those same producers have hired a writer to adapt the novel. Javier Rodriguez has been handed the baton – let's see if he can live up to expectation.
#17:
Bakshi's "Lord of the Rings" comes to Blu-ray
It was only a matter of time before Ralph Bakshi's adaptation saw the light of day on the latest format but if the
trailer
which WB has put out is any indication, it doesn't look like they've done much, if any, restoration on the picture. Still, for those who haven't seen it, here's an opportunity to catch up with a little film which I have a serious soft spot for. Yes, it's true, lots of Bakshi love in this corner. Look for it on April 6th.
#18:
John Hillcoat's next project dead before it starts
John Hillcoat's
The Road
may not have impressed me as much as I'd hoped but I still have lots of love for the director behind one of my favourite westerns of the past few years. Hillcoat's next project was set to be
The Promised Land
, an adaptation of Matt Bondurant's novel "The Wettest County in the World" about three bootlegging brothers. The adaptation was written by Nick Cave and the script had been favourably reviewed by The Playlist but the disappearance of Millennium Films means there's no money for the production. I doubt this project will stay dead for long but it's sad to see it won't be coming any time soon. [via
Telegraph
]
#18:
"The Thing" prequel forges ahead
Matthijs van Heijningen, Jr. prequel (written by Ronald D. Moore and Eric Heisserer) is going ahead whether we like it or not.
Production Weekly
reports filming will take place in Toronto between March and June. Now all they need is a proper title.
#19:
"The Orphanage" remake gets new director
Another unnecessary remake that has been in production for a while,
The Orphanage
had previously attached Larry Fessenden to the director's chair but circumstances have changed and Fessenden has moved along vacating the spot that has now been filled by Mark Pellington, a man who has made some seriously annoying films. In my books, this is definitely a step down. [via
Variety
]
#20:
"Dune" gets new director
There was no doubt when Peter Berg left the upcoming
Dune
remake that the project was going to pick-up a new director rather than just die away. The time is right for a new stab at
Dune
though I'm not sure Pierre Morel, the director of
Taken
,
Banlieue 13
and the upcoming
From Paris With Love
is the guy to bring it. It's not that I don't like Morel, on the contrary I've liked his work so far but his addition only cements my fear that the production will focus on the action rather than the drama of the story. [via
EW
]
You might also like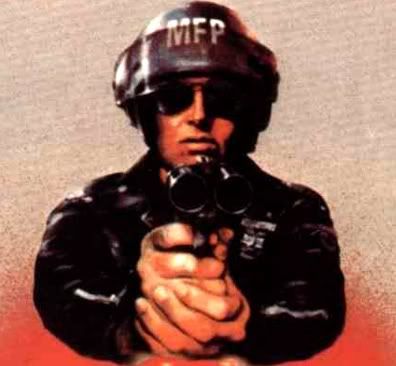 agentorange (12 years ago) Reply

Wow, lots of cool stuff in here that I missed this week. Thanks Marina.

Kenneth (12 years ago) Reply

It seems like James Cameron will never make Battle Angel Alita. As much as fans (such as myself) have been waiting to see the live action film adaption of this manga, Cameron has been setting the production date further and further back. In the next decade, he'll be lucky to film anything except Avatar sequals.

Anyways, nice article. Lots of good stuff.

donc48 (12 years ago) Reply

Ok I just go to this late, a couple of thoughts first Jeepers Creepers 3, ok I liked the first the second was so, so. I find the concept intriguing but like most things in the movie business it's subjective (The Writer and Director might think it's a master piece I may think it's pigs swill) and constrained by budget. I'll keep an eye on this one.
They're doing a remake of Dune? Hasn't the Novel been butchered enough? SYFY did a great adaptation of the Novel and like most of the better stuff they do you never see again.
Pride & Prejudice & Zombies, I am really going to try and keep an open mind about this one (As a male I have a gene for hating Jane Austen, as an aspiring writer I have a obligation to at lest try and read her) but I can see it already, Buffy in long high wasted gowns kicking Zombie butt. If you have ever seen long high wasted gown common for that time, spinning high kicks are going to be real tough to pull off well see, keep open mind I'll keep telling myself.
The Thing is one of my all time faves, the original I like a lot the remake I'm warming to, but after seeing remake of War of the Worlds when it first came out, I'm afraid. Granted there was much more of the novel than in original, but Tom Cruse and the casting of Dakota Fanning and that other kid was a mystery to me, Robbie was just annoying. I hope they just leave The Thing alone. I ask myself why must Hollywood murder all the things I love.

Leave a comment