Latest news
Christopher Webster
[DVD News 12.30.09]
movie
news
dvd
I'm kind of choked because
Pandorum
was supposed to street today, but has been pushed back to January. Ah well, at least we've got a decent PA flick in
Carriers
(
review
,
amazon
) streeting today. A few of us have seen the film and my opinion seems to be the highest. Not a perfect film by any means, but it was nice to watch a fairly smart post-apocalyptic road movie that didn't rely on zombies for a change.
Also out this week is Shane Acker's post-apocalyptic animated film,
9
(
review
,
amazon
). High on action, but a little light in the story details, I'd say it's defintiely worth a spin for its original vision and style.
Another film that streets today and is not quite as mediocre as some would have you believe is
A Perfect Getaway
(
amazon
, written and directed by David Twohy. The film relies on a pretty heavy conceit to be sure, but it manages to be suspenseful enough to entertain.
Of course we can't forget the R1 release of Lesbian Vampire Killers, now retitled "Vampire Killers" (
amazon
) in the states. With its new cover that rips off the Zombieland poster it's bound to do well. And to be honest, it's actually pretty funny (if a bit annoying as well) at times. Worth a rental.
Oh yeah, and Paranormal Activity (
amazon
) and Jennifer's Body (
amazon
) are out today... these two I cannot account for.
[Editor's note: You couldn't pay me to watch Paranormal Acitivity and Jenniffer's Body was terrible. You've been warned.]
You might also like
uncleB (12 years ago) Reply

Carriers was a great. This could very well happen. I also liked how it showed how people will treat each other in a "it's me or you" scenerio. Dark.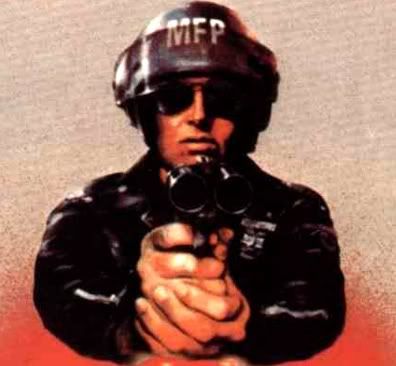 agentorange (12 years ago) Reply

I agree uncleB. Characters make very tough, very unmovie-like decisions in Carriers which made the film feel a bit more realistic. Still a very mainstream film, but I liked it a lot.

Marina (12 years ago) Reply

I really liked Jennifer's Body (against my better judgement). Would give it a gander a second time. I was laughing pretty hard throughout that I'm sure I missed a few of Cody's zingers. I have a love-hate relationship with that woman...

Lenny (12 years ago) Reply

Yeah WTF I want Pandorum now! Saw it in the theater and it was great. Can't wait to watch it again.

Marina (12 years ago) Reply

Saw Carriers last night - good call on that one agentorange. Thoroughly enjoyed it.

Leave a comment