Latest news
Marina Antunes
[Celluloid 12.23.09]
movie
news
#1
James Cameron to redo "The Fantastic Voyage"
Now don't be getting too excited because there's no news that Cameron will direct the project but
Variety
does report that Cameron is producing the film and from what I can gather, the project (and a few more to follow) is an effort to make use and money from the expensive technology he spent years prepping for
Avatar
. It's a great opportunity to remake this sci-fi classic but with "Aliens vs. Predator: Requiem" writer Shane Salerno on board to adapt the original story, I can't say I'm all that excited.
#2
Natalie Portman starring in "Pride Prejudice and Zombies"
This seems like an odd pairing but Portman does have the looks for period drama though I'm not sure what possessed her to agree to a period piece about a man searching for love amidst a zombie outbreak. Portman will also produce the film which currently doesn't have a director attached. I'd love to see Joe Wright take a stab at it. [via
Variety
]
#3
Duncan Jones' "Source Code" begins production in January
Jones' follow up to
Moon
(
review
) is a horror thriller starring Jake Gyllenhaal about a guy who wakes up in the body of a commuter and is forced to re-live a train bombing until he can figure out how to stop it. The project is set to start production in January with shooting scheduled for early March in Montreal.
#4
Tarsem's "War of the Gods" sets up in Montreal
Those tax credits are making Montreal a hub for movie production. Aside from Jones' upcoming project, there's also news that Tarsem's
Dawn of War
(aka
War of the Gods
) has set up in the lovely city with a production schedule of April 5th to June 18th. [via
Production Weekly
]
#5
"Upside Down" nabs shooting schedule
We've already talked a great deal about Juan Solanas' upcoming full length feature
Upside Down
(our very own projectcyclops provided a fantastic
script review
) and it looks like the film is getting ready to start production. The film which stars Kirsten Dunst and Jim Sturgess, will start its 4 month shoot in March.
#6
Takeshi Kitano returns to gangsters
The prolific Japanese actor/director is returning to the gangster film after years of absence. According to
Variety
, Kitano will be starring and directing
The Outrage
, the story of a yakuza boss who send an underling and his crew to bring another gang under control. Sounds pretty run of the mill but these films are always good fun.
#7
Disney Remaking "The Black Hole"
With the
Tron
sequel in the bag and apparently ready to take over at the box office, Disney is keeping the team behind the production together and moving them into the next project on the assembly line, a remake of the 1979 sci-fi film which at the time, was the most expensive project Disney had ever produced. Joseph Kosinski, Sean Bailey and Travis Beacham are all on board for the reinvention of
The Black Hole
, the story of space explorers who come across a lost ship hovering outside of a black hole. [via
Reuters
]
#8
Eli Roth preparing for as "Invasion"
No, that's not another remake of "Invasion of the Body Snatchers" but the horror director is producing
Invasion
at Summit. The story, about a group of subway accident survivors who emerge from underground to a destroyed city covered in ash and people in a frenzy and running around covered in some strange substance. It sounds like a promising premise; let's see who they come up with to direct. [via
AITH
]
#9
Albert Pyun to direct 3D vampire movie
I must have entered the Twilight Zone. Prolific director Albert Pyun is working on what's he's referring to as a "hybrid of genres" (complete with vampires and romance) in 3D. If you still need more awesomeness, how about the casting of mostly unknowns with "Parkour / Cirque du Soleil physicality and skills?" This actually sounds pretty wicked! [via
Dread Central
]
#10
"Piper" comic adapted for big screen
Loosely developed from the The Pied Piper of Hamelin tale, Zenescope Entertainment's "The Piper" is the story of a bullied band geek who channels the spirit of the fabled Pied Piper to devastating circumstances. The project is being produced by Persistent Pantry Films, Zenescope Entertainmen and Persistent Entertainment who have a track record of great films including
An Unfinished Life
and
Southland Tales
. [via
THR
]
Even more news blasts after the break!
#11
"The Hungry Rabbit Jumps" adds cast
It's a strange name for a film about a chemistry teacher who joins a vigilante group but the $30 million thriller directed by Roger Donaldson and starring Nicholas Cage as the lead has added the talents of TV's January Jones, Guy Pearce and the awesomeness of Harold Perrineau, a man who really should be a superstar, to the roster. [via
Variety
]
#12
Neil Burger preps "Black Fields"
I'm a pretty big fan of Neil Burger's
The Illusionist
and am waiting anxiously for the director to make another genre film (his follow-up was a disappointment) and it looks like
Black Fields
may be the film I'm waiting for. The project about a down-and-out writer who comes into a top-secret pharmaceutical drug that makes one smarter but also has damaging side effects, sounds like it may have some potential though I must admit the casting of Bradley Cooper in the lead doesn't do much for me. The guy oozes creepy. [via
THR
]
#13
"Toxic Avenger 5" in the works?
We tweeted about this a few months back (it pays to
follow us
) but official word out of Troma is that Lloyd Kaufman is diligently working on funding for
Toxic Avenger 5
and judging from the first bit of
teaser art
, there's speculation that this could be called
The Toxic Avenger: The Toxic Twins
.
#14
Mark Millar's "Nemesis" to the big screen?
Of late, it seems like everything that Mark Millar talks about makes Hollywood jump and his new project, a comic book about a rich guy who rather than use his money and talents for good uses them to become the world's only super villain, sounds cool but I have to admit I don't really see what all the fuss is about. Isn't this what all comic books are about: a super-villain against either the super-hero or the good guys? Apparently there's a whole lot to get excited about and you can read all about it at
Comic Book Resources
.
#14
"Bad Monkeys" next for producer Matt Battaglia
Producer Matt Battaglia has been on a shopping spree but of all the project he's acquired over the last little while but the most interesting of the bunch is "Bad Monkeys", a novel from Matt Ruff's which was described by the New York Times as "a science fiction 'Catcher in the Rye.'" It's the story of a woman with an alter ego she can't control. When she's arrested for murder, she claims to be belong to a secret society which fights evil. Sounds like it has potential! [via
THR
]
#15
"Pee-Wee's Playhouse: The Movie"?
According to Paul Reubens, the script is finished and ready to start shooting tomorrow…if he can find a studio. Reubens has been shelling the script around trying to find a home for the PG story about Pee-Wee leaving the Playhouse for the "real" world of Puppetland. Word of the day: awesome! [via
MTV
]
#16
Sci-fi indie "Scavengers" fills roles
Prospects for another good indie sci-fi film are looking good and Travis Nicholas Zariwny's directorial debut
Scavengers
sounds like a promising option. The film about crews of space scavengers competing for supplies, energy and treasure (sounds a little reminiscent of
Serenity
which isn't necessarily a bad thing) has cast relative new comer Louise Linton and Sean Patrick Flanery of "The Dead Zone" and
The Boondock Saints II: All Saints Day
fame. [via
THR
]
#17
James Cameron's next could be "Seven Samurai" in Space?
There's been a lot of speculation on what James Cameron will work on next now that his long in development
Avatar
has exploded onto the scene. There's rumblings of
Battle Angel Alita
, a
Fantastic Voyage
remake and even an
Avatar
sequel but news via
io9
is that there's an epic sci-fi adventure reminiscent of
Seven Samurai
involving aliens and humans. The project, written by Shane Salerno sounds fantastic though I must admit that Salerno's previous works (
Armageddon
,
Ghost Rider
, and both
Alien vs. Predator
) have left a lot to be desired. I'm hoping this might be the Salerno's masterwork and if Cameron is indeed looking at the project it's because he sees potential. More as it develops.
#18
Chris Smith's "Black Death" gets UK release
We first
heard
of
Severance
and
Triangle
(
review
) director Chris Smith's medieval apocalypse film
Black Death
in 2008. The now finished (and great looking) will see life in UK cinemas on February 26th.
You might also like
wolfeyes (11 years ago) Reply

That's cool news about Beat. Just noticed that Violent Cop is on Hulu.

If they make Seven Samurai in space, I hope it's titled Seven Samurai in Space. Or maybe Seven Samurai in Space on a Plane.

Anonymous (11 years ago) Reply

im laying money on a corporate sleezebag and military grunts being part of a secret destructive agenda involved in the fantastic voyage.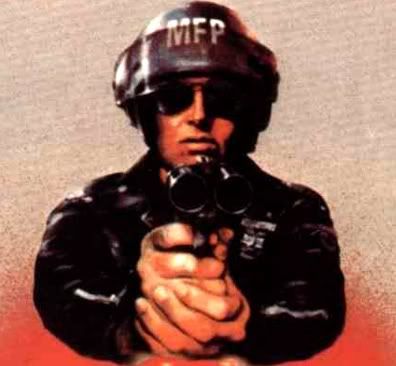 agentorange (11 years ago) Reply

2010 should be an interesting year. Some great projects happening.

Leave a comment