Latest news
Christopher Webster
[Celluloid 10.29.09]
movie
trailer
news
scifi
thriller
drama
I've stated many times before that I particularly like films where strangers are brought together and have to overcome some sort of unknown foe or stressful situation. Examples that immediately come to mind are obvious ones - The Cube trilogy, Saw, The Killing Room - but there are many others that have worked and many more on the way (Exam).
Add to this list Roel Reiné's
Drifter
, a film that adds a few new elements to the strangers-with-no-memories formula - one of which appears to be alternate realities.
Synopsis:
Four characters wake in a desert, disoriented and lost with no clue where they are or how they got there. All four have fresh surgical scars and are on the verge of death. As they run desperately through a labyrinth of realities, both past and present, their ties are revealed and they come to see that only one of them will survive.
Drifter has actually been done since 2007, but the film is still actively looking for distro deals to finally see the light of day. Personally, I'm liking the looks of it and I hope to get a look at it soon.
Check out the trailer after the break.
You might also like
Lenny (13 years ago) Reply

I dig these kind of stories too and immediately thought of Identity with John Cusack for some reason.

rek (13 years ago) Reply

There's only one Cube movie, period.

Tommy Boy (13 years ago) Reply

Yeah, these kind of stories are more often than not interesting. I originally thought of Flight of the Phoenix what with the desert and all.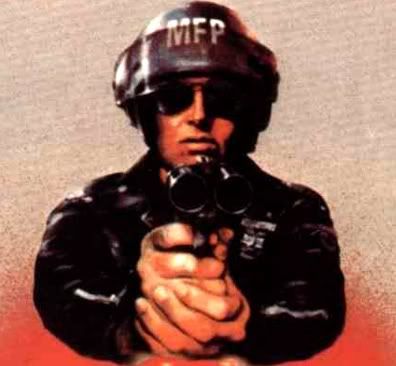 agentorange (13 years ago) Reply

@ rek

They could erase the second Cube for sure, but there's something interesting about the basic idea of Cube 3. I particularly liked going back and seeing the first , less sophisticated prison design.

Jimmy (13 years ago) Reply

The trailer looks really cool. I love to see that it is not just a thiller but also looks like a work of art.

jake (13 years ago) Reply

Looks really cool. film making looks beautiful.

R Hitchcock (13 years ago) Reply

Having seen this movie at a screening in Los Angeles... I can highly recommend it. The tension builds as the characters get under your skin. Artful, smart direction and the quiet, skillful acting by the fine Cameron Daddo create the foundation that will stay with you long after the lights have come up on "Drifter".

david celement (13 years ago) Reply

this is a really cool out there movie, recommend watching it and enjoy the ride!!!

Polly (13 years ago) Reply

Wow! What an incredible movie! I want to see it!

Leave a comment