Latest news
Rick McGrath
[Celluloid 10.26.09]
zombies
news
gallery
(Toronto, Canada. Oct 24, 2009)
The zombies groaned and lurched through downtown Toronto again today, as they have annually since 2003, but the 1,000 plus undead who showed up last year to shuffle along to the Toronto After Dark film fest dwindled to a mere third of that number this year, doubtless because of predicted heavy rains and way, way too much makeup.
But corpses come and corpses go, and what the mélange of undead missed in numbers this year they more than made up in the high quality of rotting gruesomeness and special effects, thanks in part to on location help from makeup artists supplied by Resident Evil – yeah, the video game! They were fast. Good. And gory.
As usual, participants, voyeurs and photographers (the crowd was split about a third each) all gathered at Trinity Bellwoods Park in Toronto's artsy/funky Queen Street West district to pose, preen and plod through the dead leaves for the media before enduring a few speeches, accepting some prizes, and then lurching off along a circuitous route around and through the university area to their final dispersal area in the equally trendy Bloor West Village.
As might be expected, the size and brain-eating voracity of zombies over the last few walks has pissed off a few locals, and some undead-control measures were introduced this year (although ya gotta wonder why).
The official website reviews the new rules:
• Respect other people's property. Eat brains, but leave no marks behind.
• Stay off the road, and try to shamble on the sidewalk.
• Respect other zombies, and the living's personal space. No special mauling rights are given to zombies.
• You are responsible for your own corpse.
• Have fun!
Sounds good to me. Smell ya later!
Check out our massive picture gallery after the break! All photos by Rick McGrath.
You might also like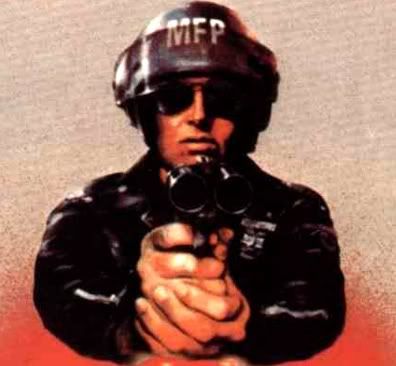 agentorange (12 years ago) Reply

Dude, that zombie baby is awesome. Definitely some of the best make-up work I've seen in a walk.

TheKraftyKreep (12 years ago) Reply

There were way more zombies that stated in this article. The reported numbers are well over last years 3,000. Also the toronto police services have been helping out now for a number of years and the rules have also been in effect long before this year. In fact, this was the first year zombies actually got to shamble the streets and were not restricted to sidewalks...

rickmcgrath (12 years ago) Reply

OK, great... I got a few zombie facts wrong... a few cute zombiettes agreed to eat my brains and apparently damaged the fact-checking center. whaddya think of the photos?

rek (12 years ago) Reply

Lots more pics over at Torontoist.com:

http://torontoist.com/2009/10/zombie_walkers_play_dead_for_shuffling_success.php

Trevor Broad (12 years ago) Reply

Awesome photos!! Vancouver's Zombie Walk this year was epic too... check out some of the photos I took if your interested. http://shootyouintheface.com/?p=227

rickmcgrath (12 years ago) Reply

I have 55 photos posted on flickr, with about 45 to go: http://www.flickr.com/photos/rick_mcgrath/sets/72157622655211984/

Hal (12 years ago) Reply

nice!

Leave a comment