Latest news
Ben Austwick
[Film Festival 10.23.09]
action
drama
adventure
Year: 2009
Directors: Nicolas Winding Refn
Writers: Nicolas Winding Refn / Roy Jacobsen
IMDB:
link
Trailer:
link
Review by: Ben Austwick
Rating: 7out of 10
Sparse, intense and atmospheric, barbarian epic Valhalla Rising is an unusually artistic take on a genre more associated with the one-dimensional dumbness of the Conan films, one which in its firm grounding in actual history also manages to move beyond the escapism of the fantasy genre it draws inspiration from. However, a brilliantly realized world and immersive atmosphere are betrayed by a meandering, listless story that draws us too far away from the awe-inspiring early scenes and ends up petering out into nothing.
The film opens oppressively on a barren, windswept mountainside in the Scottish Highlands. A small group of Vikings are among few pagan survivors of Christianity's violent sweep through Northern Europe, driven to the edge of the inhabitable world. In the Vikings' possession is a dangerous caged warrior, a one-eyed mute who despite never uttering a word is Valhalla Rising's central character. A slave, he is traded between clans and marched across a bleak, war-torn and sparsely inhabited landscape.
The backstory convincingly presents a world in violent flux, which coupled with the unusually desolate surroundings invokes a morbid dread more commonly associated with the post-apocalyptic. Piles of burnt bodies and enslaved, naked women shivering in the freezing cold are reminiscent of Cormac McCarthy's "The Road", and their use here suggests the novel may herald a newly grim and unstylised take on the portrayal of social collapse.
This is accompanied by some breathtaking violence. Right from the start, where the barbarian's prowess as a warrior is showcased in organized fights, his invincibility and viscousness are a constant theme. Necks are snapped, throats slit, guts pulled out and skulls smashed in full gory view. Old-fashioned hand-to-hand combat executed with swords and axes takes you right into the centre of the fight, and the suffering of those involved is often excruciating. The excitement of this brilliantly realized violence is at first an aside, but unfortunately becomes the dominant positive as Valhalla Rising descends a slow downhill slope, the impressionistic early scenes giving way to an unfocused narrative as the warrior joins a group of Christians embarking on a crusade to the Holy Land.
A drawn-out journey of thirst and misery on a boat lost at sea is the final triumph of Valhalla Rising's glacial pace and immersive atmosphere before the weak story takes over. As if to underline this, the oppressive fog, wind and rain of the early scenes is replaced by unpoetic sunlight as the band set out to conquer and convert the Holy Land. The slow and subtle reveal that accompanies this, one that some may spot straight away but that only became clear to me when the credits started to roll, is a last gasp of intelligence as the film loses its way. The always slightly po-faced dialogue becomes ponderous, suggestive sequences are replaced by confusing ones, the subtle soundtrack gets loud and overbearing. That the simplicity and attention to detail of early scenes seemed to be employed partly to avoid these problems makes their later appearance all the more frustrating.
Thankfully though it is the early part of the film that stays with you, such is its power against the forgettable ending. An unflinching directness, with dialogue pared down to the barest functionality; and the technical assuredness of the slow pacing, including long shots of what often amounts to nothing more than weather, betray a healthy obsession with atmosphere that is quite astonishing when you consider the stylized flash and bang of Refn's previous movie, Bronson - which moreover was apparently shot at the same time. This is an unusual way to work, and perhaps Valhalla Rising's problems stem from divided attentions or a packed filming schedule. If this is the case, Refn should take a step back, take his time and return with the really great movie he is capable of.
You might also like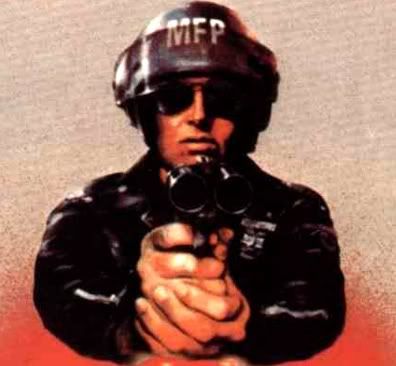 agentorange (11 years ago) Reply

Finally caught up with this on Blu-ray. It's slow yes, but mesmerizing. It sucked me in to its web of metaphor and archetype and the film stayed with me for a while.

Worth a revisit I think.

Leave a comment