Latest news
Christopher Webster
[Celluloid 10.22.09]
post apocalyptic
movie
trailer
news
short
This may be the first we're hearing of Brazilian post-apocalyptic short film,
Waiting Room
, but it sure will be getting a captive audience when it premieres before John Hillcoat's
The Road
at the Stockholm Film Festival as part of the fest's special "Apocalypse: The Time is Now" section.
Created by directorial duo, Bruno Barboni and Davi Pretto, the bleak film runs 13 minutes.
Synopsis:
A young man wearing a gas mask wanders through the deserted streets of a crumbling city. Only a few people - all male - still roam the streets and frequent the coffee shops. Their interaction is minimal and marked by sudden and unprovoked outbursts of violence. Everyone is seemingly waiting for an undisclosed something.
I found the trailer had pretty glitchy sound, but it could just be my system.
Trailer after the break.
You might also like
wilcoy (12 years ago) Reply

Cool...I heard the same glitchy sound I believe it is part of the soundtrack.It does look like the few remaining survivors seem tense and waiting for...?

Anonymous (12 years ago) Reply

It's not spanish...it's brazilian. Really cool, anyway.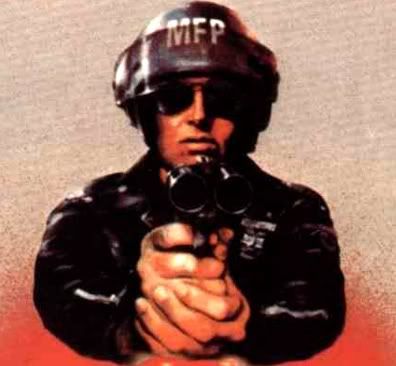 agentorange (12 years ago) Reply

Ah crap. Fixed. Thanks.

Pinkmechanic01 (10 years ago) Reply

THEY ARE AT THE DMV!....They're waiting for their # 2b called

Leave a comment