Latest news
quietearth
[Celluloid 10.01.09]
movie
trailer
news
horror
The first trailer for Breck Eisner's remake of George Romero's 70s plague classic,
The Crazies
, has finally dropped. Considering how quickly from announcement this thing came to completion I'm not surprised it looks lame until the last 30 seconds. Agentorange thinks it looks decent, though it might just be because of his odd obsession with Timothy Olyphant.
Synopsis:
The American Dream goes horribly wrong when the residents of this picture-perfect town begin to succumb to an uncontrollable urge for violence and the horrific bloodshed escalates into anarchy. In an attempt to contain the epidemic, the military uses deadly force to close off access into or out of town, abandoning the few healthy citizens to the growing mayhem as depraved killers lurk in the shadows. Sheriff David Dutton (Timothy Olyphant); his pregnant wife, Judy (Radha Mitchell); Becca (Danielle Panabaker), an assistant at the medical center; and Russell (Joe Anderson), Dutton's deputy and right-hand man, find themselves trapped in a once idyllic town they can no longer recognize. Unable to trust former neighbors and friends, deserted by the authorities and terrified of contracting the illness themselves, they are forced to band together in a nightmarish struggle for survival.
Trailer after the break. via
Apple
You might also like
Adddddddd (12 years ago) Reply

Not bad. I do wish people would stop using that same Donnie Darko song in all the trailers.

Anonymous (12 years ago) Reply

Not working yet? Explain.

badfrog (12 years ago) Reply

worked for me, watched the 1080pHD trailer, looks great!

really? I gotta use captcha even if I am logged in?

Anonymous (12 years ago) Reply

not bad, far better than i was expecting. Seems everyone is outdoing Romero at his own game these days.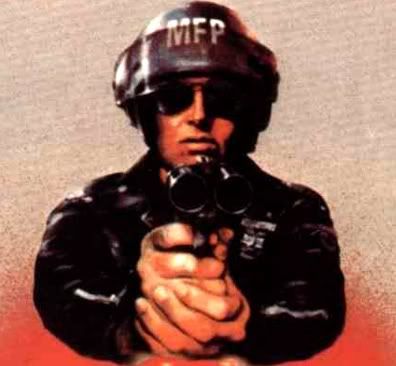 agentorange (12 years ago) Reply

@adddddddd

I know what you mean about the song. It's been overplayed since it was used it for Gears of War.

Anonymous (12 years ago) Reply

Thanks for elaborating on your description a bit, but I gotta say, after watching the trailer again, I think it looks pretty good. Romero's original was certainly no masterpiece... surprisingly boring, actually. The acting and film work look pretty decent in this trailer. To each their own, I guess.

bad dog (12 years ago) Reply

YES YES YES YES YES YES YES YES YES

My favorite Romero movie after Dawn of the Dead. Haven't been this excited since The Signal. Can't wait!

Phoebe (12 years ago) Reply

I liked the original, but I have to admit...this looks way better! Definitely looking forward to seeing it =)

Sunolet (12 years ago) Reply

i want to see this but i have no doubt after whatever big explosion it will show the blank stare starting in another town or city

Jonas (12 years ago) Reply

Yeah I thought this looked pretty good too. I've been meaning to see the original. Hopefully the crazies keeps som intelligence so this don't just turn into another zombie flick.

Intelligent "rational" random crazies (like in the signal) is a lot more interesting in these times where there's so many zombie movies being made. (but I do love the mindless zombie movies too)

Leave a comment