Latest news
quietearth
[Film Festival 09.26.09]
post apocalyptic
zombies
movie
review
comedy
Year: 2009
Directors: Ruben Fleischer
Writers: Rhett Reese & Paul Wernick
IMDB:
link
Trailer:
link
Review by: quietearth
Rating: 8.5 out of 10
Yup, I said it. Zombieland is now officially the king of zombedies, besting out Shaun of the Dead with its Family Guy style interjection of wit and potty humor, creative zombie killing, and all around hilarity. You might think this sacrilege or bias, because as an American - that maybe I want the title to be yanked from the UK - but it's not. It's just really that good. Let's take a look...
Can you imagine an uplifting post apocalyptic world filled with rabid, flesh eating corpses? I know I can, as I sit staring out the window, chin in my hand, with a wry smile, and a faraway look in my eyes. Luckily, the reality presented is Zombieland is morally superior and not disturbing like my frequent daydreams. It's a wholesome tale of human connection, an energetic amusement park of tomfoolery, and a lesson in survival for the uninitiated.
We start with some basic rules of survival. Narrated by Columbus (played by Jesse Eisenberg in his pigeonholed pithy effeminate role) who is the main focus of our story, we follow along as these rules are put into practice in highly humorous fashion, interjected with flashbacks of how the world collapsed and Eisenberg's humorous social awkwardness and ineptitude. We're already in love and we haven't even met our renegade redneck hero Tallahassee, played by Woody Harrelson.
You've seen the trailer so I'll keep it brief. Harrelson loves killing zombies, it's now the joy of his life. I mentioned earlier the "creative zombie killing" which is explored at length with all sorts of devices and is not only started by Woody himself, but repeatedly one-upped as he looks for his next kick. Instead of stopping where it started, it stops when the credits roll, and in between, Columbus narrates the prizes awarded.
I'll skip the pleasantries of the dramatic aspect of the film which holds it all together, and instead say that this farcical tale, fitted at a perfect length, succeeds in maximising every aspect of comedy possible while simultaneously providing a basic narrative which uses the loss of the world outside to contrast what we can find with each other. Don't worry, the dramatic portion is just used to hold the story together and provide a vehicle for what this ultimately is, a laugh out loud comedy which will appeal to everyone.
You might also like
Killcrop (13 years ago) Reply

Awesome...Can't wait..So its safe to say that all the scenes shown in the trailer weren't the best parts of the movie?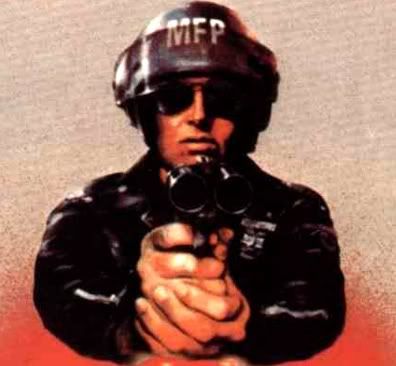 agentorange (13 years ago) Reply

Great news. And just when I thought the zombie comedy had taken its final head shot too.

Ben Austwick (13 years ago) Reply

Will hopefully be seeing this next weekend. Sounds like the kick in the *** the genre needs, looking forward to it!

loci (13 years ago) Reply

You lost me at "Family Guy".

quietearth (13 years ago) Reply

No, the trailer doesn't give away much of anything.. the film is chock full of great moments.

UncleB (13 years ago) Reply

Nice!

soma (13 years ago) Reply

WOOHOO I can't wait for this one !!!

Knobber (13 years ago) Reply

Spunk on a biscuit!!!!!!!!!!!!!!!!!!!

bad dog (13 years ago) Reply

Eeeeeeeeeeexcellent.

Lobo (12 years ago) Reply

Harrelson....ewwwww...

Clifton Santiago (12 years ago) Reply

Just saw this tonite in London. It had great zombie effects and the violence perpetrated upon them by the main characters was fantastic! However, it was not nearly as funny as Shaun of the Dead. If Shaun of the Dead is the Citizen Caine of the zom-rom-com, meaning 100%, I would give Zombieland an 85% within the genre.

Leave a comment