Latest news
Christopher Webster
[DVD News 09.17.09]
post apocalyptic
movie
news
scifi
dvd
video
cult
In case you missed the news last month, Richard Stanley's classic PA film,
Hardware
, is finally getting the royal treatment form the cult crazies over at
Severin Films
. For the first time ever, the film will be presented uncut and in pristine widescreen with a plethora of special feature that nobody saw coming. Man, you gotta love these guys. I NEVER saw this one coming.
Anyway, the Severin crew have just passed along an exclusive video clip of much intense techno-terror to wet our proverbial whistles while I eagerly await the screener they've promised to send me.
Synopsis:
A wandering soldier finds a robot head in the post-apocalyptic desert. He brings it back to his girlfriend for use in one of her sculptures. He investigates the origin of the head, and discovers it's from the Mark 13 project, canceled because of unreliability. His girlfriend, nay, society at large become endangered when the robot puts itself back together using the parts she has for her sculptures.
The 2-disc Hardware: Uncut DVD will street on October 13, 2009 so mark your calendars accordingly.
Exclusive clip after the break.
You might also like
badfrog (12 years ago) Reply

I pre-ordered this and can't wait to get it.
saw it in theaters when it first came out and have a VHS copy sitting in the closet.

badfrog (12 years ago) Reply

in my hands today!

http://twitpic.com/lekjx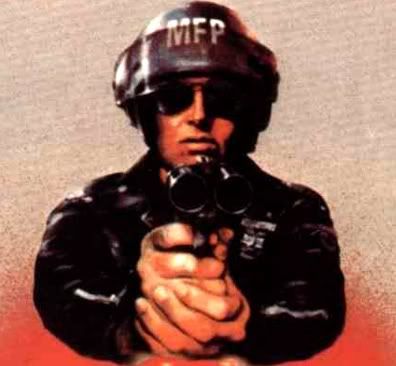 agentorange (12 years ago) Reply

Nice! I'm still waiting on mine if you can believe it. Review to come.

Leave a comment