Latest news
Christopher Webster
[Celluloid 08.27.09]
movie
trailer
news
scifi
thriller
drama
dystopic
French comic book wunderkind, Enki Bilal, is probably most known for his seminal surrealist science fiction tome "The Nikopol Trilogy" which became the subject of his 2004 film
Immortel (ad vitam)
. But, Immortel wasn't Bailal's first film, nor was it even necessarily his most ambitious. His 1989 film
Bunker Palace Hotel
is as grand in themes as it is in its dystopic visual vigor and after a viewing I definitely wanted to post about it here.
Synopsis:
In an imaginary dictature of a futuristic world, rebellion has broken out. The men in power scramble to the Bunker Palace Hotel, a bunker built long ago for just this kind of contingency. But a rebel spy sneaks in, and although her nature is very quickly suspected, she is left to observe the raving of the decadent power class, who keeps wondering what happened to their leader, who has failed to show up.
Yes it's extremely French in that its artistic aspirations sometimes usurp its narrative flow, but that's not a bad thing. In fact, much like Besson's early genre work (particularly
Le Dernier Combat
) it makes for a wholly original viewing experience.
Unfortunately, Bunker Palace Hotel is not available as a standalone film but you can get it in a
2-pack set from France
.
Watch the trailer after the break (sorry, no English subs).
You might also like
Jonas (12 years ago) Reply

Holy crêpes! I'm a big fan of Bilal and I had no idea this movie existed. *off to look this up*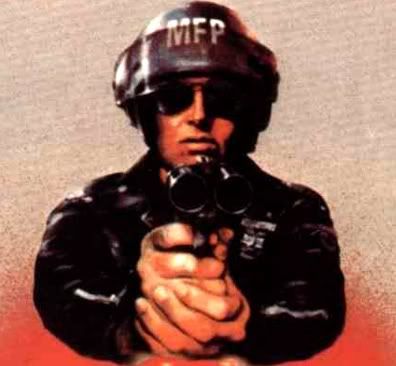 agentorange (12 years ago) Reply

He also made a scifi film called "Tykho Moon" with Julie Delpy. It's also worth a watch.

http://tinyurl.com/nsgece

quietearth (12 years ago) Reply

This is a great film but way too slow and talky at points.. I also wish they told us more about the world outside, we only got a hint.

But hands down, Enki Bilal is one of my favorite filmmakers and I wish we could get in touch with him. Anyone know him?

And great job AO!

Leave a comment