Latest news
quietearth
[Celluloid 08.27.09]
movie
news
scifi
horror
As huge fans of the
Phantasm
series, we follow ANY little scrap we can find on the continuation of our beloved franchise. Case in point:
Angus Scrimm says don't hold your breath on Phantasm V
(August 15th, 2008)
Phantasm V in active development?
(January 31st, 2008)
News of cast script readings for Phantasm V
(July 8th, 2007)
and there would be a lot more, but we've only been in operation for about 3.5 years.
So now comes news via
horror yearbook
and
Phantasm Community
that a new project is "already lensed and nearly finished." While they say it's NOT Phantasm V, they say it IS something BIG, described as "episode(s)". Is it a web series? I don't know, but I'm excited!
And to boot, theres a still from this "secret project" which you can see to the right, featuring none other then Ice Cream man, Reggie Bannister.
Bring on the spheres!
You might also like
drunkenhopfrog (12 years ago) Reply

Oh lord Zeus I love that franchise. I remember watching the first one on VHS in the real early 80s. It freaked me right out.

Introduced my wife to it a few years ago and she is as hooked as I am. They get better with age.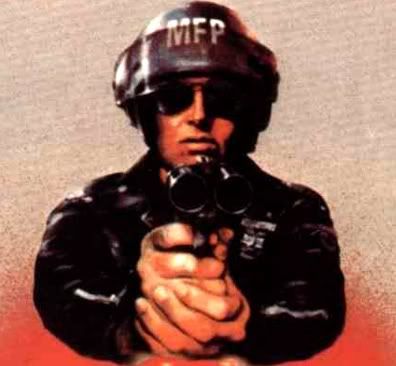 agentorange (12 years ago) Reply

Awesome. This is huge news. Can't wait to see what this is all about.

Drew Golburgh (12 years ago) Reply

Yes, please. More Tall Man! More Phantasm. Coscarelli, we love you!!

BatVader (12 years ago) Reply

wicked! on bated breath!

Anonymous (12 years ago) Reply

moar quad barrel dwarf blaster!
moar shiny spheres of doom!
moar sinister tall man!
moar ice cream man!
moar hemicuda!

Leave a comment