Latest news
quietearth
[Film Festival 08.10.09]
movie
news
That's right folks, the second wave has been announced, and I'm tentatively planning on being there for the opening night world premier of Jared Hess'
Gentlemen Broncos
followed by the next few days of genre goodness. What does this lineup bring us? Quite the list:
How about the Spierig brothers long awaited next film, a post apocalyptic vampire vision of the future:
Daybreakers
!
The world premier of Studio 4C's animated Russian war scifi
First Squad.

The North American premier of Tom Six's anal grafted centipede sickness
Human Centipede (First Sequence)
.
The US premier of Tarik Saleh's Swiss animated dystopic vision with voices from the likes of Vincent Gallo,
Metropia
!
The US premier of Lee Demarbre's deliciously horrific Sasha Grey starrer
Smash Cut
. (Review coming soon)
The US premier of Romero's latest,
Survival of the Dead
.
Takashi Miike's reimagining of the long running tv anime
Yatterman
. (Review is in link)
Canuck low budget zombie goodness in
Yesterday
. (
review
)
And..
ZOMBIELAND
!
Full list of features and shorts after the break.
Doghouse
(dir. Jake West, 2009, UK)
North American Premiere
Kicked out of the house and recently served with divorce papers, Vince (Stephen Graham, THIS IS ENGLAND) is at a low point in his life. In an effort to rally their best mate's spirits, his crew rents a charter bus for a country retreat of heavy drinking and womanizing. The only problem is that the women in their idyllic country hideaway have been infested with the zombie plague, eaten every man in town and are now hungry for seconds.
Down Terrace
World Premiere
(dir. Ben Wheatley, 2009, UK)
Down Terrace is a darkly comedic drama from Britain that follows the daily travails of a dysfunctional family of crooks trying to keep their business from falling apart.
Duress
North American Premiere
(dir. Jordan Barker, 2009, US)
A cold-blooded killer has singled out a mild-mannered, recently widowed man and is forcing him, under threat of harm to his young daughter, to participate in his gruesome activities. The indecisive father sinks deeper and more helplessly into the clutches of the ruthless killer - a man most definitely on a mission.
First Squad
World Premiere
(dir. Yoshiharu Ashino, 2009, Japan)
The battle along the Russian-German front of WWII has ground to a halt. Desperate to regain momentum the Nazi forces have turned to their occult division to raise the spirits of their dead ancestors to fight on their behalf. Russia's only hope lies in the psychic abilities of a teenage girl.
Hard Revenge, Milly: Bloody Battle
Regional Premiere
(dir. Takanori Tsujimoto, 2009, Japan)
In a near-future post-apocalyptic bombed-out shell of Japan, lawless gangs roam the outskirts of the city, raping and pillaging with impunity. Milly, left for dead by a particularly vicious gang, literally picks up the (her) pieces, bonds them with some truly inventive bio-weaponry and takes bloody revenge, one lowlife at a time.
Human Centipede (First Sequence)
North American Premiere
(dir. Tom Six, 2009, Netherlands/UK)
Dr. Heiter (Dieter Laser), a leering, sepulchral surgeon from Germany whose specialty is separating Siamese twins, evolves his craft by sewing together living beings together at the "mucous-cutaneous zone" (guess) in order to create Siamese triplets with a single digestive system.
Macabre
World Premiere
(dir. The Mo Brothers, 2009, Indonesia)
After just embarking on a roadtrip, six friends stop to pick up a girl who has just been robbed and return her to her home at the end of an isolated forest. Their act of kindness ends up being repaid by a night of unspeakable horror and butchery.
Mandrill
World Premiere
(dir. Ernesto Diaz Espinoza, 2009, Chile)
The dynamic duo of Chile, Marko Zaror and Ernesto Diaz Espinoza, are returning to Austin with the World Premiere of their new action thriller MANDRILL. Marko Zaror plays MANDRILL, a young hitman who will not relent until he has exacted bloody revenge on the man who killed his mother many years ago.
Merantau
North American Premiere
(dir. Gareth Evans, 2009, Indonesia)
Indonesia's first martial arts film in roughly fifteen years and quite possibly the first to ever feature a serious treatment of local martial art silat.
Metropia
U.S. Premiere
(dir. Tarik Saleh, 2009, Sweden)
What if the global oil shortage were to force civilization underground? What if the subway system were expanded to connect all the major cities of Europe? What if the voices in your head were real and the Powers That Be using transmitters hidden in shampoo to monitor your every word and action? It's only paranoia if it's not true ...
Smash Cut
(dir. Lee Demarbre, 2009, Canada)
U.S. Premiere
When his latest film is panned for its sub-par effects work, veteran grindhouse filmmaker Able Whitman (David Hess, LAST HOUSE ON THE LEFT, HOUSE ON THE EDGE OF THE PARK) is struck with inspiration: the most realistic gore effects will come from actual dismemberment and corpses!
Survival of the Dead
U.S. Premiere
(dir. George A. Romero, 2009, US/Canada)
George Romero returns to the Alamo Drafthouse cinema for the U.S. premiere of his latest zombie opus. The action centers on two warring clans of Plum Island; one wants to kill every zombie on the island, the other tries to protect their undead family members until a cure for "zombieism" is found.
Sweet Karma
US Premiere
(dir. Andrew Thomas Hunt, 2009, Canada)
When her sister disappears without a trace - the apparent victim in a Russian prostitution ring in Toronto - a shy, beautiful, mute woman sets off on a bloody, intercontinental trail of revenge.
Terribly Happy
(dir. Henrik Ruben Genz, 2009, Denmark)
Based on a true story, TERRIBLY HAPPY follows a young Copenhagen cop who is exiled to a provincial Jutland town after suffering a nervous collapse. The town and its "code" soon prove to be much more complex and challenging - not to mention much more deadly - than the big city beat.
Van Diemen's Land
U.S. Premiere
(dir. Jonathan Auf Der Heide, 2009, Australia)
When their guard is killed en route to prison in 19th-century Tasmania, eight prisoners escape through the dense rain forest. Their poorly-conceived escape plans crumble, food runs out and the gang of prisoners engages in power struggles, psychological games and cannibalism in order to survive. Based on the true-life story of Australian prisoner Alexander Pearce.
Yatterman
Regional Premiere
(dir. Takashi Miike, 2009, Japan)
A reimagining of the long-running Anime TV show, Miike's YATTERMAN is a massive dayglo blast that hits your brain like a bullet train and kickstarts your pleasure centers.
Yesterday
Regional Premiere
(Rob Grant, 2009, Canada)
When a strange flulike virus starts killing people and turning them into flesh-eating zombies, an unlikely group of guys band together, grab an SUV and head for the woods to wait out the epidemic. Shot in 16mm on a micro-budget of $25,000, YESTERDAY transcends its resources, filling every scene with great practical effects, car crashes, ballistics and, most importantly, cracklingly sharp dramatic and comedic performances by every single principal cast member.
Zombieland
(dir. Ruben Fleischer, 2009, US)
Columbus (Jesse Eisenberg) is a big wuss - but when you're afraid of being eaten by zombies, fear can keep you alive. Tallahassee (Woody Harrelson) is an AK-totin', zombie-slayin' badass whose single determination is to get the last Twinkie on earth.
The 2nd wave of shorts
Adventure Now
(dir. Seth Worley, USA, 7 min)
Two men run from an unseen force and end up in a massive field of land mines. Survival is nearly impossible...
La Curiosa Conquista del Ampere
(dir. Ramon Orozco, Mexico, 10 min)
Not even death can keep an electric plant worker from fulfilling his obligations to the people.
Dos Manos Zurdas y un Racimo de Ojos Manchados de Gris
(dir. Antonio Trashorras and Celia Rico, Spain, 19 min)
A love letter to the surreal, bloody classic giallos, by the screenwriter of The Devil's Backbone.
Elder Sign
(dir. Joseph Nanni, Canada, 2 min)
Are you troubled by the impending wrath of ancient demonic gods? Of course. We all are. Here's what you can DO about it.
Full Employment
(dir. Matthias Vogel and Thomas Oberlies, Germany, 12 min)
The revolutionary new government program allows young people to assist the elderly in carrying out their occupational responsibilities, even when said duty is out of the ordinary.
Heartbreak Motel
(dir. Aaron McLoughlin, Australia, 7 min)
Some people's fantasies are better left unexplored.
Inside
(dir Tracie Laymon, USA, 13 min)
What do you do when there's something growing inside of you? You get rid of it.
Luneville
(dir. Sebastien Petit, Belgium, 9 min)
An otherworldly, old-timey, anti-reality fairytale of galactic discovery.
Meltdown
(dir. David Green, USA, 6 min)
Triumph and tragedy in its most epic forms (and taking place entirely in a refrigerator).
Pathos
(dir. Marcello Ercole, Italy, 17 min)
The future ain't what it was cracked up to be, and this vision of tomorrow may have you unplugging your Ipod and throwing your cell phone out the window.
Rite
(dir. Alicia Conway, USA, 9 min)
Blossoming to adulthood is no picnic. A dreamish, jarring vision of growing up.
Shapes
(dir. Alan Brennan, Ireland, 5 min)
Claire's old enough to know there's no monster in the bedroom, but when the lights go out...
Sinkhole
(dir. Eric Scherbarth, USA, 13 min)
A self-serving developer learns that money can't buy everything when he visits an abandoned coalmine shrouded in darkness.
Terrafarmer
(dir. Will Adams, UK, 2 min)
It's hard enough to farm on Earthly soil, but interstellar agriculture is downright ridiculous.
The Terrible Thing of Alpha-9!
(dir. Jake Armstrong, USA, 9 min)
Fearless Spacehunter vs. Hideous Extraterrestrial Creature...with a little something extra.
The Tivo
(dir. Adam Green, USA, 9 min)
A man buys a Tivo that changes his life. All is wonderful until the Tivo develops its own fatal attraction to the man.
You might also like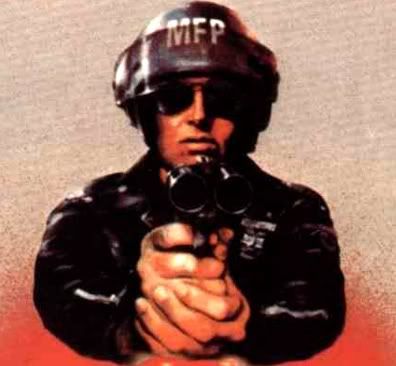 agentorange (13 years ago) Reply

Damn, that line-up is intense. Honestly, that's one of the best line-ups I've seen in a while. The only thing missing is Solomon Kane.

Skinstripper (13 years ago) Reply

Ahhhhh, I sooooo envy you! It's amazing how they have that incredible film festival there, and I'm stuck in the center of movieland, and I can't get that quality here...OK, I guess there's Screamfest.

click67 (13 years ago) Reply

I live in austin and will be there for sure!!!

Leave a comment