Latest news
quietearth
[Film Festival 07.31.09]
movie
trailer
news
action
drama
I am by no means a fan of the director of this film.. in fact the only movie of his I finished watching was at Toronto After Dark 2 years ago and was an utter joke. But while my dislike will stop me from mentioning his name, it won't stop me from posting the trailer for his latest film which will premier at Fantastic Fest.. This clearly has potential. Seemingly born out of the directors own anger, it's about a guy who puts on a full body kevlar suit, and loaded with guns, goes on a massive killing rampage. Hell, I didn't even need to see the trailer, I was already down, but yeah, it's good. If you watch the ending of Gus Van Sant's Elephant over and over, this is for you.
Rampage is about a guy named Bill who grows fed up with his dead end existence and the world in general. Bill decides to vent his frustrations by stock-piling an arsenal of high-powered weaponry and constructing a full-body Kevlar suit of armor and going on a murderous rampage through the streets of his hometown, killing everyone in sight (I hear the film's body count crosses into triple digits), particularly the barista that failed to make him a proper macchiato.
Trailer after the break. via
DC
You might also like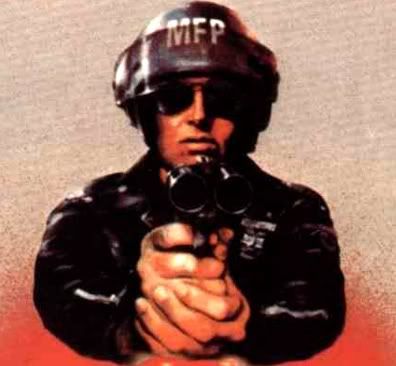 agentorange (13 years ago) Reply

Heh, 'he who shall not be named''s films always start off interesting and end up soooo amazingly bad. However, my curiosity demands I see this.

Pat (13 years ago) Reply

watch stoic and tell me boll solely, just makes bad movies. thats not the case. he just likes making bullshit movies a little too much. he openly admits he makes these films because they make money.

still.... stoic is amazing. check it out.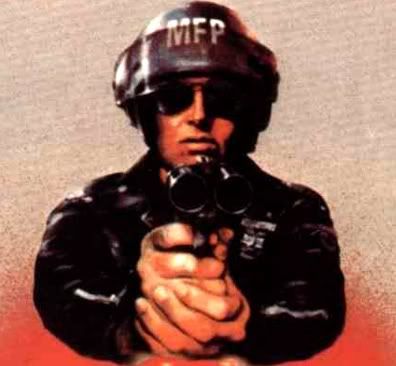 agentorange (13 years ago) Reply

I haven't seen Stoic but I'll give it a spin and give 'ol Uwe yet another benefit of the doubt.

Anonymous (13 years ago) Reply

You know, without putting "A film by Uwe Boll" in the end, it could actually pass as pretty neat trailer that many people will like a lot.
But somehow attaching this "brand" to the film spoils the whole effect.

Sunolet (13 years ago) Reply

looks a bit like postal minus the humor

AB (13 years ago) Reply

You can check out Tunnel Rats it was quite o.k. Uwe seems better with less money. *g*

Anonymous (13 years ago) Reply

honestly, these kinds of films make me angry.. i mean yeah i can distinguish between real life and something thats a MOVIE, but to revel in this kind of sick shit, and make it seem glamorous or acceptable, is just messed in the head, and anyone that defends it... well... i can only hope you or someone you care about gets gunned down for a laugh, and then see how funny or 'awesome' it is....

thethreshold (13 years ago) Reply

Ha! I kept thinking who could be such a terrible director that someone would refuse to mention his name. A quick visit to imdb and....Uwe Boll. :) Why am I not surprised? It seems that even screenwriters are depressed when they find out that Uwe Boll has purchased one of their scripts. So you sold my script? That's great! And who was the winning bidder? Uwe Boll? Sh*t!

http://firefox.org/news/articles/2884/2/HorrorWhat-Works-and-What-Doesnt-The-Fewdio-Interview/Page2.html

Pat (13 years ago) Reply

well u know, to say the least (i dont really like this trailer in particular) -but- boll kind of started picking up on current issues/events that are of relevant and are mostly presented from one static point of view in most media.
stoic is based on real life events that happened in a german prison cell. wont spoil anything but say its an interesting psychological analysis of group dynamics.
this film seems to be based on a similar event in germany. a young man went on a rampage and killed several innocent people as well as police officers. it also seems to touch on a similar incident that happened in scandinavia a few years back.
i find it interesting to see it being brought to the attention of the public eye in this way. got not much good to say about films bloodrayne, alone in the dark etc.

Cyclops76 (13 years ago) Reply

Noooooo..another Boll movie!!! why won't he stay down!!! the Ed Wood of our times (maybe taht's giving him too much credit), can't help but hating him and if someone's gonna pull the "at least he got in a ring with his critics" card, well F*** that doesn't make him a better director. All his movies are crap and I bet this one is not going to be the exception.

masque36 (13 years ago) Reply

Wow, another piece of shit from uwe boll. Making movies that shock the audience or enrages us still doesn't cover up the fact you are a hack.

Anonymous (13 years ago) Reply

great you made me watch this.. NEXT TIME PLEASE MENTION THE NAME!

Anonymous (13 years ago) Reply

you mean UWE is having another bowel movement. This guy is a talentless piece of shit , is it any wonder his movies stink.

MOMO (13 years ago) Reply

THIS GUY IS THE WORST FILM MAKER EVER HIS MOVIE "TUNNEL RATS" IS SO BAD I FELL ASLEEP DURING IT.

Leave a comment