Latest news
quietearth
[Film Festival 06.15.09]
movie
review
drama
Year: 2008
Directors: Ursula Meier
Writers: Ursula Meier & Antoine Jaccoud & Olivier Lorelle & Gilles Taurand & Raphaëlle Valbrune & Alice Winocour
IMDB:
link
Trailer:
link
Review by: quietearth
Rating: 7.5 out of 10
What started out as a tale of a loving and happy family, so close they took naked baths together, turns into an ordeal, a struggle to hold onto a cherished way of life. Living on the side of an unused freeway, the family has ripped of the guardrails and enjoys free reign there, surrounded by the country. They play hockey in the middle of the road and traverse it to get to and from work and school. This has gone on for 10 years until, with little notice, the freeway is opened for use immediately destroying their way of life. One comment I saw compared this to a metaphor about Big Brother intervening in our lives, but I think it had more to do with our dislike of change.
The father, mother, two teenage daughters and young son have an idyllic life. Pops is working on building a pool, the eldest daughter suns in the yard, Mom enjoys staying at home and taking care of the house and to top it all off, fields stretch off into the distant horizon in every direction completing this perfect picture. I wish I could put into words how happy they seem, like pieces of a jigsaw, the family perfectly compliments each other and laughter is a permanent fixture. The beginning had the strong feel of an American indy, brilliant in it's idea.
And I'm happy to say that idea doesn't dissipate. At first the youngest are excited with the new traffic and the parents keep their spirits up. But things continue down hill, the family stoically refusing to move and we watch as the cracks widen.
Complete with a great soundtrack comprised of some Jazz, Nina Simone, and other whimsical treasures, this is probably one of the most original films I've seen in years. As the family's calamity grows from annoyance to distress, they react in a diametrically opposed way producing something that felt almost like an old school post apocalyptic Twilight Zone. That probably makes no sense, but I'd highly recommend it and if you watch it, you'll see what I mean. It's not family viewing with all the nudity (unless your European) but this immaculate family preserve and it's aftermath are not something to be missed.
You might also like
Jeff (12 years ago) Reply

This looks great. Talk about interrupted road hockey!! There are a few more trailers on YouTube..http://www.youtube.com/watch?v=asr3PB5xUTA&NR=1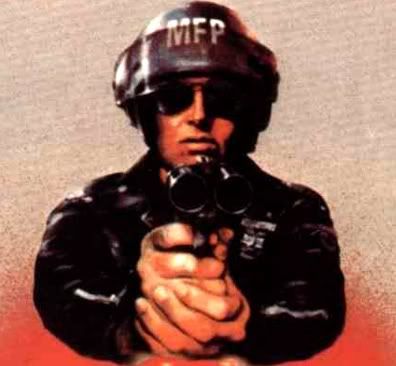 agentorange (12 years ago) Reply

You know I've always thought Isabelle Huppert was an amazing actress but she seems to be getting type-cast as "weird mom" a little too much these days.

This film does look great though.

Leave a comment