Latest news
Christopher Webster
[Celluloid 06.10.09]
movie
news
cyberpunk
scifi
action
dystopic
Back in 2005,
Variety
trumpeted the coming of
Siphon
, a hot new science fiction script from writer Paul Sloan, who's latest project, the post-apocalyptic
Tribes of October
, has been getting quite a lot of attention recently. Described as being "The Silence of the Lambs meets Blade Runner,"
Siphon
's story of an obsessed female detective on the path of a serial killer who may not be human, was to be sprawling, dark and deeply dystopian so, of course, many of us rejoiced the notion of its coming.
Swedish video and commercials director, Traktor, even came attached to the project. It had a director, money behind it and a crap load of amazing concept art that was impressing everyone with its unique vision. Then, everything halted. A hefty 50 million dollar price-tag was causing great anxiety to a studio system that was still afraid of dark science fiction. I mean,
Blade Runner
was great 'an all, but it sure didn't hit a homer at the box office.
After a couple of years of hold-ups, Traktor backed out leaving the director's chair empty and waiting to be filled by a daring young turk. Enter friend to Quiet Earth and director of
The Gene Generation
,
Necromentia
, and the forthcoming
Dark Oz
, Pearry Reginal Teo, who's vision seemed perfectly suited to the project. However, after reading the script, Teo decided he wanted a leaner version of the movie and the draft went back into re-writes.
So where is the film now? Well, in our hands for one. That's right, we've gotten a hold of Paul Sloane's screenplay for the long-in-development-hell scifi epic and are happy to say that we'll be bringing you an in depth review of it in a couple of weeks. With any luck, the combination of our review, and the ultimate success of Tribes of October, will re-kindle interest in this truly amazing sounding project.
We should mention that the artwork you see here is not from the film's original batch of concept art. It's by artist
Jason Felix
, who Sloan tells us was his inspiration for the killer's design in the movie. We've unfortunately been told that the concept art we've seen cannot be shared.... yet.
You might also like
Pearry Teo (13 years ago) Reply

Actually... I wanted it darker. Leaner like how Brett Retner would do it (as you quoted) is something I wouldn't want to touch. It is an amazing script, and I felt really excited about Paul's villian and would like to explore more about him (or it) without giving too much of the story away.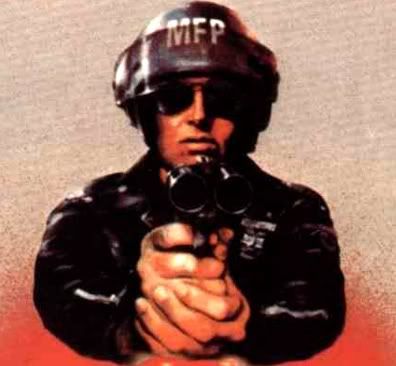 agentorange (13 years ago) Reply

Ah ok, so less about stripping it back for budgetary considerations and more about really nailing the story and tone. Thanks for the insight Pearry.

I'm looking forward to reading the screenplay this weekend and bringing the world a (spoiler free) review.

Leave a comment