Latest news
quietearth
[Celluloid 05.24.09]
movie
trailer
news
scifi
'nuf said.
In a world of useless products, police brutality, pre-paid dreams and a list of Violations so long if you laugh too loudly you wll be fined, Misner Corporation has invented a new source of energy which has given them a global monopoly on all facets of human life, creating a totalitarian society ruled by one man, Misner.

Anyone not willing to work for Misner's regime, lives underground in a dark world of insane 'system dropouts'. Only coming above ground for the 1 hour of darkness which takes place each day, when a giant ball of rubbish floats between the Sun and the Earth.

Finnegan Wright, a lower level worker at Misner Corp. is taken on an enthralling journey when orced to live underground by one of the 'System dropouts' who convinces Finnegan that he can change the fate of the world by killing Misner.

A satire which comments on the way humans are so easily foolted into buying products they don't need, having ridiculous jobs and worshipping leaders that have no respect for the planet and everything in it.
You know the routine.
You might also like
Clifton Santiago (13 years ago) Reply

Uh... Brazil anyone?

goose (13 years ago) Reply

i was just thinking that.

Michael R. Allen (13 years ago) Reply

Why is almost every film coming out lately a dystopia? A little hope here and there would be nice, lol, but at least this film appears to have some wit.
-Mike

Anonymous (13 years ago) Reply

Imitating Gilliam is nice, but the dialogs seems to be weak and not exciting. The story looks like pure nonsense.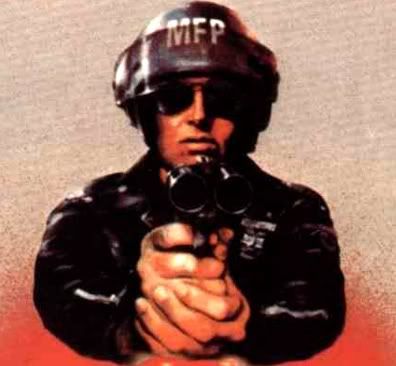 agentorange (13 years ago) Reply

There's no escaping the Gilliam influence here but Eraser Children also seems to be tapping into surrealist territory (hence the "pure nonsense" that Anon picked up on).

This will obviously only appeal to a select audience but it is a pretty adventurous piece of no budget filmmaking. Kudos to the EC team!

Anonymous (13 years ago) Reply

looks amazing! I've seen parts already and I can't wait to see the whole thing. On my must see list for sure


Cyberhal (13 years ago) Reply

sounds great to me. Love dystopias, actually I live in one, plus love a film with ideas

Anonymous (13 years ago) Reply

awesome!

rcdude (13 years ago) Reply

The trailer reminded me a little bit of A Clockwork Orange.
I haven't seen too many of Gilliam's films, so I can't notice the infunce from him in it liek you guys.

I should watch some Gilliam movies. I liked what I saw of Tideland, and Time Bandits and The Adventures of Baron Munchausen were cool, but I should watch some of his other films like Brazil, which I've heard is really good.

Anonymous (13 years ago) Reply

This looks AMAZING! I love "1984" and "Brazil". I love how "retro" this looks. What's happening with the release? Can't wait.

Leave a comment