Latest news
Rick McGrath
[Film Festival 05.22.09]
movie
review
drama
Year: 2008
Directors: Bong Joon-ho & Leos Carax & Michel Gondry
Writers: Bong Joon-ho & Leos Carax & Michel Gondry
IMDB:
link
Trailer:
link
Review by: Dr. Nathan
Rating: 7 out of 10
A Triptych of Types In Tokyo
Introducing a woman who feels useless, a court jester who lives in sewers, and a man who hasn't left his house for 10 years. Welcome to Tokyo!
Normally I'm not a big fan of shorts stitched together to form a film of usual length, but in this case the three films, by three directors (none of whom are Japanese), offer up a somewhat coherent trio of tales of various outsiders and their psychological relationship to Tokyo city.
Tokyo! begins with Interior Design, a short written by Gabrielle Roy and Director Michel Gondry about a young woman who undergoes an astounding and literal transformation. Cleverly developed at almost a snail's pace, the film takes a good hard look at everything from the mundane (it's hard to find an apartment in Tokyo) to the philosophic, as we're shown what can happen when you try to define yourself by what you do, rather than who you are.
The second short, Merde, is a bit of a puzzler. Written and directed by Leos Carax, it tells the tale of a subterranean sewer dweller who suddenly appears on the streets, wreaking havoc on the shocked, confused and still polite population by storming down streets and helping himself to whatever is available – preferably money and flowers, both of which our frisky foreigner likes to eat. At first the populace and the news media are curious about Mr Merde, but after he appears and blows people up, the authorities take notice and track him down, arresting him and charging him with murder. A French lawyer, who looks like Merde's twin, arrives to defend him as he's only one of three people in the world who can understand Merde's fractured speech, which involves a lot of face-slapping and tooth tapping. The trial is satirical, and the ending enigmatic. Ah well, merde happens.
The final short is Shaking Tokyo, and it involves a hikikomori, a city hermit who has not left his home for over 10 years. He doesn't like people – he doesn't even like sunshine – and his home is a fantastic collection of new toilet rolls and empty pizza delivery boxes, arranged and stacked to perfection. Directed and written by Bong Joon-ho, Shaking Tokyo actually implies the entire city has retreated to the path of the hikikomori, and the plot kicks in when a pretty young pizza delivery girl is knocked unconscious in our hero's home by an earthquake. He immediately falls for her – "the first person I'd made eye contact with in 10 years" – and is devastated the next week when a man arrives and announces the girl has quit to go live at home. Our hero overcomes his fears to seek her out, and we're treated to a new concept of emotional control through the use of tattoos designed as buttons.
Do they work as an artistic look at Tokyo? I'd say Shaking Tokyo is probably the most Japanese of the trio, the one most difficult to transport to another location. Interior Design is actually a chapter of a graphic novel set in New York, and Merde could be used to satirize any big city in a big culture, so I'd say two out of three are simply dark fantasies without any specific geographic/social associations with Tokyo. Does that really matter? Probably not.
I thought Interior Design was clever, if a tad slow to develop; Merde is funny, but is hampered by endless translation scenes once the trial begins; and Shaking Tokyo is almost alien in its exploration of this specifically Japanese epidemic. But all in all, a fun two hours waltzing through the fantastic in three shorts that, ironically, barely show us anything of Tokyo itself.
You might also like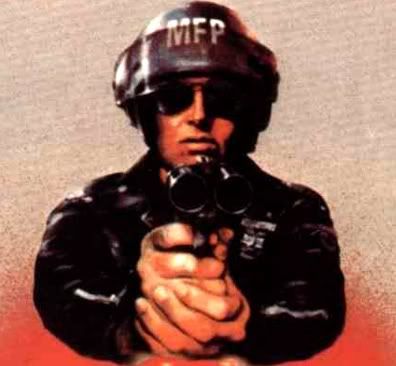 agentorange (13 years ago) Reply

I'm not much for short film comps either which is why I sort of ignored this one. I ended up enjoying Paris, je t'aime though so I'll more than likely check this out too. Bong Joon-ho's contribution sounds like the best of the bunch.

Forgotten Films (13 years ago) Reply

Much better than a 7.

I would say 8 to 9.

Oh wait, it's pretentious Quiet Earth.
N/m, lolz

Dr Nathan (13 years ago) Reply

I think a 7 is unpretentiously fair... unlike movies, which are never perfect, shorts can be. Interior Design I liked the best, followed by Shaking & Merde. But even so, Interior still seems more a graphic novel than a film; Shaking is unbelievable at the crux of the flick -- when he meets the girl; and Merde starts great, but bogs down badly during the heavy-handed trial scenes. I'd give Interior an 8.5, Shaking an 8, and Merde a 5... average? 7.


Cyberhal (13 years ago) Reply

I have a big problem with this film: it has nothing to do with Tokyo. The pieces are well shot and clever, but what a waste not to explore the heart and soul of the city, Tokyo. They could have been shot anywhere.

F. Booth (12 years ago) Reply

I disagree; each film discusses alienation-- the way that big cities, civilization, and technology have of estranging us from those around us. Tokyo is perhaps the most alienating city in the world, and I think these movies showed that well.

I can't wait for the DVD. I think the DVD comes out June 30 (www.tokyothemovie.com).
I preordered it on Amazon, through the site.
Better that NY Stories. Best tryptich since Amorres Perroes.

Martin (11 years ago) Reply

I would say that merde is very tokyo centric. After reading more about the films and thinking about them, merde, the character, is the spirit of historic justice(or something like that). His line "My mother was a goddess and you all raped her..." is referring to the raping of nankin. The image of lincoln at the end shows that he ended slavery and began a new era for the US and then the US just did many horrific things after. Merde is the victims of past atrocities looking back at the contemporary cultures that seem to forget that such things ever happened. I give merde a 9, just because i really didnt like the initial interrogation scene were you dont know what they say.

Leave a comment