Latest news
Christopher Webster
[Celluloid 05.11.09]
movie
news
cyberpunk
scifi
action
An extended preview of Johnathan Mostow's cyberpunk mystery thriller,
Surrogates
, has appeared over at
io9
and it's chock full of meaty footage from the film. While I really like the idea of the film - people using avatar robots to live their lives while they chill at home - I find that some of the footage looks a bit like a television show, almost similar in look and design to the recently released
Caprica
. Of course (and this taking into account that you can never really tell with internet clips), there's always the chance that Mostow was going for a
Stepford Wives
look - a too-perfect-to-be-true world that, when you scratch away the surface, is a dark and rotten dystopia.
Synopsis:
Set in a futuristic world where humans live in isolation and interact through surrogate robots, a cop (Willis) is forced to leave his home for the first time in years in order to investigate the murders of others' surrogates.
Surrogates stars Bruce Willis, Ving Rhames, James Francis Ginty, Rosamund Pike and Michael Cudlitz and will be released in theaters on September 25.
Featurette after the break.
You might also like
Pat (13 years ago) Reply

still online over @ http://surrogates-movie-trailer.blogspot.com/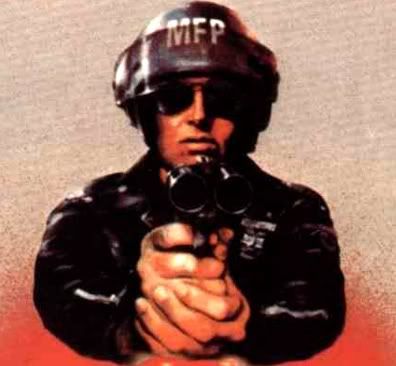 agentorange (13 years ago) Reply

Awesome, thanks a ton.

Leave a comment