Latest news
quietearth
[Celluloid 04.30.09]
movie
trailer
news
horror
Thanks to our friend Avery and the good folks over at
Undead Backbrain
comes news of a new Aussie horror which looks quite incredible. I'd have to agree with the UB folks that this ain't zombies, it looks like a virus/posession scenario which is well shot. They've gotta be using filters.
12,000 years ago: the surviving members of a decimated aboriginal tribe perform a sacred ritual to bind an ancient evil that has infiltrated their tribal land. As the carnage ensues, an artist paints the story of their demise on a nearby rock face, warning of the dangers interred within…

The Present: Anja, a young university student, and four friends accompany Dace, an anthropology major, on a journey in search of the now legendary rock painting. The only evidence of its existence is the diary of a pioneer who saw the painting over one hundred years ago, before going mad and murdering his family.

Their excitement on finding the painting is soon undercut by disquiet as one of them, Mel, becomes delirious after skinny-dipping in the nearby billabong. Her condition rapidly worsens, and she regresses to a predatory, primal state and viciously attacks her friends.

The group is strained to breaking point as their trip fast becomes a desperate fight for survival. When Anja discovers that a nearby tunnel may harbour their only hope for escape she inadvertently draws closer to a final confrontation with the evil deep within the mountain.
Teaser after the break.
You might also like
Anonymous (11 years ago) Reply

Yeah, what's up with all the sweet talking in this one?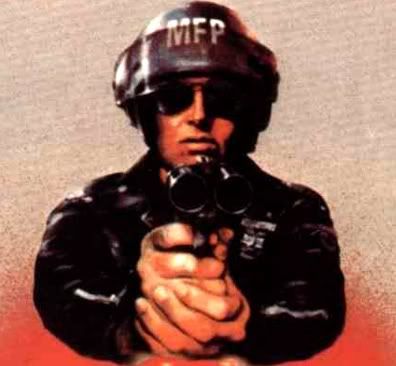 agentorange (11 years ago) Reply

Complete and utter insanity. This is playing at Cannes!? All hail the French!

Anonymous (11 years ago) Reply

aussie flick soft cove version
Damned By Dawn
http://www.youtube.com/watch?v=PHJLpiLy7pA
http://www.damnedbydawnmovie.com

quietearth (11 years ago) Reply

this will not be playing at cannes, i will be at the marche du film, the cannes market.

nooreen (8 years ago) Reply

When will you start booking vrenods for next year's Heritage Festival? Are there any other upcoming events that I may be able to be a vendor for?Thank you so much! Nikki

Leave a comment