Latest news
quietearth
[Celluloid 04.28.09]
post apocalyptic
movie
news
action
Described as an "old school horror movie that will leave you feeling fun about the end of the world", I can't figure out who the director is, but I know that Craig Matthew Staggs and Christopher Sharpe co-wrote the script. It looks like casting is about to be finished, with Sarah Rodgers aka Miss Conduct of Austin roller derby fame, Adrienne Mishler, and Hilah Johnson of Big Ol' Tire Fire making up the trio of hotness. I'm thinking
Doom Generation
meets the apocalypse, but of the duo they further state: "We're looking at the 18 to 35 year old, technologically savvy, pop culture-oriented audience.. it's definitely not Gone With the Wind with a lot of pensive looks and that sort of thing". I already love the sound of it!
The story is about a three girl punk rock band who get stuck in a small town in Texas after the rapture.
UPDATE:
We got a better synopsis from the director and the start date is set for May 26th.
THE SPIDER BABIES is a feature-length action-thriller about a three-girl punk rock band on a concert tour across the United States when an mysterious apocalyptic event throws the world into chaos. Complications arise when their tour bus runs out of fuel leaving them stranded and under attack from zombie-like mutants. Now they must find guns, food and fuel before they can get back on the road and back to civilization.
We'll keep you posted. Thanks to Avery for the sweet find.
You might also like
projectcyclops (12 years ago) Reply

Ooh, looks interesting. Kind of Chopper Chicks meets Tank Girl, but actually good.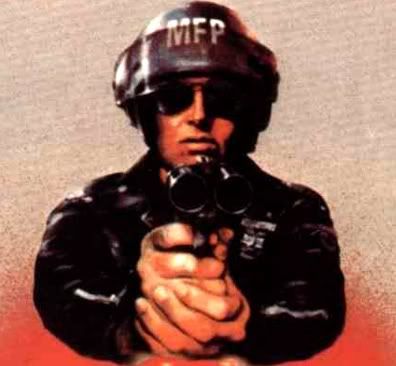 agentorange (12 years ago) Reply

That's what I was thinking too. Tank Girl meets doom Generation meets Suicide Girls or something. Could be cool, could be a complete mess. Guess we'll see :)

eatchitanddie (12 years ago) Reply

Ooh, looks like a total rip off of APOCALIPSTIX FROM ONI PRESS.

Anonymous (12 years ago) Reply

hey, Apocalipstix movie! That was fast!

Christopher Sharpe (12 years ago) Reply

Hey, thanks for the write-up. I'd be glad to send you some more detailed information. As far as comparisons go: It's more LEFT BEHIND meets SWITCHBLADE SISTERS.

For more info: check out http://thespiderbabies.com or http://christophersharpe.com

Leave a comment