Latest news
Christopher Webster
[Film Festival 03.27.09]
movie
review
dvd
horror
I'm now halfway through Lionsgate's After Dark Horrorfest III box and I must say, so far I'm impressed with this year's offerings. However, we received the box a little too late to craft in-depth reviews of each film by Monday so I decided to take a shorter look at each film in two big mega-posts.
Continue on to read mini-reviews of
The Broken
,
Perkins 14
,
Butterfly Effect 3: Revelations
and
Dying Breed
.
***
Title:
The Broken
Year: 2009
Director: Sean Ellis
Writer: Sean Ellis
IMDB:
link
Trailer:
link
Amazon:
Purchase
Review by: agentorange
Rating: 7 out of 10
British newcomer Sean Ellis (
Cashback
) taps into early Polanski and blends it with Hitchcock's
Veritigo
in this classy urban thriller about a woman who becomes increasingly dislodged from reality when she sees what appears to be her doppelgänger driving down the street.
The Broken
is, so far anyway, a stand out of the After Dark set if only for the reason that it's so different from all the other films I've seen so far. Instead of featuring teens running from cannibals, zombies or phsycho killers,
The Broken
is a meditative and slow burning adult mind-f#%ck that epitomizes the "psychological thriller" genre. The kind of film that's often hard to figure out and you might even start to wonder if you're not loosing your own mind.
The film is elevated by its two great leads; Leany Heady (
Sarah Connor Chronicles
,
300
) and Richard Jenkins (
The Visitor
), who are both incredibly talented. Plus, Leany Heady is completely gorgeous which doesn't hurt the viewing experience.
The bottom line with
The Broken
is that it won't be for the entire After Dark set and its ambiguity will probably frustrate many views, but I applaud the fest for taking a chance on a different kind of horror flick this year. It could have used a few more scares and a better ending to be sure, but watching it reminded me of the first time I saw all those great early Polanski flicks like
Rosemary's Baby
,
The Tenant
and certainly
Repulsion
so for that it gets the ol' QE seal of approval.
***
Title:
Perkins 14
Year: 2009
Director: Craig Singer
Writer: Lane Shadgett
IMDB:
link
Trailer:
link
Amazon:
Purchase
Review by: agentorange
Rating: 6.5 out of 10
Perkins 14
wins the award for most surprising film so far from the set. Maybe it was because I didn't expect anything from a film that used
crowd sourcing
to help put itself together, or maybe it was just because I didn't know enough about the film's story going in but this police mystery turned survivalist horror flick sure was enjoyable from start to finish.
Perkins starts off with a cop who is trying to cope with the fact that his son was kidnapped by this twisted serial killer ten years earlier. Obsessed with the case, he's drifting through life, watching his family fall apart in the process. One night, a creepy stranger is arrested who we discover might be linked to the ten year old case. But, is it a coincidence that after exactly ten years, the man makes a reappearance? Cue sinister music.
Perkins 14
wins points for adding a new dimension to what is essentially just a zombie-style survival film. It manages to be original enough in how it tells its story that the more cliched aspects of it tend to stick out less. It starts off slow but amps up the pace and the tension as it rolls along.
However, it looses points for an unnecessary downbeat ending that's only achieved by having it's characters make dumb decisions that nobody who was high on the adrenaline rush of survival would ever make.
***
Title:
Butterfly Effect 3: Revelations
Year: 2009
Director: Seth Grossman
Writer: Holly Brix
IMDB:
link
Trailer:
link
Amazon:
Purchase
Review by: agentorange
Rating: 6 out of 10
After watching
Butterfly Effect 3: Revelations
, I went back and screened the first
Butterfly Effect
from 2004 just to make sure my feelings on it hadn't changed over the years. And nope, I still feel like the first film is essentially a mediocre film with a great premise propping it up - a legacy that, I'm happy to report, this third installment manages to uphold with great dignity.
A much better endeavor than the trifecta's risible second act,
Butterfly Effect 3
emerges as an enjoyable, if somewhat unevenly cobbled together, time travel romp that manages to hold some decent twists.
The film by Seth Grossman stars Chris Carmack as "Sam" and After Dark mainstay Rachel Miner as "Jenna," a slightly dysfunctional brother and sister duo who lost their parents to a fire and now help the cops by having Sam travel back through time and observe crimes. See, Sam can't intervene as the whole "butterfly effect" thing severely messes up the world. But when he has the chance to stop a serial killer Sam decides to break the rules.
What will immediately make this film stand out from the other Butterfly Effect outings is the gore factor. It starts out with a brutal killing in a park and continues to ramp up the violence as it progresses. Saws, bear traps you name it, this film is bloodier than you might expect which only adds to the time traveling good-times.
***
Title:
Dying Breed
Year: 2009
Director: Jody Dwyer
Writer: Jody Dwyer / Michael Boughen
IMDB:
link
Trailer:
link
Amazon:
Purchase
Review by: agentorange
Rating: 6.7 out of 10
Bad box art, great movie.
Jody Dwyer's well shot backwoods cannibal yarn takes place in the forests of Tasmania and hinges on the legend of "The Pieman," a mythic Australian convict who escaped into the wilderness in the 1800s when the little island off the coast of Australia was basically a giant prison.
Dying Breed
works under the assumption that the Pieman's descendants still live in the hills and feed on the flesh of travelers.
Dying Breed
is a film that relies on atmosphere more than the in-your-face insanity of other recent cannibal flicks like
Wrong Turn
or
Hills Have Eyes
. But, through some great acting, real talent behind the camera and just enough shocks, the film ends up being another standout of the After Dark box.
When I gave Dying Breed and spin, I was definitely not in the mood for this kind of film. Maybe it was because I had just finished
The Broken
and the first Butterfly Effect film, but I just didn't have cannibals on the brain. Imagine my surprise then when the film starts off with a finely executed forest chase scene set in the 1800s.
Prison Guardsmen are hunting down the escaped Pieman. A guard gets him trapped on a ledge, nowhere to go. His teeth are filled to yellow points, he's covered in gore. He lunges at the guard, tearing his throat. To his left he notices a Tasmian tiger (now extinct) emerging from the forest. He tosses the creature a piece of human flesh. The two are now joined in carnivorous legend. By this point I'm totally hooked.
The film then shifts to the present where a group of four young backpackers are searching the Tasmanian forests for the mythic Tiger. They come across a dirty old town in the middle of the forest and do I really NEED to tell you what happens from there.
No Dying Breed is not revolutionary. It certainly didn't punch me in the gut like
Wolf Creek
did, but it's definitely well made and full of just enough chills and surprises to recommend it.
Stay tuned for part two with reviews of
Autopsy
,
Slaughter
,
Voices
, and
From Within
.
You might also like
quietearth (13 years ago) Reply

The Broken was TERRIBLE, all suspense and no follow through..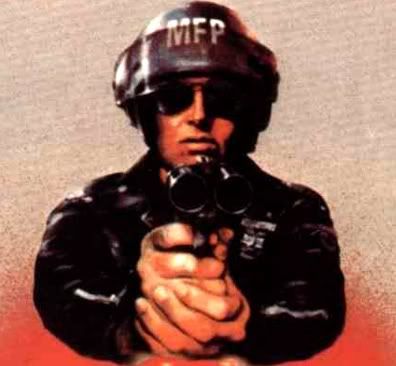 agentorange (13 years ago) Reply

Needed a better ending too but I still liked it.

Cyberhal (13 years ago) Reply

Agent, thanks for these reviews, quite a marathon

JCarson (13 years ago) Reply

I've really been disappointed with previous "FESTS" but these do sound a bit better, maybe except for Butterfly 3. Nice brief recaps.

Leave a comment