Latest news
Hal MacDermot
[Film Festival 03.18.09]
movie
review
horror
Year: 2008
Release date: Unknown
Directors: Jason Robert Stephens
Writers: Jason Robert Stephens & Robert Michael Ryan
IMDB:
link
Trailer:
link
Review by: cyberhal
Rating: 5 out of 10
We've followed this film since November 2007, and I was looking forward to seeing it debut at the newly minted Paranoia film festival. There's nowt like a ghost movie in the middle of nowhere. Necrosis is a supernatural update of the already spooky Donner party tale, in which six friends go to stay up in a mountain cabin and get trapped in a snowstorm. It turns out that the bad weather is least of their worries. The bad news is that despite the great story potential, location, and a fairly spooky Donner ghoul with Axe, this film is cursed by a lack of suspense, a weak script and poor execution.
The Donner party incident, for all of you outside the States, is the true story of a group of intrepid settlers back in the 1800s who tried to cross the wild Sierra Nevada mountains to reach California, but were caught up and trapped in a massive snow storm and ended up eating each other. The movie opens promisingly enough in 1846 with the party trapped in a blizzard. Several guys have gone crazy and are chopping up the other families to nosh on human flesh. It's a little known but touching fact that the fast food known as the "Donner Kebab," was actually named to commemorate this tragic event.
Back to the present day and the six friends have stopped off in a local bar, for beer and supplies. Interestingly, there are quite a few well known faces in this movie including Tiffany of 80s pop star fame as Karen, James Kyson Lee of Heroes as Jerry, and also George Stults of 7th Heaven playing Matt. You may also recognize the local guy warning that the cabin on top of the mountain just ain't safe, it's none other than horror movie veteran Michael Berryman. They should have listened, but of course they don't, having never seen any horror movies.
Once installed in the log cabin, the friends settle in to an evening of snow storms, booze and having dreams of eating each other alive (and I mean in the cannibalistic sense). Now all of this could potentially be brilliant, but somehow it wasn't. The handling of the dreams, and teaser lines like "I dreamed my legs were paralyzed," felt clumsy and way too obvious. Why not just have a character speak directly into camera and tell us exactly what will happen? Oh, I know, because it spoils the suspense. I did quite like the "spooky child singing" soundtrack, although it's not a very original approach. The shots of the snow scapes were okay, but except for the opening massacre and finding the first body, the director didn't use the location to its visual potential. It felt like most of the time they were stuck in the cabin.
As the snow storm worsens, the guys find a body frozen in the snow with weird white eyes, and when the body disappears some time later, they decide to tell "the girls" about it. I still don't get why they didn't do that to begin with. Jerry starts to see Donner party ghost ghouls all over the place, and they seem to be trying to warn him of something, or perhaps kill him, but there's more, Jerry himself seems to be changing into another person. At this point, I am duty bound to say that watching James Lee trying to do what Jack Nicolson did in the Shining was painful. I don't blame him completely, as being directed to "roll eyes upwards and look mean" cannot always be that easy.
I liked the makeup work on the Donner party ghouls and seeing as the whole "psychotic possession" thing was so unconvincing, I would have liked to see them play a more active part in chopping the Living to pieces. Increasingly erratic, Jerry decides to take charge of the shotgun, and the buddies that are still left alive quite understandably seek refuge in the outhouse (there's always an outhouse). Most of what you now imagine will happen, does. The one small innovation made was that it's a women who becomes the leading "fight back hero" rather than the usual guy thing. In conclusion, intriguing idea, a few nice visuals, but the story was terrible.
You might also like
seeminglysquare (13 years ago) Reply

Wasn't Louis Keseberg the guy they found all alone with the mutilated remains? Why isn't he the ghost. I know too much about the Donner history to let that opening scene slide.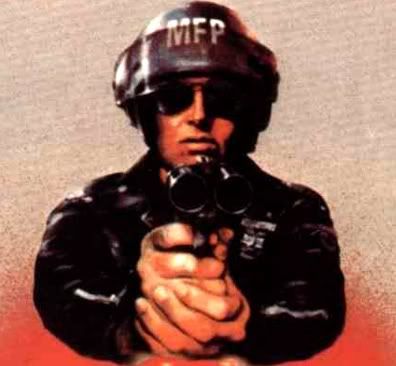 agentorange (13 years ago) Reply

Thanks for the review. This one always looked interesting but also like it could be either great or kinda bad. Sounds like it was a bit of both.

Antonio (12 years ago) Reply

I pretty much agree with all your points, but came to a different conclusion. I thought all that silly stuff helped it out, and made it an enjoyable view. But I agree it could've been much better. Some nice nature visuals though

Leave a comment