Latest news
Christopher Webster
[DVD News 02.26.09]
post apocalyptic
trailer
news
scifi
dvd
As the final season of Battlestar Galactica comes barreling to an end we're expecting a lot of DVD news to come along with it, particularly in terms of
Caprica
, Ron Moore's BSG spin off prequel that's set to premiere on televisions in January 2010. Of course if you can't wait until then to see what the BSG boys have been cooking for us you can always pick up a copy of the show when it is released on DVD on
April 21
, over 6 months before it airs. Yep, and that's the brand new cover art to the right. The DVD will feature a limited-edition, uncut and unrated version of the pilot movie.
But that's not all, Battlestar Galactica fans. Oh no, rumor over at
Galactica Sitrep
is that
Battlestar Galactica: The Complete Series
is currently set to be released by Universal on DVD and Blu-ray Disc on 7/28. I've also heard that a Season 4.0/Season 4.5/Caprica pilot 3-pack is on the way. It's likely these new DVDs will street on the same day as the Caprica pilot DVD.
Whew! Well, that's all you need to know right now. After the break you'll find the Caprica trailer. So say we all!
You might also like
Anonymous (13 years ago) Reply

I don't know what Ronald Moore is thinking, but everything I've seen of Caprica points to it being a complete bore. BSG became popular because it had a compelling story, a war story set against the apocalypse, with humanity chased like a whipped dog across the galaxy. Sure, the writing was good and the characters were well developed. But the story was compelling, and it wasn't too obvious it was filmed in Canada. "Caprica is the story of two families..." yawn. Great. Yes, by all means, let's watch a TV show about two families, one rich, one whatever, some lawyers, teenage girls...excuse me, what's compelling about all of this? Oh, one of the girls is secretly a robot, but looks and acts like an annoying teenage girl. And it takes 5 years to do three seasons. No thanks, Ron.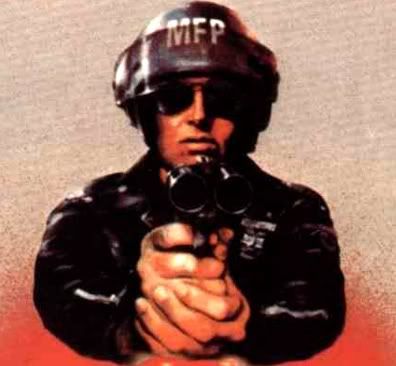 agentorange (13 years ago) Reply

I have to agree with you and chime in to say that Caprica looks hella dull.

The writers of BSG started buying into their own press too much and veered way too far off course of where the show began. They are seriously loosing the plot in season 4 and have proven that they stopped mapping out the over arching story a long time ago in favor of character studies.

This isn't the place to get into all the reasons why I think this but suffice it to say they've been faking it for about 5 episodes now.

Leave a comment