Latest news
Christopher Webster
[Celluloid 02.24.09]
movie
news
horror
fantasy
In my cinema obsessed mind, Michael J. Basset is currently battling Neil Marshall for British genre director supremacy and, as it stands right now, it's a dead heat. Both have proven themselves to be genre aficionados who are hungry for attention and equally adept at creating hard edged flicks with great ensemble casts. In fact, each burst onto the scene in the same year (2002) with equally impressive first features- Marshall with
Dog Soldiers
and Bassett with
Deathwatch
. Their follow-ups were just as impressive, though Marshall's
The Descent
managed to capture the collective conscience while Bassett's fantastic
Wilderness
failed to find a large audience.
So now it's all down to Bassett's adaptation of Robert E. Howard's
Soloman Kane
to decide which director will be the new strong arm of British genre film.
Doomsday
was hard-core and a real blast no doubt, but Bassett's Kane might trump it based on the fact that it won't be as steeped in obvious homage. But where's the film? It was supposed to be out in 2008 but there has been nary a word or new piece of marketing for the film since those early teaser posters dropped at the end of '07. Well just today, Bassett updated us on the status of his dark fantasy epic which sounds oh so close to being unleashed.
On his
personal blog
, Bassett laid out exactly where the film stood:
"…picture is locked. No more cutting, no more changes for the theatrical version of the film. Every visual effect is finalized and cut in. Editorial department has been reduced to a one man operation to oversee the negative, print and delivery.

Digital Grade is done - so the look is established and, it is gorgeous.

Titles and credits are being designed over the next couple of weeks.

Sound - I'm back in the sound mix next week to put the polish on the dynamics of the sound. Atmospheres, dialogue, score… just tweaking it all for the best, big, theatrical sound. It's my last chance to do this before signing off so I'm grabbing this chance.

Trailer - this is being worked on by a specialist company.

Website and other promo material - I've seen a mock-up of a website and some online materials which is pretty decent. I don't want stupid games and gimmicks online for this movie; it's too classy and intense for that

What else? Release dates? No idea about those, sorry."
Basset's gone on record many times saying that the film is violent, dark and intense and his past work is such that I have faith in his word. He also posted a nifty behind the scenes pic on his blog which he's asked not be shared so you'll have to head there to see it.
Bring it on Michael!
You might also like
Z0MBI (13 years ago) Reply

I don't like very much the actor selected for Solomon nor the way he looks. Kane was older, more in his fifeties, blonde, almost white hair, all dressed in black. The one who would made a perfect Solomon was Richar Harris, in my opinion.

Amazing job you all do here in Quiet Earth.
Cheers!
:D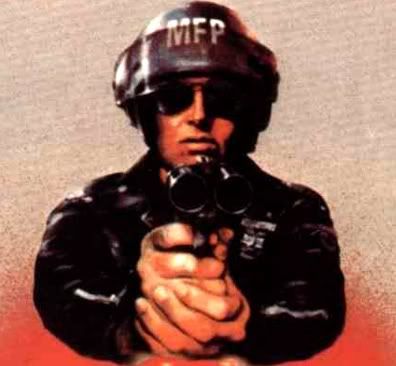 agentorange (13 years ago) Reply

Huh, Richard Harris would be an interesting choice. Great actor. Too bad he's passed on though.

dereksevilclone (13 years ago) Reply

Actually, if you read the REH originals, Kane was far from blonde... that was dreamed up in some Marvel B&W comics, for reasons still unexplained. Kane was always dark haired.
Timothy Dalton, Hugh Jackman, Mel Gibson... all would have been good to play Kane. When this film was first in development at New Line, Christopher Lambert was attached!

Hipster (13 years ago) Reply

I've often thought that Hammer should have made this film in the late 60s with Christopher Lee filling the heroic role rather than always playing the villain.

Filmfamfofum (13 years ago) Reply

Am I the only one who thinks Purefoy is the perfect choice? Anyone who has seen "Rome" should at least admit the guy has great screen presence. Really looking forward to this one!

Joe (13 years ago) Reply

I've seen Rome, Purefoy is perfect. Not to mention his presence in "A Knight's Tale", calm cool and intense. Remember not to judge an actor by one or two roles; otherwise I would never have thought Heath Ledger could have made a great joker. I think this guy will surprise the doubters, and people should start reading REH instead of Marvel's bad adaptations. The same can be said for Conan's new adaptation, I would think... but that's another story.

peace
joe

JCRAWFIE (13 years ago) Reply

No release date? not even a guess? some one must need pay for this unforgivable delay. if you cant tell, i am an intense fan of kane and bro howard. purefoy will be all right by me.

Leave a comment