Latest news
Christopher Webster
[Celluloid 01.23.09]
movie
news
scifi
action
dystopic
I am seriously hyped for another dose of high flying parkour action and
District 13: Ultimatum
(Banlieue 13 - Ultimatum) looks to be just the ticket. The film's
official blog
has been rolling along for a while but now that the film's February 18th release date is fast approaching, the marketing machine is in full swing. New posters are emerging fast a furious while a new trailer (hopefully subbed)is apparently on the very near horizon.
District 13, two years later. The government has changed, not the rest ... The wall of isolation - ever higher, ever greater and Beyond - has spread around towns ghettos and gangs that have proliferated further increased their influence. The traffic is now divided among five ethnic neighborhoods, each headed by a fearsome gang leader. More than ever determined to "settle the problem," the secret services voluntarily fire to the powder. Damien, a cop expert in martial arts, and Leito, able to sneak in every corner of the suburbs, make new team. Their goal: to save the city from chaos. Their program: Muscle and fighting for race-defying the laws of gravity.
If you haven't already seen Pierre Morel and Luc Besson's original
District 13
to which this is a sequel to, I highly recommend you seek it out. It's a fast paced and gritty take on the
Escape from New York
style dystopian scenario that shouldn't be missed. Posters are after the break and don't forget to watch the
original teaser
.
Source:
24fps
via
Twitch
You might also like
quietearth (12 years ago) Reply

I love that 3rd one.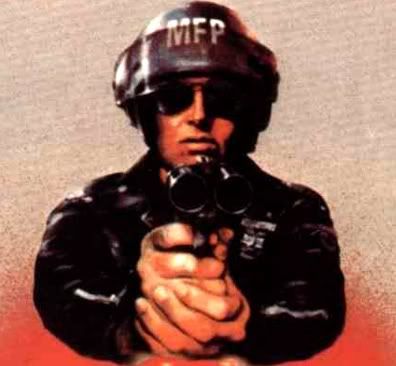 agentorange (12 years ago) Reply

Yeah it's a great character poster.

pat (12 years ago) Reply

the first one looks a lot like an album cover by the french rock band PLEYMO.

pat (12 years ago) Reply

the whole multicultural aspect with different "ethnic gangs ruling parts of the city" and the government going in to destroying the place gives it great currency - gaza, anyone?
i m by no means playing down the horrible events in the middle east but it does bear resemblance.

Leave a comment