Latest news
Christopher Webster
[Celluloid 01.13.09]
post apocalyptic
movie
news
Alright Warner Brothers Home Entertainment it's time for you to listen up. We've been waiting long enough for you to finally get around to turning
The Road Warrior
, arguably the most influential post-apocalyptic film ever made, into a kick ass Special Edition Collector's dvd. Remember last year's 5 Disc
Blade Runner
Collector's Edition? I hope you were paying attention.
Actually scratch that. Why is it that every major trilogy has been turned into a smashing collectors boxed set except The Mad Max trilogy? Where's my 10-Disc Mad Max boxed set a la
The Matrix Trilogy
? Huh? Please tell me you're not waiting for George Miller to make
Mad Max: Fury Road
because, honestly, that ain't happening any time soon.
Of course Warner Bros. isn't alone in their crimes against home entertainment. Neglect of our favorite genre is rampant on DVD. After the break are ten PA films that are still awaiting DVD royal treatment. Cross your fingers that we see some action in 2009.
Ten Post Apocalyptic Films That Deserve Better DVDs:
10.
Cyborg
- Now that
JCVD
is a bona fide international hit and Jean Claude Van Damme is back on the scene, I sincerely hope we'll see Albert Pyun's 80s PA actioner get a nice 2-disc DVD complete with commentary and interviews. This flick is way too fun to languish in bare bones hell baby.
9.
No Escape
- A true forgotten gem, No Escape is like a cross between
Fortress
and
Waterworld
(without the water). Starring Ray Liota, Lance Henriksen and Kevin Dillon, No Escape was produced by Gale Anne Hurde and HBO. The DVD sucks in every way. The transfer's crap and there are no features. Wake up people!
8.
Damnation Alley
- There are a few really poor bootlegs of this floating around but this film has never been released on DVD. At one point Anchor Bay had the film listed on their "Coming Soon" section but it disappeared. World destruction, armored transport, and giant scorpions? Get on it already!
7.
The Postman
- The Postman is only half good (the first half) but sometimes films that are labeled as "disasters" at the time make the best special edition DVDs now. Just look at the 3-disc Criterion Collection dvd of Terry Gilliam's
Brazil
. The documentary "Battle for Brazil" is worth the price alone. I want to hear Costner's side of The Postman story.
6.
Hardware
- Richard Stanley's strange 1990 addition to the PA genre is a claustrophobic and artsy specimen that has yet to be done any kind of justice on DVD. Oh sure, there's a so-called "Uncut Edition" out there from Euro Cult / Life International, but it's a garbage DVD with a terrible transfer that looks like 3rd generation VHS. What a joke!
5.
Le Dernier Combat
- Luc Besson's first feature film was a breathtaking humanist endeavor that also happens to be one of the best PA films made. So why hasn't he turned
Le Dernier Combat
into a stunning SE dvd with interviews and commentary. I'd love to hear Jean Reno and Besson talk about the experience about making the film, not to mention how they did all the great FX and where they filmed to get such amazing locations.
4.
Z.P.G.
- Okay, I know that a DVD of this just came out a couple months back but again, it's as bare bones as they come and I get the feeling that not a lot of work went into the transfer. This is a true classic starring the late great Oliver Reed and the beautiful Geraldine Chaplin. A must see and a must on better DVD.
3.
Survivors
(Original 70s series)- Terry Nation's Survivors series ran for 3 seasons on BBC back in the 70s and it is widely known as not only one the best PA television series' ever but one of the best television series of the 70s. So, why has it never appeared on store shelves here in the sates? We're hoping that the
recent redux
on BBC gets the ball rolling on a full series collector's set here in North America, but we're not holding our breath.
2.
Mad Max: Beyond Thunderdome
- The third film in the Mad Max saga gets a bad rap sure, but it deserves waaaay better than this... at least give us the video for Tina Turner's "We Don't Need Another Hero!" See above for what we need to see happen soon.
1.
The Road Warrior
- Anamorphic widesreen, 5.1 surround, commentaries, feature length documentary, a featurette on the film's influence on film, music, and fashion, vintage tv and trailer spots, slip case, booklet, storyboards... is it really all too much to ask?
You might also like
Anonymous (14 years ago) Reply

wow...finally someone writes what i've been thinking, WHERE is the road warrior SE

wa5 (14 years ago) Reply

I would like to see Eric Bana in Mad Max 4 (it wasnt called "Road Warrior" in Oz).. He already owns an XB Falcon Coupe.. (The Interceptor was based on the Falcon Coupe).

Papagallo (14 years ago) Reply

The Road Warrior (Mad Max 2) Supposedly has a few deleted scenes including a scene at the beginning that shows how the opening car chase begins.

Anonymous (14 years ago) Reply

George Miller owns the rights to the Mad Max movies I think. Not Warner Bros. So it's probably up to him.

Max Anonymous (14 years ago) Reply

Good call! I just saw the trilogy in a proper theater last night and I'm right there with you. I even came to a greater appreciation of Thunderdome. This one's a no-brainer. But then, look how long it took just to get a Mad Max DVD with proper audio.

Zhivago (13 years ago) Reply

What is "The Road Warrior"? Are you referring to Mad Max II?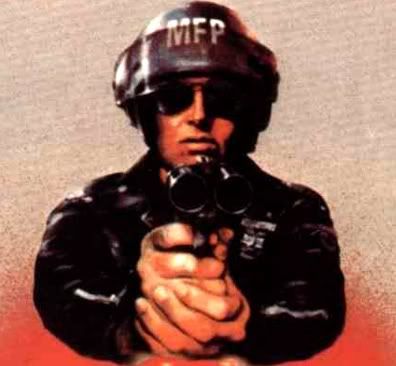 agentorange (13 years ago) Reply

It was called Road Warrior in the states.

http://www.amazon.com/Road-Warrior-Mel-Gibson/dp/0790729342/ref=sr_1_1?ie=UTF8&s=dvd&qid=1246147529&sr=8-1

Leave a comment