Latest news
Christopher Webster
[Cathode Ray Mission 12.30.08]
post apocalyptic
news
For a film that didn't exactly perform so well at the box office (but which I supremely loved) it's hard to fathom why it was decided that Doomsday would be a hit on the small screen. But indeed it is true, our own projectcyclops discovered that Neil Marshall's apocalyptic virus flick is being made into a made-for tv-movie by The SCIFI Channel for broadcast in 2009. But is it a sequel? A prequel? Another adventure set in the same universe at the same time as agent Eden Sinclair infiltrated Scotland? Who knows, the deets are sketchy at best.
The film is being directed by Nick Lyon (Species: The Awakening) and was written by Rafael Jordan (Yeti: Curse of the Snow Demon). It is set to star Hellboy II's Luke Goss, Colin Salmon, Marina Sirtis, and Xenia Seeberg among many others.
That's all for now. I'll update when I find more...
Via
IMDB
.
You might also like
rcdude (13 years ago) Reply

Oh God -_- It might end up being crap. I hope not. The Sci-Fi Channle seems to be a hit or miss, for me. I've likds some of the movie they've made, and laughed a lot of others.

Mike (13 years ago) Reply

Sorry I've got to disagree - I thought doomsday was an overdone nonsense. And all the sci-fi channel is really capable of is creating uber camp crap or a weak knockoff of Araon Sorkin 'in space.' I'ts a pathetic joke of a channel.

projectcyclops (13 years ago) Reply

It's a weirdy, but I'm keeping vaguely positive as I quite liked the film as a big overdone homage to 80's action. For any Brits, was Luke Goss the guy who was in 'Bros'? That's messed up...

sonaboy (13 years ago) Reply

Doomsday was junk. Marshall basically phoned it in as he drowned in this over-budgeted, kitchen sink production. I hope he used the experience as a lesson to turn him back to his earlier ways. The only thing I'd hate to see more than Doomsday right now, is a lower-budget sequel to Doomsday.
This sounds exactly like what Sci Fi channel buys though.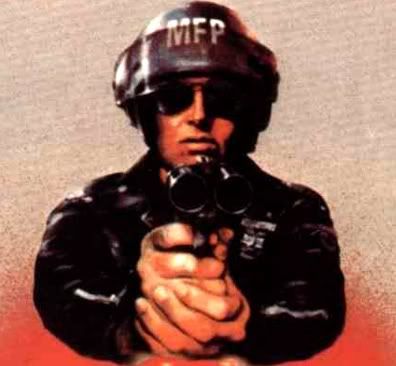 agentorange (13 years ago) Reply

I was excited when I thought it was a TV show. Visions of SCIFI wanting Doomsday to be its new gritty BSG-esque signature show abound... and then I found out it was just a movie which doesn't really make much sense. I mean, isn't there already a movie called Doomsday? Unless its a sequel or something why would we need a MFTV tie in. All I can say is it better offer something interesting.

rek (13 years ago) Reply

Doomsday was terrible.

Eric (13 years ago) Reply

Doomsday was audacious, rollicking, brainy fun! Its opportunistic appropriation of other films was like the cinematic equivalent of sampling and mashups, and unlike some of the films it was plundering, Doomsday actually had ideas in its head--about the Walter Scott-esque mythologization of Scottish history, among other things.

It's a drag that when Tarantino is derivative he's called a genius, but when Marshall explicitly signals the sources he's playing with, it's written off as laziness.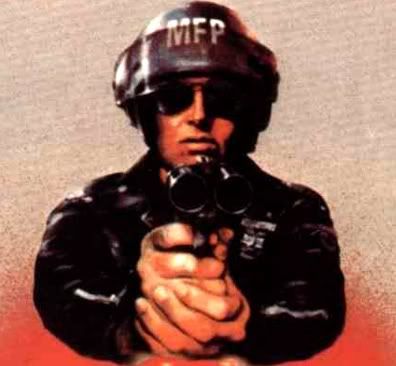 agentorange (13 years ago) Reply

Eric, you summed it up perfectly.

I read an article in "Death Ray" where Marshall essentially says the same thing. If Tarantino had made Doomsday it would have been hailed as his masterpiece.

James (13 years ago) Reply

Is it really related to the film? Marina Sirtis is in this film and her official site said: "Marina just completed filming in Bulgaria for her role as a government official involved in a particle collider project. The new movie is called "Doomsday" and will air on the Sci-Fi Channel."

James (13 years ago) Reply

http://www.myspace.com/mikefreshjohnson

This guy was in the film, check out his photos for proof, him and Luke Goss and other cast members. And his blog tells us it's not related to Neil Marshall's film.

Leave a comment