Latest news
Ben Austwick
[Cathode Ray Mission 12.16.08]
post apocalyptic
review
Year: 2008
DVD Release date: January 26th, 2009
Directors: John Alexander / Andrew Gunn
Writers: Various
IMDB:
link
Trailer:
link
Review by: Ben Austwick
Rating: 7.5 out of 10
In the fifth episode of "Survivors", Naj goes on a foraging expedition for the group and comes across a friendly camp of young hippies, led by a charismatic young man with a positive but rather overbearing line in religion. One of his followers is pregnant and the camp sets up in the grounds of the house so she can give birth in comfort. Unfortunately, Al's libido, Tom's increasingly violent nature and the hippie leader's fraught relationship with God conspire to bring the arrangements to a head.
This was by far the best episode of Survivors yet. The strong story with its multiple themes didn't leave any time for the embarrassing speeches and boring character exposition that has plagued previous instalments. Every line of dialogue was integral to the plot, making for a much more coherent whole than we've seen so far. Add to this the always interesting subjects of mental illness, free love and lesbianism and the show zipped along with plenty of excitement.
There are still a few flaws – in one sequence, the overbearing music actually spoils what's coming next by hitting the strident notes too soon – but this episode is such an improvement on the previous ones it's hard to understand what's happened. Whatever it is, with the BBC website announcing that the next episode is the last in the series and no definite plans for another, it's just a shame that "Survivors" has taken so long to become as good as it always promised.
You might also like
Joel (13 years ago) Reply

Did I watch the same episode as the above review? This episode was absolutely dire. Badly written, badly paced and an absolute travesty as far as fairly representing paranoid schizophrenia.
A charismatic leader who 'hears God', then deteriorates into paranoid violence? Er- wouldn't his 'followers' have seen episodes of this behaviour before? But, no, it fitted the plot to have a token psycho.
I have been following this show waiting for it to get better, but it looks like it really does have nowhere to go.
I love the genre but hate this series.

Peter (13 years ago) Reply

Let it die, Guys. For the good of the species.

Ben Austwick (13 years ago) Reply

I dunno guys, I haven't enjoyed this series very much either but thought this episode was a big improvement. The ideas may be a bit hokey but that's the nature of the beast really - the trashiness of the themes was one thing I liked this week.

sarah (13 years ago) Reply

I am kinda shocked I absolutely loved it. Good story and it made me think too. Bring on season 2

rach (13 years ago) Reply

I think survivors is really good, I enjoy watching it, and I hope they bring out a 2nd series

Weyland (13 years ago) Reply

Id be sorta a mix of the black guy and the ex con LOL!! BADASS!!!

macstu (13 years ago) Reply

this series is crap that is all there is to say CRAP
for start to finish which i hope is soon.

Stuart (13 years ago) Reply

what was the name of the song played when naj was first introduced to the hippies playing video games in the underground basement? its an electronica song I think? I keep hearing it and really wanna buy it pls help thanks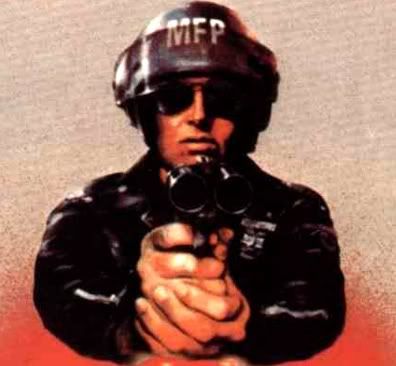 agentorange (13 years ago) Reply

It's a song called "Kids" by New York band MGMT. Great album actually.

Peter Summers (13 years ago) Reply

Where to start? Are these guys laisy of what? They just sit around in a big house with no attempt at stockpiling supplies/tools. Their leader! is a real twat that could not hold a sandwich together let alone a community. What is their gameplan? Do they have one? They certainly have no weapons, which with the essential need of self defence in any lawless society is a bit bewildering. Who keeps the roads swept? They would be dificult to navigate in anything less than a 4x4 within a few days (and even then there would be some fallen trees/challenging obstacles). Is this series suffering from the PC factor or what? Im a Christian but I would have offed at least a few of these characters on principle (Mr Shotgun and Mr Short Forehead for starters) as they are just to dangerous (to the group) to have around.

STUART (13 years ago) Reply

THE BBC MUST GO, they mucked it up completely poor acting ,mindless scripts, idiotic dialogue , the incompetence runs the length of the show .
The PC crap destroys any hope for improvement . Sell the BBC to the americans only then can we expect drama for adults.
Oh ! Dr Who sucks as well cancel them both and buy SUPERIOR
exclusive's from HBO, they are what the BBC should be.

macstu (13 years ago) Reply

Peter summers got it right, just read what he said, I heartily
agree.

Anonymous (13 years ago) Reply

when is the 6th episode of Survivors on please? I'm addicted and why has there been no explanation as to why it has not been already shown?

Please let me know asap!

Regards

Gerrie

coffeetalk4me (10 years ago) Reply

Pleawe bring it back...it's one of the best series I've seen in a long time! Americans love it on Netficks

Leave a comment