Latest news
Christopher Webster
[Celluloid 12.07.08]
post apocalyptic
movie
review
Year: 2008
DVD Release date: November 13, 2008 (Germany)
Director: Jean de Segonzac
Writer: Torsten Dewi / Jean de Segonzac
IMDB:
link
Amazon:
link
Trailer:
link
Review by: agentorange
Rating: 5.8 out of 10
Lost City Raiders aired on SCIFI Channel on November 22nd 2008 to record breaking ratings. In fact, as it stands right now, Lost City Raiders is ranked SCIFI's 5th most watched movie event of 2008. Of course, with the questionable quality of some of SCIFI's original programming I wasn't too surprised to read that tidbit of information after viewing the film. Next to many of the films they produce, LCR feels like a full fledged and fully realized PA adventure film.
Many viewers seem to be comparing LCR to Waterworld but instead, I say the film owes more to the rollicking adventure yarns of Indiana Jones. So, a word of warning to anyone who attempts to track this one down; to enjoy the PA fun of this film you're gonna have to dust off your suspension of disbelief pants. If you start asking yourself questions like; "how does this world still have electricity, gas, guns, fully functioning aquatic gear, beer, or hair gel for Ian Somerhalder's hairdo," you're just gonna loose it by about half way through. This is a race-for-the-artifact-and-save-the-world affair and is probably all the better for it.
The opening set-up of Lost City Raiders is great fun. Because of global warming, the world is suffering a global catastrophe called "The Rising." Water levels have risen so high that most of the earth's landmass is covered with water. Only the tips of some of the world's tallest buildings, and the high reaches of mountains poke out of the endless water.
Shot using a variety of techniques and presented as a fast paced SFX spectacle, you're easily sucked into the premise and fun tone of the film. Tidal waves engulf cities while intense handlheld news footage is interspersed with images of superstorms and the huddled masses being swept away.
However, once the film starts proper you realize that this won't be the drink-your-own-urine-to-survive world that we'd come to expect from watching Waterworld. Sure there are some PA dangers lurking in the depths like mutant sharks (which, incidentally, look a lot like real sharks), but mostly people seem to be doing alright in the world of Lost City Raiders. Silk button up shirts are plentiful, people still have Blackberries, computers, and LCD screen TVs, and champagne is plentiful.
Alright, so if this isn't a dire post apocalyptic fairytale like Waterworld then what is it? To be blunt; it could have been called "Indian Jones and the Raiders of the Lost City." It's a cliffhanger. A quest film. A globe trotting adventure yarn that'll take you from underwater Hollywood to New Rome with the speed of a jump-cut. It's a film about two groups searching for a mythical artifact that could save the world from almost certain underwater doom.
James Brolin, Ian Somerhalder, and Jamie Thomas King play the Kubiaks, a father and sons team who sell their diving services to to the highest bidder and illegally loot underwater buildings. It's supposedly dangerous work (although the only danger seems to come from the above mentioned mutant sharks). However, when what's left of The Vatican thinks they've discovered the whereabouts of an Egyptian staff they believe Moses used to part the red Seas, it's the Kubiaks to the rescue!
LCR is directed by Jean de Segonzac who's worked on some of television's most popular shows. He's directed episodes of Battlestar Galactica, Damages, The Unit, Twilight Zone, Oz, Gossip Girl, and many more, so the direction is pretty fair considering the budget.
But not everything works. The film is hampered by some technical flubs. A few scenes of bad ADR and blue screen work are all it takes it seems to take a decent idea and turn it into a true MFTV movie. However, considering how much this film tries to outdo the restrictions of its 6.4 million dollar budget, I can make some allowances for the technical stuff.
The biggest issue I have with the film is that it won't commit to its own post apocalyptic premise. It refuses to abide by the rules of its own world and makes too many allowances in order to move the story along and keep things up beat. It's like Kevin Costner's The Postman. Remember the last scene where the world is back to normal somehow and there's yachts in the harbor and golf shirts on the members of the press? And after 3 hours you're like "what just happened?" That's how you feel when you get to the end of Lost City Raiders. It's like, wait? Why is everyone so rich and wearing suits all of a sudden and where is that champagne coming from? It's a fun movie but not a groundbreaking PA outing by any means.
You might also like
Anonymous (13 years ago) Reply

just finished watching ... diehard PA fans don't waste your time on this. If you are chronically bored and easily entertained , this one was made just for you ;)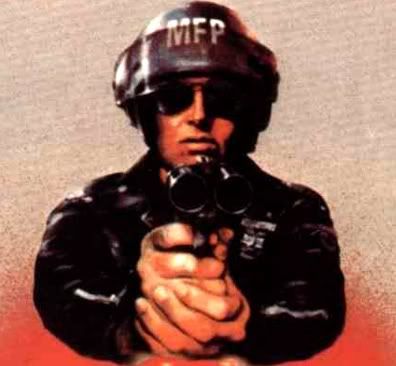 agentorange (13 years ago) Reply

Yeah it's pretty daft. You really have to be in a certain mood to get anything from it. As I said in the review, a groundbreaking PA film it is not.

Torsten Dewi (13 years ago) Reply

Hiya! I actually wrote the story (and the first two drafts) of "Lost City Raiders", but had to bail due to scheduling problems (I created a daily soap over here in Germany, and had to let go of LCR as a result). I agree that the finished movie is kinda all over the place, and it never really commits to any "cause and effect" scenario for The Rising. I think that's mostly due to several rewrites that neglected to throw out stuff that had become obsolete in the process. At the end of the day, it's not sufficiently explained whether the problem is natural, supernatural, or even of alien origin. That pretty much sinks the third act, when everything becomes kind of random. But I was seriously impressed with the production value, the cinematography, the VFX. Having visited the set in South Africa, I am now the proud owner of the decrepit "Sunset Boulevard" street sign (an hommage to "Trancers" no one ever caught), and a plastic skull.

Pat (13 years ago) Reply

was für ne dail soap denn, wenn man fragen darf? :)

Weyland (13 years ago) Reply

Gotta admit it had some pretty creative concepts, did not expect Vatican angle in this movie at all caught me totally by surprise.

Torsten Dewi (13 years ago) Reply

Wie man in der IMDB nachschlagen kann - "Lotta in Love".

The "Vatican angle" was originally much bigger - a major part of the movie was about the peoples need for guidance in times of chaos. The way I wrote it, the Vatican wanted to prevent "false prophets" (like Filiminov, called Warren Desmond in my draft). Probably one of the biggest technical changes was the fact that the original story was mainly set in submarines, with a lot of submarine action sequences and chases (I am a big fan of movies like "Das Boot" and "Hunt for Red October"). But "the powers that be" wanted a more quest oriented story.

Weyland (13 years ago) Reply

kinda reminds me a game I played back in the day, AquaNox is an submarine action adventure game set many years after a global nuclear war has forced all the survivors to settle underwater. During a period of political unrest, a huge landslide opens a series of underwater caverns and frees some ancient gods that had been imprisoned for aeons. You play as the character Emerald "Dead Eye" Flint, a submarine pilot who battles in his quest to save human civilization. Even five years after the fierce fight against a robotic species called Bionts the world of "Aqua" still can't be at peace. On the contrary. Without suspecting anything it is being put to its hardest test and you are right in the middle of it. Flint participates in glorious battles and action-crammed underwater dogfights.

Torsten Dewi (13 years ago) Reply

@ Weyland: Funny enough, when I had to illustrate my internal pitch paper for LCR, I used screenshots from AquaNox :-)

Anonymous (13 years ago) Reply

Yeah, I remember that scene from "The Postman". It took place ABOUT 1000 YEARS AFTER THE EVENTS OF THE FILM, dingbat.

alex (13 years ago) Reply

ehh.....no it didnt,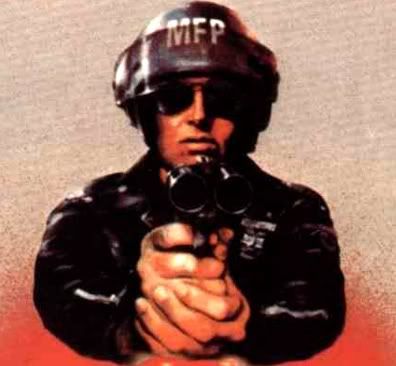 agentorange (13 years ago) Reply

In regards to The Postman... wasn't it his daughter that erects a statue of him or something? Or was he her great great great great great great great great great great... grandfather or something? I'll have to watch it again to be sure, but that doesn't change the fact that it's pure toss.

Charlie (11 years ago) Reply

*SPOILER ALERT*

The scene at the end of the Postman was about 20 years later. The statue depicted the galloping postman taking a letter from a small boy. A man at the ceremony has a flashback and exclaims that the kid was himself.

That last scene was unexpected, but then a lot can happen in 20 years. Maybe.

Restated (11 years ago) Reply

Hey guys..Interesting..I am preparing a post apocalyptic Nuclear Winter scenario for Atomic Highway(if you are into PA *and* rpgs try it)

The Postman book is a Scifi/Postapocalyptic Masterpiece.
Don't let the film ruin it for you..read it :)

Leave a comment