Latest news
quietearth
[Film Festival 12.04.08]
movie
news
First off, the best news, as I predicted (in private) Duncan Jones'
Moon
will be premiering, yay! The comedy
Adventureland
starring the talented Bill Hader is playing. The sweet kid soldier film
Johnny Mad Dog
is playing in the spectrum section, and the Jesco White story
White Lightnin'
which we
reported on earlier
is in the Park City at Midnight section.
But where the hell is
Stingray Sam
?
Full list after the break.
PREMIERES
* "Adventureland," directed and written by Greg Mottola, stars Kristen Stewart, Ryan Reynolds and Bill Hader in the story of a college grad who gets a job at an amusement park. A Miramax release.
* "Brooklyn's Finest," directed by Antoine Fuqua and written by Michael C. Martin, a drama about three Brooklyn cops who come together at the same deadly location. With Richard Gere, Ethan Hawke, Wesley Snipes, Don Cheadle and Ellen Barkin.
* "Earth Days," directed by Robert Stone, a docu look at environmental issues through the eyes of nine Americans who helped launch the environmental movement. Made for PBS by WGBH.
* "Endgame" (U.K.), directed by Pete Travis and written by Paula Milne, a political thriller in which a businessman tries to find a solution to apartheid in South Africa by instigating covert talks between the African National Congress and white intellectuals. Stars William Hurt, Chiwetel Ejiofor, Jonny Lee Miller and Mark Strong.
* "500 Days of Summer," directed by Marc Webb and written by Scott Neustadter and Michael H. Weber, in which a forlorn young man (Joseph Gordon-Levitt) sifts through his relationship with his girlfriend (Zooey Deschanel) to determine what went wrong. A Fox Searchlight release.
* "I Love You Philip Morris," directed and written by Glenn Ficarra and John Requa, based on the true story of Texas con artist Steven Jay Russell. Toplines Jim Carrey, Ewan McGregor, Leslie Mann and Rodrigo Santoro.
* "The Informers," directed by Gregor Jordan and written by Bret Easton Ellis and Nicholas Zarecki, an adaptation of Ellis' novel about the rich and decadent in '80s Los Angeles. With Billy Bob Thornton, Kim Basinger, Winona Ryder and Mickey Rourke.
* "In the Loop" (U.K.), directed by Armando Iannucci and written by Jesse Armstrong and Simon Blackwell, a satire about the special relationship between U.S. and Britain politicos that hastened the launch of the Iraq War. Features Peter Capaldi, James Gandolfini and Tom Hollander.
* "Manure," directed by Michael Polish and written and Mark and Michael Polish, a hyper-visual comedy about early '60s manure salesmen. With Tea Leoni, Billy Bob Thornton and Kyle MacLachlan.
* "Mary and Max" (Australia), directed and written by Adam Elliot, a clay-animation feature about unlikely pen pals, one a lonely 8-year-old Melbourne girl, the other a corpulent 44-year-old New York man. With the voices of Philip Seymour Hoffman, Toni Collette and Barry Humphries.
* "The Messenger," directed by Oren Moverman and written by Alessandro Camon and Moverman, about the bond between two soldiers in the Army Casualty Notification department. Stars Ben Foster, Woody Harrelson, Samantha Morton, Jena Malone, Eamonn Walker and Steve Buscemi.
* "Moon" (U.K.), directed by Duncan Jones and written by Nathan Parker, about the adversity faced by an astronaut (Sam Rockwell) about to return to Earth after three years on the moon. With the voice of Kevin Spacey. A Sony release.
* "Motherhood," directed and written by Katherine Dieckmann, about a day from hell for a Manhattan mother of two. Toplines Uma Thurman, Minnie Driver and Anthony Edwards.
* "Rudo and Cursi" (Mexico), directed and written by Carlos Cuaron, a Spanish-language feature about two brothers who are rivals in pro soccer. Stars Diego Luna, Gael Garcia Bernal and Guillermo Francella.
* "Shrink," directed by Jonas Pate and written by Thomas Moffett, about a Los Angeles celebrity psychiatrist who loses his ability to help his patients after a personal tragedy. Features Kevin Spacey, Robin Williams and Pell James. A Lionsgate release.
* "Spread," directed by David Mackenzie and written by Jason Dean Hall, about an L.A. gigolo (Ashton Kutcher) for older women. With Anne Heche.
SPECTRUM
All films in Spectrum are world premieres unless otherwise noted.
DRAMATIC FILMS
* "Against the Current," directed and written by Peter Callahan, in which a man faces the anniversary of his pregnant wife's death by preparing to swim the length of the Hudson River. With Joseph Fiennes, Justin Kirk, Elizabeth Reaser, Mary Tyler Moore and Michelle Trachtenberg.
* "The Anarchist's Wife" (Germany-Spain), directed by Marie Noelle and Peter Sehr, written by Noelle and Ray Loriga, a drama bout an idealistic lawyer during the Spanish Civil War. North American premiere.
* "Barking Water," directed and written by Sterlin Harjo, about the last days of a couple who have had a tumultuous 40-year relationship. With Richard Ray Whitman and Casey Camp-Horenik.
* "Children of Invention," directed and written by Tze Chun, concerning two children forced to fend for themselves after their mother is arrested.
* "Everything Strange and New," directed and written by Frazer Bradshaw, which portrays a man's struggle to deal with family, sexuality and drug addiction.
* "Helen" (Canada-Germany), directed and written by Sandra Nettelbeck, about a successful psychiatrist in the midst of a clinical depression. Stars Ashley Judd and Goran Visnijic.
* "The Immaculate Conception of Little Dizzle," directed and written by David Russo, which relates the bizarre turn of events in the life of a highly paid man reduced to working as a night janitor.
* "Johnny Mad Dog" (France), directed by Jean-Stephane Sauvaire and written by Sauvaire and Jacques Fieschi, which centers on a 15-year-old soldier in Africa.
* "La Mission," directed and written by Peter Bratt, an account of a traditional Latino man's struggle to deal with his teenage son's homosexuality in San Francisco's Mission District. With Benjamin Bratt, Erika Alexander, Jeremy Ray Valdez, Talisa Soto Bratt and Jesse Borrego.
* "Lymelife," directed by Derick Martini and written by Derick and Steven Martini, an examination of the perils of the American dream through the eyes of a 15-year-old boy in the '70s. Toplines Alec Baldwin, Kieran Culkin, Timothy Hutton, Cynthia Nixon and Emma Roberts. U.S. premiere.
* "The Missing Person," directed and written by Noah Buschel, a detective genre piece about a private investigator tailing a man who turns out to be someone presumed dead in the 9/11 attacks. Stars Michael Shannon, Amy Ryan and Frank Wood.
* "Once More With Feeling," directed by Jeff Lipsky and written by Gina O'Brien, a midlife crisis comedy about a man who pursues his old ambition to become a singer through karaoke. Features Drea de Matteo, Linda Fiorentino, Chazz Palminteri, Susan Miser and Lauren Bittner.
* "The Only Good Indian," directed by Kevin Willmott and written by Tom Carmody, in which a Native American teenage boy is forced into a special school to assimilate him into white society in early 1900s Kansas. With Wes Studi, Winter Fox Frank and J. Kenneth Campbell.
* "Pomegranates and Myrrh" (Palestinian Territories), directed and written by Najwa Najjar, about the search for freedom by the wife of a Palestinian prisoner. North American premiere.
* "The Vicious Kind," directed and written by Lee Toland Krieger, in which a troubled young man reluctantly brings his brother and new girlfriend to Thanksgiving dinner at the home of his estranged father. Features Brittany Snow, Adam Scott, J.K. Simmons and Alex Frost.
* "World's Greatest Dad," directed and written by Bobcat Goldthwait, a dark satire about a high school poetry teacher (Robin Williams) realizing the things you want may not be what make you happy.
DOCUMENTARY SPOTLIGHT
o "It Might Get Loud," directed by Davis Guggenheim, in which The Edge, Jimmy Page and Jack White relate the history of the electric guitar. U.S. premiere.
o "No Impact Man," directed by Laura Gabbert and Justin Schein, about the affluent Manhattan Beavan family's attempt to live a life of no-net environmental impact for one year.
o "Passing Strange," directed by Spike Lee, a film of the Broadway musical starring Stew.
o "Tyson," directed by James Toback, an up-close portrait of former boxer Mike Tyson. North American premiere.
o "Why We Laugh: Black Comedians on Black Comedy," directed by Robert Townsend, an investigation and celebration of 400 years of black comedy. With Chris Rock, Bill Cosby, Keenan Ivory Wayans, Steve Harvey and Dick Gregory.
o "Wounded Knee," directed by Stanley Nelson and written by Marcia Smith, a history of the tragic 1890 South Dakota Indian massacre and its ramifications.
o "The Yes Men Fix the World" (France-U.S.), directed by Andy Bichlbaum, Mike Bonanno and Kurt Engfehr, which looks at two audacious provocateurs who sneak into corporate events to expose crime and hypocrisy.
PARK CITY AT MIDNIGHT
o "Black Dynamite," directed by Scott Sanders and written by Michael Jai White, Sanders and Byron Minns, a high-camp blaxploitation send-up about '70s "legend" Black Dynamite taking on "the Man." With Michael Jai White, Tommy Davidson, Salli Richardson-Whitfield, Byron Minns and James McManus.
o "The Carter," directed by Adam Bhala Lough, a no-holds-barred look at top rapper Dwayne "Lil' Wayne" Carter Jr.
o "Dead Snow" (Norway), directed by Tommy Wirkola and written by Wirkola and Stig Frode Henriksen, a horror-suspenser about party-minded teens taking on a Nazi-zombie battalion in ski country. North American premiere.
o "Grace," directed and written by Paul Solet, a twisted tale of a mother who carries a dead baby to term, with unforeseen consequences.
o "The Killing Room," directed by Jonathan Liebesman and written by Gus Krieger and Ann Peacock, about four people who get in deeper than they imagined when they sign up for a psychological research study. Stars Chloe Sevigny, Peter Stormare, Clea DuVall, Timothy Hutton and Nick Cannon.
o "Mystery Team," directed by Dan Eckman and written by Dominic Dierkes, Donald Glover and DC Pierson, in which kid detectives known as the Mystery Team take on a double-murder case.
o "Spring Breakdown," directed by Ryan Shiraki and written by Shiraki and Rachel Dratch, about three bored thirtysomethings who decide to spice up their lives by vacationing with college students during spring break. With Rachel Dratch, Amy Poehler, Parker Posey, Will Arnett and Rachel Hamilton.
o "White Lightnin' " (U.K.), directed by Dominic Murphy and written by Shane Smith and Eddy Moretti, the outrageous tale of "dancing outlaw" Jesco White.
FRONTIER
o "Artist Spotlight: The Works of Maria Marshall," directed by Marshall, an immersion in the work of the video artist whose immaculate images probe psychological issues stemming from motherhood and socialization to examine adult anxieties.
o "Lunch Break/Exit," directed by Sharon Lockhart, two related works which reveal, the first in one long shot, how workers spend their lunch hour at a huge Maine shipyard, and then their departure at day's end.
o "O'er the Land," directed by Deborah Stratman, a deliberation on the national psyche in the era of elevated threat.
o "Stay the Same Never Change," directed and written by Laurel Nakadate, a verite mix of fact and fiction featuring a group of amateur Kansas City actors.
o "Where Is Where?," directed by Eija-Liisa Ahtila, an experimental work about a long-ago murder in Algeria pivoting off the efforts of a poet to write about it.
o "You Won't Miss Me," directed by Ry Russo-Young, a study of a 23-year-old social misfit just released from a psychiatric hospital. With Stella Schnabel and Rene Ricard.
You might also like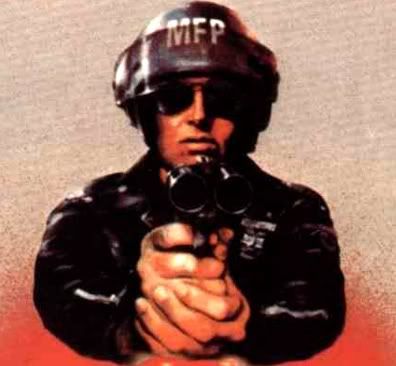 agentorange (13 years ago) Reply

Heh, you called it man. Awesome news. Too bad no Road though.

Leave a comment